« Here Are Some #Woke Hollywood Political Propaganda Efforts for You to Boycott
|
Main
|
In San Francisco, Mostly Lawful Looters Liberate Tens of Thousands of Dollars of Designer "White Supremacy" Handbags from a Niemann Marcus, as Security Guards Simply Watch »
July 07, 2021
San Francisco Gay Men's Choir Sings "We're Coming for Your Children," Says They'll "Convert Them Bit By Bit"
Can't wait for the Hot Takes from Conservative, Inc. telling us this is no big deal and just another Blessing of Liberty (TM). (Link fixed.)
The game being played here is that they're singing about "converting your children" to "tolerance" and leftwing sexuality politics -- but of course, it's all a wink-wink threat to convert your children to homosexuality. They proudly sing that "Gen Z is gayer than Grindr," a gay dating app.
In other words: the younger the cohort, the greater our recruitment efforts.
So yes, they do mean they'll make your kids gay, but they've layered on this double-meaning so when you call them on it, they can retreat from the bailey to the motte and say, "We're just talking about converting your kids to tolerating homosexuality!"
And the liberals of NeverTrump and Conservative, Inc. will all agree with their leftwing Twitter Palz that they only mean the less-objectionable message. (And on that -- who wants militant gays "converting" our own children to their leftwing sexual-radical politics, either?)
Update: And now they've privated their video threatening that they're coming to r*** your children.
Here are some, but not all, of the lyrics: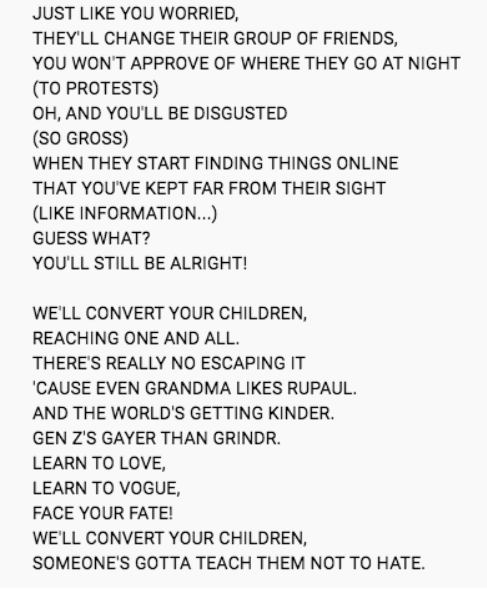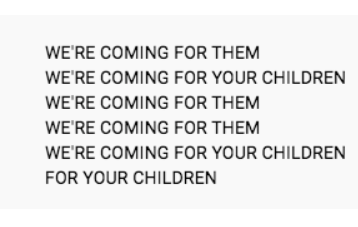 Love is love, y'all.
More of the lyrics here.
I'll bet you any amount of dollars that AllahPundit is the one at Hot Air who jumps on this HotTake story, and delivers the Blessing of Liberty (TM) attack on conservatives.

Just waiting for the Conservative, Inc. media -- who are not conservative, but in fact socially liberal; they are merely corporate and virulent defenders of the Ruling Class (who are themselves socially leftwing bordering on socially degenerate) -- to tell everyone who has a problem with this to just calm down and stop being such bigots.
The worst rebuke they'll offer of those threatening to "convert your children" is that this is "unhelpful" to their cause.
That will be the extent of their criticism.

posted by Ace at
04:49 PM
|
Access Comments