« Donald Trump, America First Policy Institute to File a Class Action Lawsuit Against FaceBook, Google, and Twitter Over Censorship
|
Main
|
San Francisco Gay Men's Choir Sings "We're Coming for Your Children," Says They'll "Convert Them Bit By Bit" »
July 07, 2021
Here Are Some #Woke Hollywood Political Propaganda Efforts for You to Boycott
Woke Marvel is releasing Black Widow this weekend.
Indiewire praises Woke Marvel's Black Widow as not only passing "the Bechtel test" -- a test created by a lesbian cartoonist which states that a movie is only good if it features women talking and discussing things besides a man -- it will make men "squeam as it puts them in their place."

The movie's getting mostly meh reviews -- except from the Woke contingent, who heap praise on anything with MuhDiversity.
It now seems confirmed that Taskmaster -- one of Marvel's few A-level villains, who makes his cinematic debut in the movie -- has (of course) been gender-bent from male to female, just as was long-rumored:
I am making a prediction before Black Widow hits theaters and Disney+ Premiere on July 9th that Taskmaster is going to be one of the film's more controversial figures. I'm not saying why--you won't get any spoilers out of me--but I'm willing to bet that once the film is out we'll have have a bombardment of think pieces and YouTube videos and social media and forum posts all about Taskmaster and why the character is [insert opinion here]. Will you love Disney's version of Taskmaster or hate Disney's version of Taskmaster? We'll soon find out.
This would be another example of Hollywood's bizarre dueling ideas that 1, any character who mostly appears in a face-concealing helmet must be revealed to be a woman with long, flowing hair undulating in slow-motion as she removes her helmet, and 2, that you will continue to be f**kin' astounded by this Big Reveal every single time they do it.
I don't really care about Taskmaster, but fans of Marvel do. And they've decided to not give the audience awaiting Taskmater's film debut the actual Taskmaster, but Taskmistress instead.
Because the only imperative for Hollywood is denying pleasure to men.
Scarlett Johansson recently complained about her character's "hypersexualization" via form-fitting catsuits in previous movies, so I guess you can assume she'll be wearing baggier clothing to Defeat the Male Gaze.
So no joy on that score, either.
#WokandaForever, Disney Marvel. #WokandaForever.

Woke Hollywood's doing an "Aliens" reboot again, this time as a TV series.
If you were thinking, "Oh here's a good chance for some escapism from constant Woke politics," guess again -- it's all about "inequality."
The "Alien" franchise made famous by Sigourney Weaver, Ridley Scott, James Cameron, and David Fincher is about to undergo an "inequality'-inspired transformation at FX.

Showrunner Noah Hawley told Vanity Fair this week that he's interested in exploring a need for society to "spread the wealth" in his upcoming project.

"On some level it's also a story about inequality," Mr. Hawley, who also serves as the showrunner for "Fargo," said Thursday.
Now I'm too old -- er, I mean too young, I'm too young is what I meant -- to give a care about He-Man and the Masters of the Universe, but ages ago, Clownfish TV got a tip from an insider, based on the scripts of the show, that the He-Man reboot would be "woke" and sideline the toxically-masculine He-Man in favor of his female love-interest Teela, who would be the bazillionth Stronk Empowered Wahmen to take over a show from a male lead.
Kevin Smith, the frequently-crying shill for any corporation with a geek IP to sell the rubes, is supposedly a producer on the show, and claimed that this leak was a lie, and that no, it's about He-Man. Period.
Well it turns out the fat serial crybaby was himself lying, and yes, the show sidelines He-Man in favor of Stronk Empowered Wahmen Teela.
The new Netflix animated series Masters of the Universe: Revelation brings back He-Man. However, fans of the other masters might be happy to know that the show gives Teela a more central role in the story. That was something creator Kevin Smith wanted to do since he was such a fan of the original cartoon.
He was not a fan of the original cartoon. There's an old podcast clip of him saying "I have no love for He-Man." (Probably too old when the toys came out, which is something I can sort of understand, as I was too young for He-Man.)
He also tweeted that he was no fan of He-Man: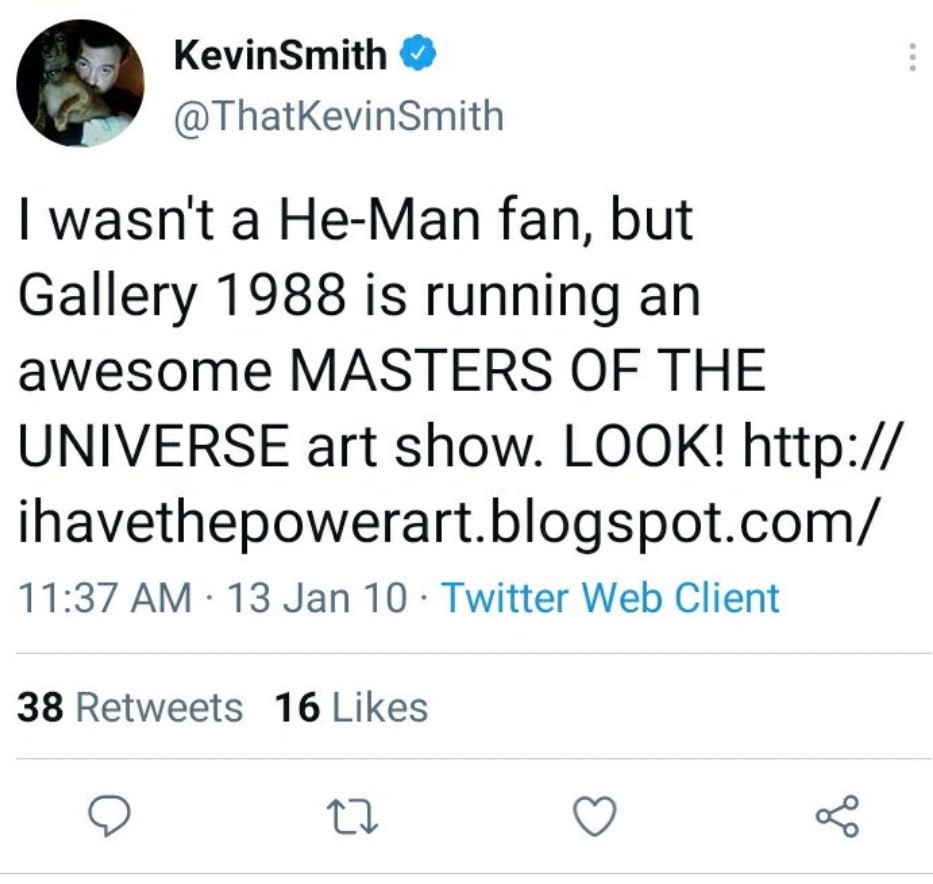 But when a corporation selling a geek IP to the rubes came a-callin', the soypuddle crybitch corporate shill rewrote history and claimed he'd always been a huge fan.
Clownfish TV does a victory lap, after Kevin Smith called them liars.
It would seem that Masters of the Universe: Revelation IS all about Teela after all, despite Kevin Smith swearing up and down that was not the case for the past year. Smith seemingly confirmed that Teela was the main character of Revelation during Netflix Geeked Week. This, along with Smith's dodgy answers on Twitter and Netflix's official marketing material talking about Teela, seals the deal. Thanks for gaslighting us, Mr. Smith.

And seriously -- now that no one will fund his shitty Student Movies any longer, Kevin Smith's job is serving as a corporate shill who cries on command at his overwhelming joy at every single D-grade comic book project he sees. Here he is crying over the He-Man score.
"Kevin Smith Crying" is a category containing approximately 22% of all YouTube videos.
But you can understand why he's moved to tears -- I mean, he was a big fan of He-Man.
Since 2020, at least.
Woke Amazon -- and this will finally spur me to cancel Amazon Prime -- is advertising the fact that the third season of the already-woke "The Boys" will be attacking Tucker Carlson -- or "F*cker Carlson," as their twitter account calls him -- and Mike Lindell.
The fictitious host of the evil corporation Vought's news show is a parody of Tucker Carlson, or "F*cker Carlson:


posted by Ace at
03:32 PM
|
Access Comments