« Bill Cosby to Be Released from Prison After Judge Overturns Conviction for Sexual Assault
|
Main
|
Quick Hits: Dementia Patient Seen Wandering Around DC Edition »
June 30, 2021
Washington Post: Gay Pride Parades Should Feature Exhibitions of Sexual Kinks. It's Educational for Our Children To See the Full Range of Human Sexual Deviancy.
I don't want to hear any bullshit that this is just an op-ed writer whose views do not necessarily reflect the Washington Post's thinking.
The post has no conservatives writing for them -- just liberals pretending to be conservative like Jen Rubin and Michael Gerson and Max Boot. The leftwing New York Times just fired an editor for daring to run an op-ed by a conservative.
So they do not permit op-eds they don't agree with any more. Their opinion pages represent the official word of the propaganda mill.
And the official word from the propaganda mill is: Children need to see leather-clad gay gimps being led around on leashes.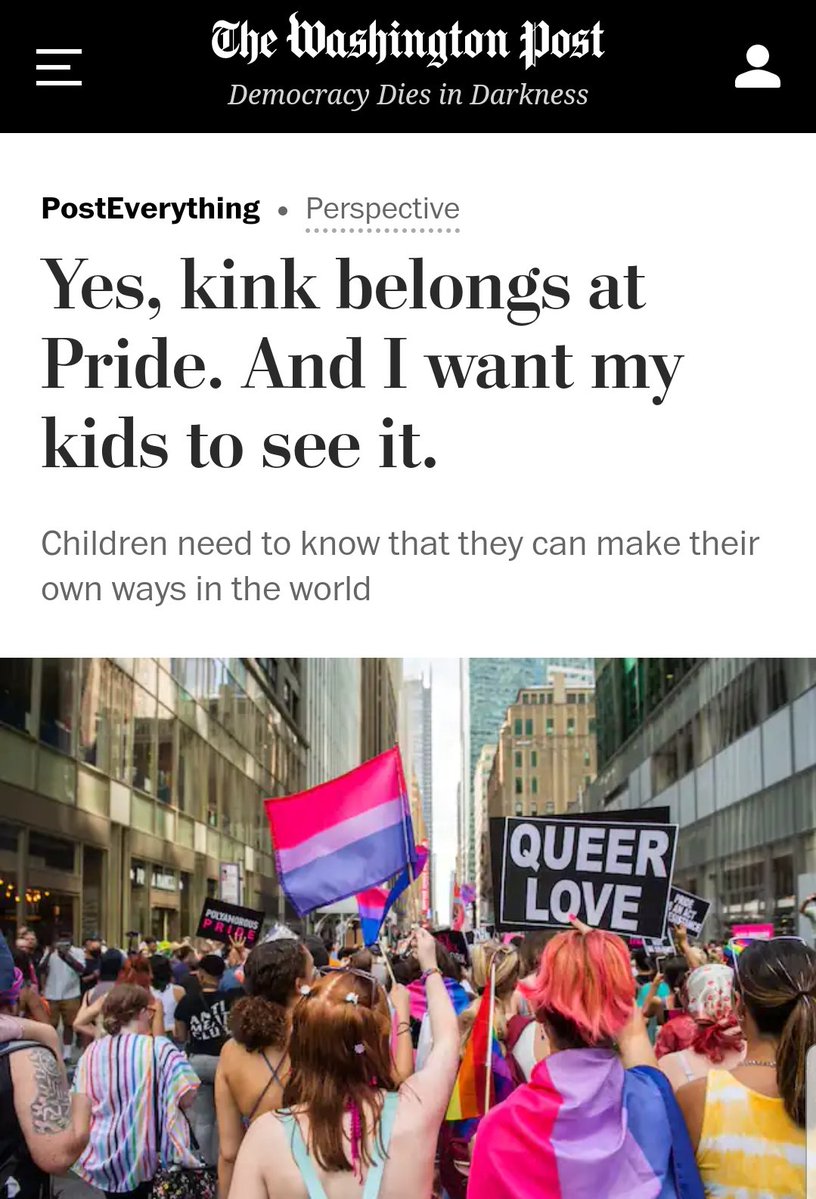 Our family often took the train into Philadelphia, but as we rode across the bridge to attend the city's Pride parade five years ago, my wife's leg bounced with a nervous jitter. She squeezed my hand, worried that she might run into a colleague or be harassed by a stranger. My wife is trans, and wasn't out at the time, so she typically only expressed her authenticity in the privacy of our home. That morning she wore a green skirt and light makeup, brushing her hair all to one side. Even though we'd attended Pride marches and protests in previous years, that day was our first celebrating openly as a family.

When our children grew tired of marching, we plopped onto a nearby curb. Just as we got settled, our elementary-schooler pointed in the direction of oncoming floats, raising an eyebrow at a bare-chested man in dark sunglasses whose black suspenders clipped into a leather thong. The man paused to be spanked playfully by a partner with a flog. "What are they doing?" my curious kid asked as our toddler cheered them on. The pair was the first of a few dozen kinksters who danced down the street, laughing together as they twirled their whips and batons, some leading companions by leashes.
By the way, when I wrote "leading gimps around on leashes," I meant that as the sort of kink you'd be likely to see.
I didn't know this pyrsyn actually named that as a kink xhe wanted xis toddler to see.
At the time, my children were too young to understand the nuance of the situation, but I told them the truth: That these folks were members of our community celebrating who they are and what they like to do.

The kink community has participated in Pride since its inception -- risking their jobs and safety to be authentically themselves in public. Still, every year as Pride Month approaches, a debate erupts about whether kink belongs at Pride at all.

Those hoping to oust kinksters often cite the presence of children as their top concern. That was pointedly the case this year when Twitter users argued that kink at Pride is a highly sexualized experience that children should be shielded from. Thousands of users supported these posts, claiming that kink at Pride crosses a line because minors also attend events. I agree that Pride should be a welcoming space for children and teens, but policing how others show up doesn't protect or uplift young people. Instead, homogenizing self-expression at Pride will do more harm to our children than good. When my own children caught glimpses of kink culture, they got to see that the queer community encompasses so many more nontraditional ways of being, living, and loving.

...

If we want our children to learn and grow from their experiences at Pride, we should hope that they'll encounter kink when they attend. How else can they learn about the scope and vitality of queer life?

[M]any of the latest objections are coming from self-identified queer people, but that shouldn't necessarily be surprising. Respectability politics demand that queer people assimilate as much as possible into cis- and heteronormativity, hewing to mainstream cultural standards. Members of the queer community have internalized those norms to the point that we judge ourselves by them, and then criticize and ostracize others if they don't uphold them, too. This is the same oppressive message that prevented my wife from transitioning for 30 years, and the same message that still keeps marginalized children from coming to terms with their own experiences with desire and embodiment.
How Stunning. How Brave.
Not only will this pyrsyn get social validation points from programming xis children to be sexually degenerate, but xhe'll get Bonus Validation Points when xhe gets to queen over the bodies of xer children at their funerals following their suicides.
#Pride, y'all.
Why does it have to end today? Aren't their more children we can teach to twerk in gay strip clubs?
Oh right: Australian "mother" proud her fifteen year old son is going through menopause.
So many Blessings of Liberty (TM) for David French to celebrate.

posted by Ace at
02:27 PM
|
Access Comments