« Kevin Clinesmith, the Corrupt FBI Lawyer Who Forged Documents to Frame an Innocent Man, May Get His Law License Back on July 19
|
Main
|
Insurrectionist Cafe: Deservin's Got Nothin' to Do With It Edition »
June 29, 2021
Quick Hits: Attention Whore Crashes The Entire Tour de France Edition
The Wi Spa, which permits dudes to show their dicks to underage girls in the spa rooms, has apparently been doing this for a while.
This complaint found on the internet from 2018 details the same sort of exhibitionist behavior.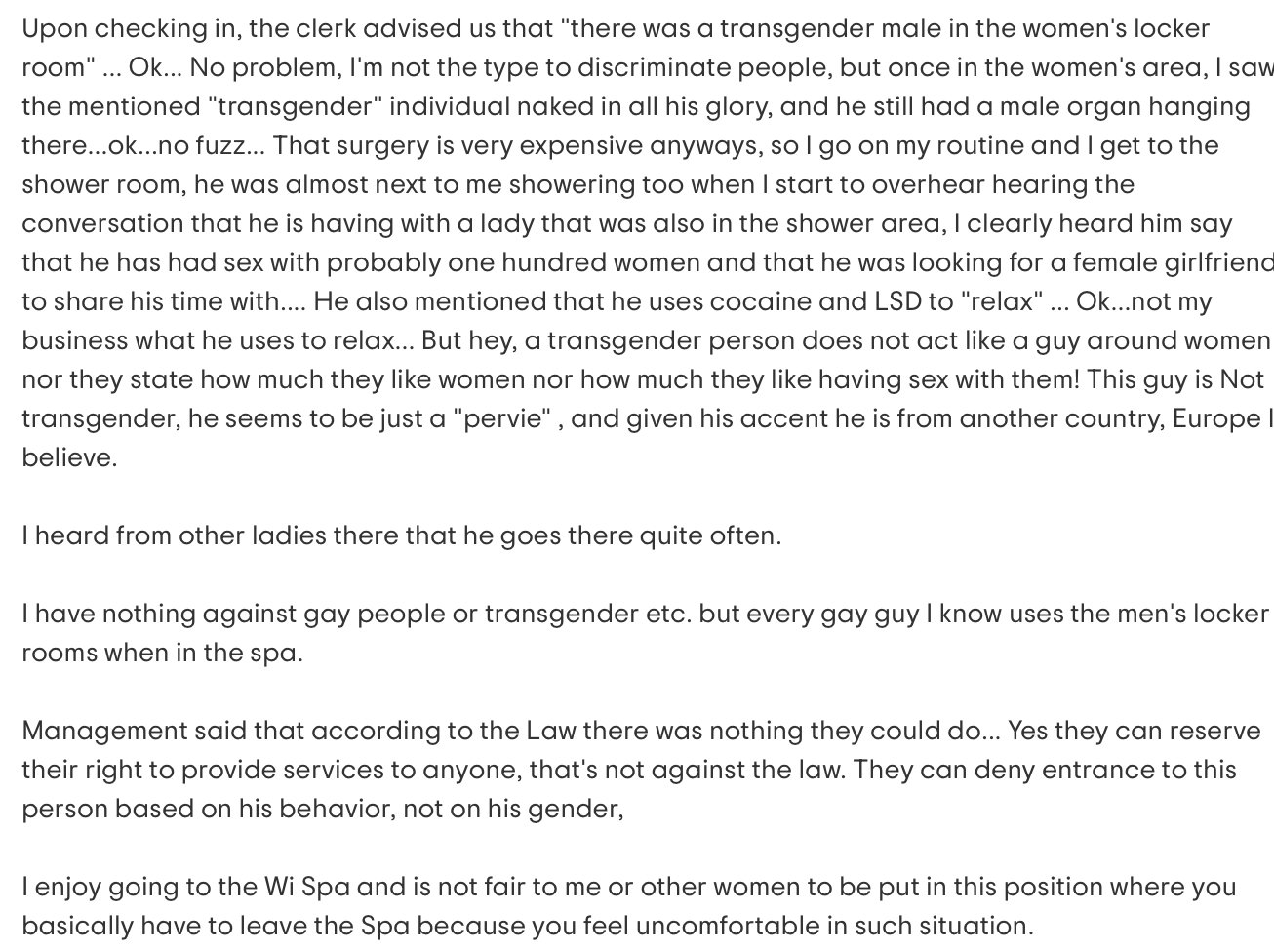 In more News of the Stunning and the Brave, a man beat out all the women in Nevada to be crowned Miss Nevada.
Can't wait until men dominate all women's sports and all women's beauty pageants.
Andy Ngo has now been banned from Soundcloud. I guess being anti-antifa is the newest heresy forbidden by our Tech Overlords.
SoundCloud's explanation was vague and did not specify an exact reason. When an account is removed for violating SoundCloud's terms, the user's account, tracks, followers, and stats are removed from the platform and cannot be returned.

"We take the security of our community very seriously. We hope that you can understand that SoundCloud is a place for people to share content which respects our Terms of Use and Community Guidelines," the SoundCloud email read.
Conservative, Inc. continues to insist that conservatives will just have to accept being deplatformed from all media. In a way, they're right -- endless surrender is True Conservatism, in their minds.
Saira Rao is the hideous racist who scams stupid leftwing white women into paying her and her partner a lot of money to come to dinner with them. The stupid leftwing white women pay a lot of money to have these two women of color over to their homes, and to eat the food they provide, and then they insult the women as racist.
One thing that makes me actually respect Saira Rao is that she refuses to validate the stupid leftwing white women. All the stupid leftwing white women want to be told "it's the other whites who are racist" or "now that you've given us money, we will sprinkle No Longer a Racist fairy dust on you," but Saira Rao doesn't play like that: After you've spent a huge amount of money to have her eat your food, she'll still tell your stupid leftwing white woman ass that you're irredeemably racist and that you and so are your stupid leftwing white children.
Saira Rao's Woke Religion allows no absolution, no redemption, for whites. If you are born white, you are accursed forever and hated by their Strange Gods.
Racist as hell, but it's a real Integrity Move to tell the stupid leftwing white women who keep a roof over your head that they're all going to Racist Hell.
I mean: Mad respect. Mad respect.
And now Saira Rao has a new insult for her stupid leftwing white woman followers: When you DM her support and praise privately, rather than publicly, you are inflicting literal violence on her.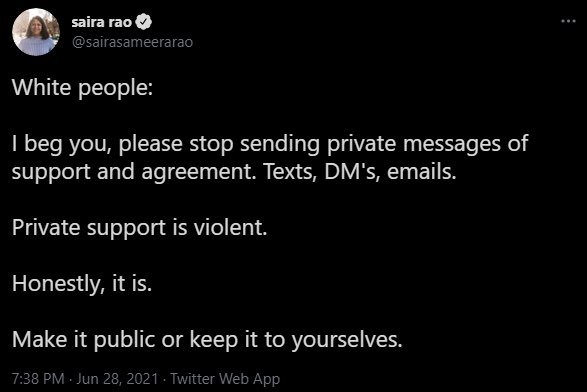 ***
207 Actual CNN headlines

The Economy is Booming. Why are Republicans miserable?

The in the article it says inflation is at the highest level pretty much ever and there are 7.6 million fewer jobs today than pre Corona.

But booming yo!!

Posted by: Joe XiDen
Jake Tapper's ratings are booming, too!

***
Max Boot can't believe that Tucker Carlson could keep his job after insulting a general!
Oh, and here's some prior tweets in which Max Boot insults generals, and keeps his Fake Conservative job at the Washington Post.
CNN and Biden Energy Secretary Jen Granholm say the reason for the Surfide building collapse might have been... global warming.

The left wants the statues in the Capitol Hill Rotunda removed because they're Structural Racism You Guys.
The National Archives' task force on racism claimed in a little-noticed report to the U.S.'s top librarian that the Archives' own Rotunda -- which houses the Declaration of Independence, the U.S. Constitution and the Bill of Rights -- is an example of "structural racism" and that the Founding Fathers and other White, historically impactful Americans are portrayed too positively.

…

Additionally, the report categorized the National Archives' Rotunda as another example of "structural racism" as it "lauds wealthy White men in the nation's founding while marginalizing BIPOC [Black, Indigenous and other People of Color], women, and other communities."

The task force suggests ways to "reimagine the Rotunda," including staging "dance or performance art in the space that invites dialogue about the ways that the United States has mythologized the founding era."
Don't worry, though: Frank Luntz's male roommate will put an end to this.
Right?
Right?
Note this is about removing other statues, not those in the Rotunda.
But liberal Kevin McCarthy has already shown his hand.
So this is how the Republican Party rolls: They agree to every single demand of the hard left, but then just say "But Democrats are bad!" as they advance the Democrats' agenda.
Are they really sure that they're going to win in 2022?
Don't they need actual voters supporting them to win?
I'm at the point where I say: Give the whole country to these animals, and let the inevitable fire and chaos come.
What is the point of fighting for political power when your alleged representatives are all on the other side?!
I'm sure Frank Luntz got paid for focus groups for this newest GOP Profile in Courage.
Canada is using the "emergency" of covid as a cover to impose a fully fascistic government -- groups will be stopped from spreading "false information."
A woman caused a chain-reaction crash of most of the field in the Tour de France, by sticking her dumb body out into the road to show a handmade sign to the TV cameras.
The sign read "Allez Oma Opa," which means "Go Grandma Grandpa."
By the way, if you already knew what Oma and Opa meant, you're a pervert. You know why.
The Daily Mail reported that the woman who crashed the entire Tour of France tour fled the scene and is "untraceable."
They also offer this overdramatic claim:
Saturday's dramatic crash at the Tour de France, which left 21 riders injured, was 'like a war zone' with the same 'chaos' and 'moans' from those involved, according to the on-site surgeon.

Gilbert Versier has been working as an orthopaedic surgeon on the Tour for 11 years but previously served as a medical officer, a three-star general, operating out in Iraq and Afghanistan.

'It looks like a war scene, the same chaos, the same moans, bodies everywhere and tangled machines,' Versier told French daily newspaper L'Equipe.
You need to calm down, Jean-Pierre.

posted by Ace at
06:03 PM
|
Access Comments