« First-World Problems...Not Today!
|
Main
|
Gun Thread: Independence Day 2021 Edition! »
July 04, 2021
Food Thread: Get Out There And Grill Something!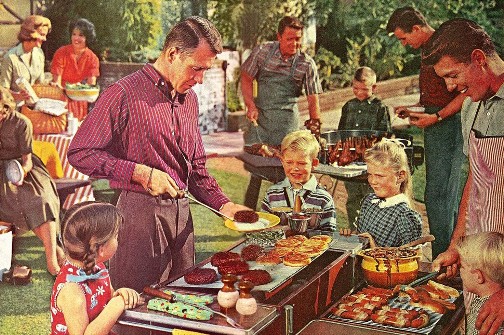 The pleasures of outdoor cooking are hard to beat. There is something immensely satisfying about the combination of food, fire and the great outdoors, even if it is only your backyard or even a tiny balcony in a city apartment.
And there are some foods that simply can't be cooked indoors. Sure, if it's pouring rain or pounding down snow I'll cook a steak on the stove and broiler in a cast-iron pan. And while it turns out fine, there is absolutely nothing like using fire! Besides, it is an American tradition, and I'll be damned if I am going to stomp on the flag by cooking inside!
These people are idiots [Hat Tip: redc1c4]
******
Last night on the ONT there was a spirited discussion about...well...pretty much everything, but one theme about food piqued my interest. I suggested that:
There should be a separate category of food that encompasses treats that we normally don't eat, except at fairs and carnivals and other wonderful/disgusting food events.
And then "No One of Consequence" mentioned deep-fried twinkies, and I realized to my everlasting shame that I have never had one. Oreos? Yes! Snickers? Of course. And pickles too! Damned good!
Twinkies seem to be a fine choice for frying, because they are rather light and fluffy, and the contrast between the crispy exterior and the cake-ish interior might be fun.
I'm not sure what to call these foods, because they aren't in my normal rotation, but are surprisingly satisfying and even if shockingly gross sounding, they do catch one's attention!

******
Back to the drawing board.

******
Grind your own. Seriously...burgers are great, and playing around with the various cuts that go into the grind can be loads of fun. I have tried pretty much e very cut I can think of except the tenderloin, which is too expensive and too lean to be of any help. But pretty much everything else is fair game. My last grind was chuck and beef shin meat, and since I am not a savage, i carefully scooped out the marrow from the bones and put it into the grind. It was great!
And that was a segue into my occasional rant about fat...and flavor. Because they usually go hand in hand. Hell, I was trimming some beef short ribs this morning and carefully reserved the extra fat (not the gristle) for my next burger blend, because adding additional fat is rarely a bad thing, especially in burgers. I have been known to grate some frozen butter into the bowl when it didn't seem sufficiently fatty.

******
There are a bunch of recipes for Paul Prudhomme's "Sauce Piquant," so no link. He has them for shrimp and rabbit and chicken and...
The lurker who sent along this rather attractive looking sauce suggests that if one were to attempt this recipe, one should be quite gentle with the spice; he suggests 1/4 as a good beginning.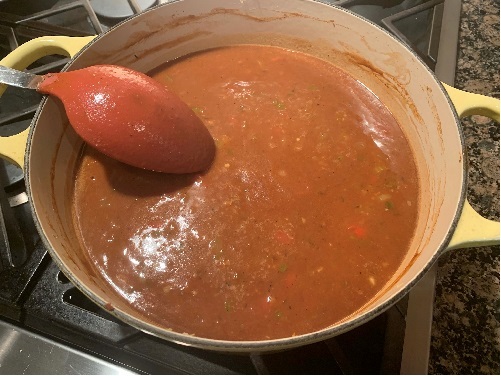 ******
This sounds...um...gingery! I think it's probably too much, but I will definitely try a simple ice cream sandwich with vanilla ice cream and ginger cookies.
Triple Ginger Ice Cream Sandwiches
******
******
Tender Broccoli Rabe that isn't bitter, beef short ribs that have meat on them (not the stupid little sliver of bone they sneak into the packages), Snap Peas (apparently they are no longer grown in quantity), spare bottles of Van Winkle Special Reserve 12 Year Old Bourbon, an herb garden that actually produces herbs, well-marbled NY strip steaks and elk backstrap to:
cbd dot aoshq at gmail dot com.
And don't think that you are off the hook with maple syrup and French Toast: I'm watching you...all of you! And I am watching you perverts who shake Manhattans and keeping a list for the Burning Times.

posted by CBD at
04:00 PM
|
Access Comments