« Happy Independence Day! (Not: Happy 4th of July)
|
Main
|
Food Thread: Get Out There And Grill Something! »
July 04, 2021
First-World Problems...Not Today!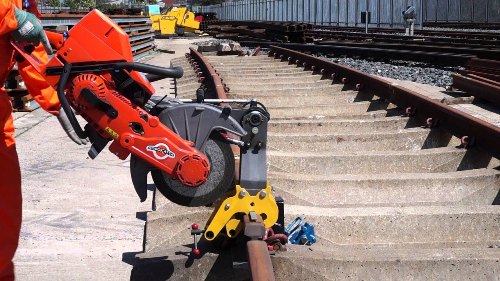 A long time ago a friend at work gave me a piece of rail. Why? Why not? His company (one of our contractors) was doing some track maintenance, and he thought it might be fun to give me a foot-long piece of it. The thing is amazingly heavy, for obvious reasons, and it is oddly evocative of a part of America that too few people know.
Fast forward mumble-mumble-mumble years, and I decided to clean it up and polish it. After a few fits and starts and some advice from J.J. Sefton and others, I stripped the rust off of it, and am now in the process of grinding it clean of a few welding bumps and sharp edges from the saw.
And that's why I bought an angle grinder! Why didn't somebody tell me how much fun they are?
The rail is shaped in such a way that it might be tough to get to every surface with the grinder, but I am going to give it a try. It cuts the steel with ease, and I have already smoothed it out and have moved to the next step...60 grit flap wheels!
Yippee for power tools!

posted by CBD at
01:55 PM
|
Access Comments