« Food Thread: Get Out There And Grill Something!
|
Main
|
Sunday Overnight Open Thread (7/4/21) »
July 04, 2021
Gun Thread: Independence Day 2021 Edition!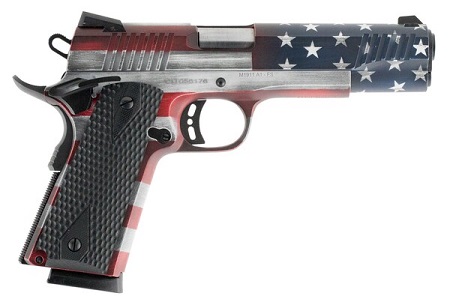 Howdy y'all! How's things? Welcome to the fabulously wonderful Sunday Gun Thread! If you are interested in guns 'n shooting along with a healthy dose of fun, frivolity and wacky hijinks, then you have come to the right place! So put on your reading slippers, find a comfy chair, and let's git to Gun Threadin'. If you're new, hop right in, say howdy and let us know what sort of shooting you like to do. We love to welcome new participants!
Two hundred and forty-five years ago we told King George to kiss our colonial asses and declared our independence from Great Britain. We were then 13 colonies with a precarious toe-hold on a largely unexplored continent, and had just told the world's largest military and economic power to bite the big one. With hostile Indians (woo-woo) on one side, and the British Navy on the other, we drafted our Declaration of Independence and started taking care of bidness. Thirteen years later we had a shiny new Constitution and Bill of Rights and were on our way...
To having Joe Biden as President.
OK. So perhaps we haven't been the best stewards of the incredibly precious gift of freedom fought for, and then entrusted to us, by our forefathers. Perhaps it's time to stiffen our resolve and revisit some of the basic concepts which compelled our revolution in the first place. The idea of America isn't dead, but our management of the enterprise has certainly left much to be desired. I still think it's good and proper to loudly celebrate our independence, not only as a celebration itself but also as a warning to tyrants, both foreign and domestic. What was done once can be done again.
Happy Independence Day, everyone. Now let's see what we have below, shall we?
******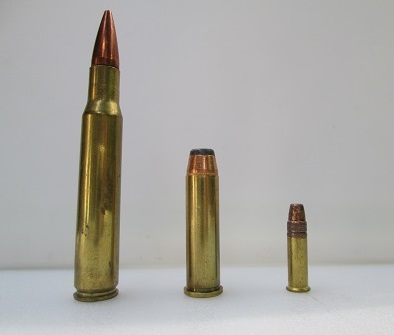 Last week we talked about the .22LR as a training round and I included the picture above to illustrate a point. Immediately, several of you noticed the .30-06 round looked wonky, which proves some of you at least look at the pictures in the thread.
Here's another look at the cartridge in question.
I figured it must be something to do with the camera, and our pal A.H.Lloyd later provided a explanation:
... it's the result of having the camera too close to the object being photographed.

When that happens, the curve of the lens will "bend" the straight lines. This distortion is common but usually since your focal point is the center, you don't notice it. The solution is to move the camera back farther, so the tall object is more centered. You can try using a zoom setting to get the desired detail or increase the resolution and then crop in and enlarge.
Whoa! Bitch-slapped with some photographic knowledge! Thanks AHL!
So that explains the crookedy appearance, and got me thinking about crookedy cartridges and the topic of cartridge runout.
What in the holy hell is cartridge runout you ask?
Runout is a deviation from the midline axis of the outside surface of a cylinder, and is also referred to as concentricity, or the alignment of the case and bullet. Ideally, the axis of the bullet will be the same as the axis of the cartridge case. For precision shooting it is essential to measure and control runout.
OK, so we know what it is, why do we give a damn?
Your gunsmith goes to a lot of trouble to make sure the chamber and bore are precisely aligned. In the chamber, a bullet with poor concentricity is not precisely aligned with the bore but is rather at an angle, and remains off-axis during its short trip through the barrel. When this off-axis bullet exits the muzzle two things happen. The expanding gasses pushing it act asymmetrically on its base, and at the same time the bullet transitions from rotating around the axis of the bore to rotating around its center of mass. Both of these conditions create yaw and instability, affecting accuracy at the target.
OK, OK - so we give a damn. How do we measure and control it?
Assuming your chamber and bore are aligned, controlling runout is not difficult. I always full-length size cases when reloading and I use a high quality bullet seating die with a goal for match ammunition of no more than .002" runout. There are a number of concentricity gauges available which are simple to use. A Sinclair concentricity gauge is shown below.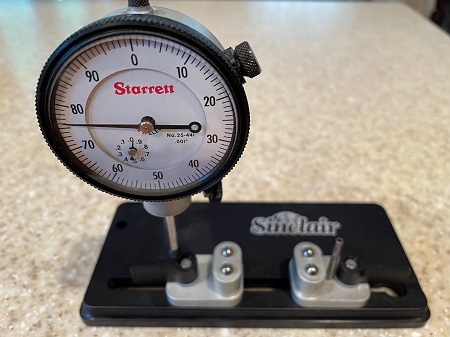 And here it is with the cartridge held in place.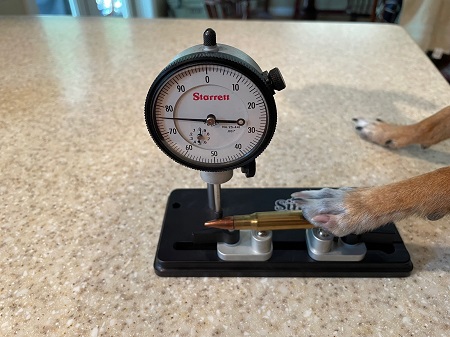 Assisted by Fun Size Joe
The cartridge to be measured is placed onto the tool and rotated, and any variation of concentricity is read on the indicator dial.
In this case, the runout is about .004" which is about normal for commercially loaded ammunition. However, once the case has been fire-formed, and then reloaded with quality dies and bullet seater, I'd expect something under .002". While this isn't something that most shooters worry themselves with, if you want to produce precision ammunition the effect of runout needs to be considered.
******
First up, our pal GWB shares a great day at the range with his son.
I made it to the range, finally, last Saturday, with my son. We had each brought a 12ga, an AR15, and pistol(s). We brought out our pistols first, with a target with 4 8inch diameter targets on it at 15ft. I was shooting my derringer for the first time and didn't want to totally miss the paper. And, wow. I managed to get all 6 rounds I fired on the paper sort of in the vicinity of the target. I fired 2 .38sp, then 2 .357mag, then 2 more .38sp rounds. It is not an easy gun to shoot. The trigger requires a little bit of a downward pull for a proper trigger draw, and that's kind of counter to where you feel like placing your hand. Only 2 fingers fit on the grip, but the grip shape and the grip itself are pretty conducive to holding it. The first two shots were low. I'm guessing I was anticipating the recoil. Feeling pretty good, I put in the 2 .357 rounds, and BOOM. There was a significant difference in intimidation factor with the .357s. I think the second one was the one that went low (anticipating again). Then I got some control for the last 2 .38 rounds. I feel confident that if I need that weapon up close and personal it's going to be adequate to the task. And that I need to practice with it.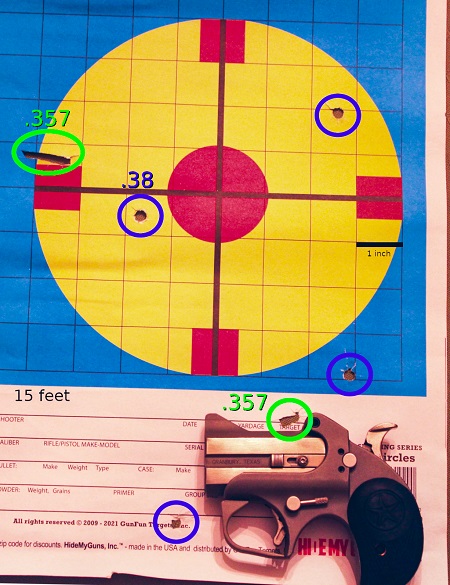 Then we discovered yet again that my son REALLY needs glasses. Some combination of procrastination and vanity is keeping him from it. His .45 shots (a Ruger American) were all over the top of the targets and generally left of where he was aiming. We're going to have to examine whether his sights are off or he's doing something to push the shots aside from not being able to see the target well.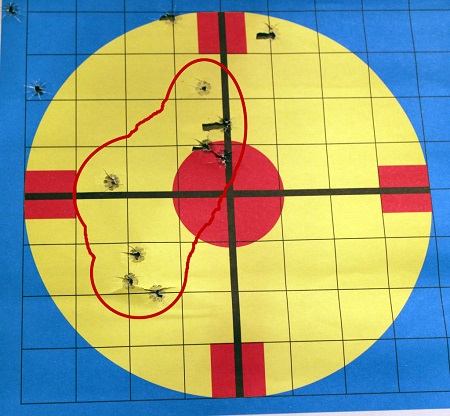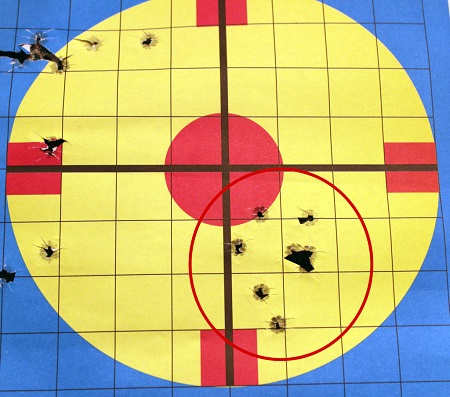 Then I put some rounds through my Citadel 1911 Officer 9mm. It's generally very nice to shoot, but I did have some failures to extract. Interestingly, it was with only one ammo supplier. The Bosnian ammo (IGN) fed nicely, but the stuff from Georgia Arms did not. I won't write them off, though, until I do some experimenting. I was able to put 2 mags through it and do alright. One is a really nice grouping for my level of practice, all in a 2"x3" grid. The other one was a little scattered over half the target instead of 1/4. That was also the one with the extraction issues, so I wasn't in a good rhythm.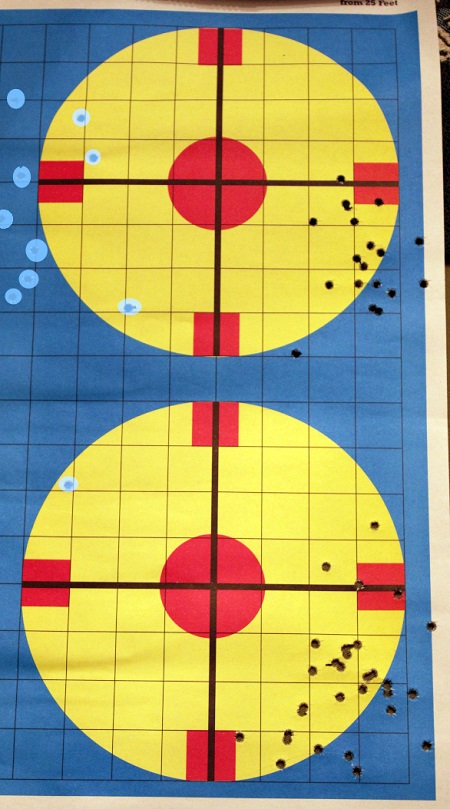 Then I put up another of the 4x 8in targets, and ran it out to 50ft for our ARs. My son had previously had trouble with a PMag 40rd magazine in his. And this time he had trouble with the 'factory mag' that came with it. He had one that failed to extract (and we didn't notice the round still in there) and the next round jammed up against it hard enough to bend the bullet out of alignment.

All-in-all, a great father-son outing, despite the issues.
Excellent report, thank you GWB!


******
Next up, our pal and lucky husband Hazafias reports on not one new gun, but two!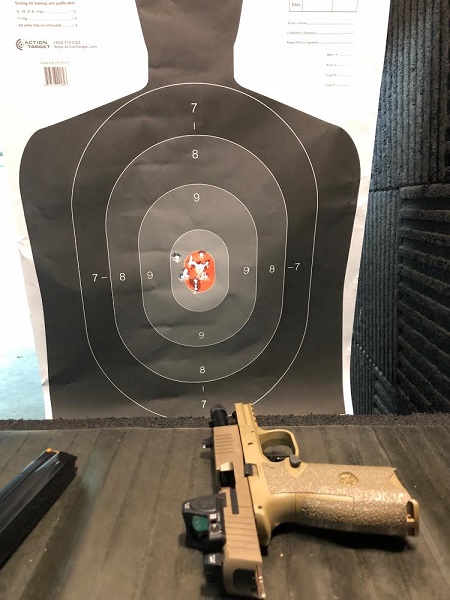 The wife and I are headed out to MT for some hiking and camping. After some discussions she gave me the green light to buy a Glock 10mm G20. Am I a lucky guy or what? I found a new G20 at one of our local stores and some ammo to boot. I was out the door for about $900 - the 200 rounds of 10mm defense ammo was very pricey. A little over $2/round on the Buffalo Bore hard cast rounds.

Later that evening I had a training class at a different range. The gunsmith tracked me down before my class to show me a great deal on a used pistol that had just come in: an FN 509 tactical. This one came with a Trijicon RMR, suppressor height Trijicon night sites, an after market Apex trigger, one standard mag, two 24 round mags, a compensator and the original case, all for less than $900. After deliberating for about 5 seconds I pulled the trigger. I figured if I had permission for one pistol, two wouldn't get me in too much trouble. I was not wrong! Like I said, I am a lucky man.

The FN is smooth as silk! That big hole represents 18 rounds of work at 10 yards. The RSO accused me of being a paper saver.
Nice shooting and congratulations, Hazafias!
******
Next up, our pal and delightful 'ette Sharon(willow's apprentice) reports on poor customer service from Rossi.
Finally had an opportunity to shoot my new Rossi Gallery pump action 22lr rifle last weekend. This is a reissue of a very popular rifle. The main reason I purchased it was because I had an opportunity to shoot the older model and right away it just worked for me. I had mechanical glitches with the gun the first time I tried to shoot it, but this time it performed perfectly and to my delight I was pinging the targets immediately. The next day, after fixing a small jam, it was noticed that a screw was missing from the forend, so had to stop shooting.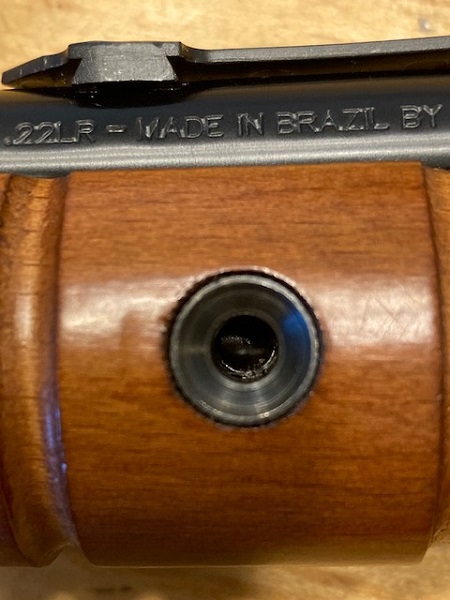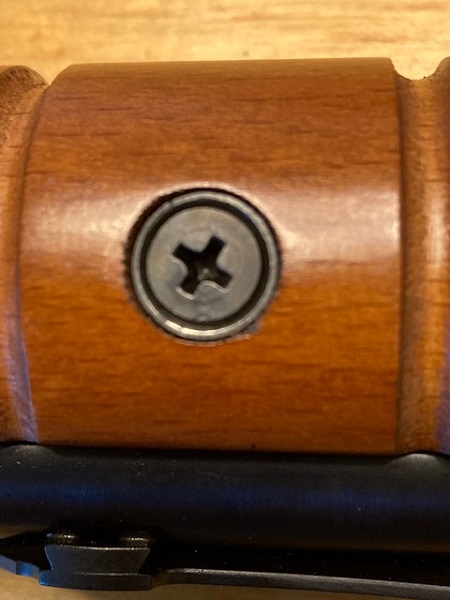 The next day contacted the warranty division to get a screw sent to me and was told I would have to send them the rifle for them to put a screw in. The next day I called customer service to tell them how ridiculous it was to make me send them the rifle to put in a screw. They took two days to get back to me to tell me that this was not a part they could supply and I would have to send them the rifle. At that point I contacted Weasel who helped me identify the part which I ordered (actually 50 of them) from Amazon for a grand total of $6.99. It is not the pretty black phosphate but it works.

I still love the rifle, but will never buy another thing from Rossi. For a $.13 screw, they lost a customer.
Thanks Sharon(wa)! Who knows what Rossi's reasoning is, probably product liability, but it's a shame when a company blindly follows policy and alienates a customer. Way to go, Rossi!
******
There has been a lot of discussion of the recent case in Colorado where a good Samaritan was shot by the police responding to the scene of a shooting. Here is a link to the story, sent in by DB, just DB.
A couple of things come to mind. First, if you were witness to something like this, would you get involved? Common sense and self-preservation might say no, but I am not sure I could stand by and do nothing. Secondly, if you are ever, ever, ever, ever involved with anything involving a gun and the cops are responding, do not stand around holding a weapon. Put the gun down!!
Thoughts?
******
Here is a great video from on ballistic gel and caliber testing Lucky Gunner sent in by our pal rhomboid.
Thanks rhomboid!
******
Our pal Jerry Miculek speed shooting a .50 BMG.
******
ATTENTION NoVaMoMe 2021!!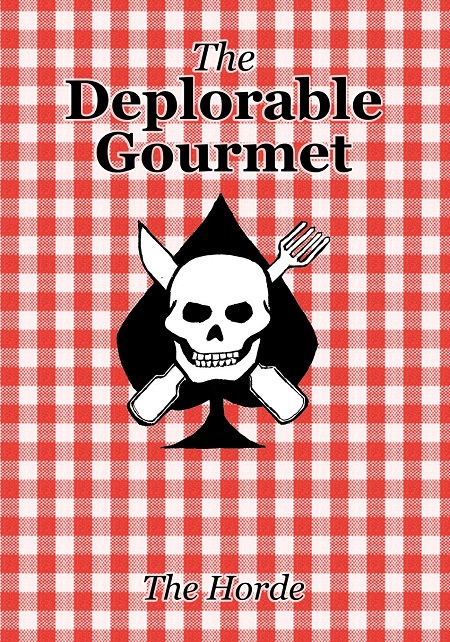 The social and cultural event of the season, NoVaMoMe 2021 is on the calendar! That's right, you people have a chance to meet many of your online pals on Saturday, July 24th beginning at 1pm until dark, or such time as it gets busted up by the cops. We have an exciting new location in the Northern Virginia area which we think will be more better than before and allow extended time for visiting. Admission is $25 which includes food and soft drinks, with a cash bar. This year all of the food is prepared from the greatest non-fiction literary work in modern history, The Deplorable Gourmet. Want to find out if your recipe made the cut? Want to be one of the cool kids? Just send an email to novamome at protonmail dot cee oh emm, pass the rigorous screening process to obtain registration details, then sign up to attend! Easy-Peasy!
It promises to be a great day, including our customary raffle of AoSHQ themed gift baskets. That's right! Each of the AoSHQ weekend threads has a specially themed gift basket chock full 'o theme related gifts!
Registration closes at midnight, July 10, 2021
Win a Dream Date with Weasel!
This year, a separate raffle for the Gun Thread gift basket will be held. This fabulous prize includes an entire day of shooting and personalized one-on-one handgun & rifle coaching and instruction at Weasel Acres on a mutually agreeable date with yours truly. The lucky winner will be able to not only bring and shoot their own weapons, but also try out a variety of WeaselWeapons using WeaselAmmo! The winner will take home 150 rounds of quality 9mm ammo to practice what they have learnt, a signed photo of WeaselDog and Fun Size Joe, and a complimentary video of the WeaselAcres experience, as parting gifts.

We will end the day with dinner at a good Mexican place in nearby Appomattox. Pretty much a dream date with Weasel! The winner will be responsible for their travel to and from Central Virginia, hence the separate drawing.
Don't be a pathetic girly-man loser, register today!
******
Link-O-Rama
I'm really very seriously not kidding around anymore. Buy Ammo
AmmoSeek - online ammo search tool
GunBot - online ammo search tool
SG Ammo
Palmetto State Armory
Georgia Arms
AmmoMan
Target Sports USA
Bud's Gun Shop
***Mail Bag***
This week's gun funny is from our pal fungusboy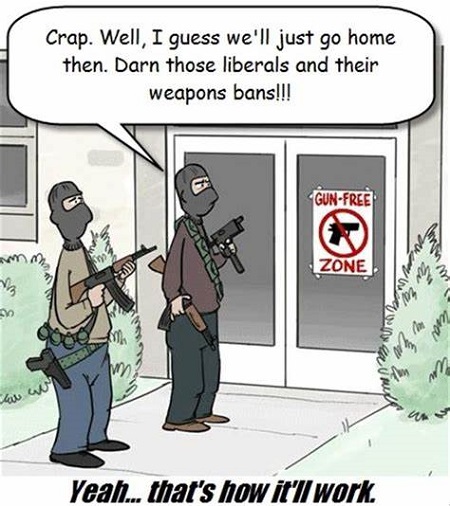 ******
Please note the new and improved protonmail account gunthread at protonmail dot com. An informal Gun Thread archive can be found HERE. Future expansion plans are in the works for the site Weasel Gun Thread. If you have a question you would like to ask Gun Thread Staff offline, just send us a note and we'll do our best to answer. If you care to share the story of your favorite firearm, send a picture with your nic and tell us what you sadly lost in the tragic canoe accident. If you would like to remain completely anonymous, just say so. Lurkers are always welcome!
That's it for this week - have you been to the range?


posted by Weasel at
07:00 PM
|
Access Comments