« Biden Confuses The Tuskegee Airmen with the Tuskegee Study, Probably Because of His "Stutter"
|
Main
|
Senate Republican Geniuses Tricked by... Joe Biden »
June 25, 2021
Yes, It's Time to Start Fearing A Rental House Cartel
In an era of cancel culture, with monopoly corporations enforcing speech and lifestyle codes, what will happen if the ownership of America's housing stock becomes concentrated in the hands of a cartel similar to that operated by our tech overlords? Should we fear that "Monster Landlord" would feel empowered to dictate what speech, beliefs, and activities are allowable, much like Monster Tech has already done?
There was much buzz recently following a Wall Street Journal story about investors and private equity groups buying up a large percentage of single family homes hitting the market – homes which will then be leased as rental houses. The main concern seems to be what effect this will have on those who currently rent but desire to become homeowners. Rising prices and a dwindling supply of houses for sale could keep them renters for a long time. That is a very real concern, and it is being covered in media across the political spectrum.
Slate notes that Invitation Homes, a $21 billion publicly traded company that was spun off from Blackstone, operates in 16 cities and owns 12,556 houses in Atlanta alone, and that more than 20% of all homes sold in Charlotte, Atlanta, and Phoenix are sold to investors.
Invitation Homes can borrow money for far less: It's getting billion-dollar loans at interest rates around 1.4 percent. In practice, this means that Invitation Homes can afford to tack on an extra $5,000 to $20,000 to the purchase price of every home...
BlackRock (a different entity than Blackstone) is now a major investor in Invitation Homes. BlackRock does not care for the relationship you deplorables have with guns.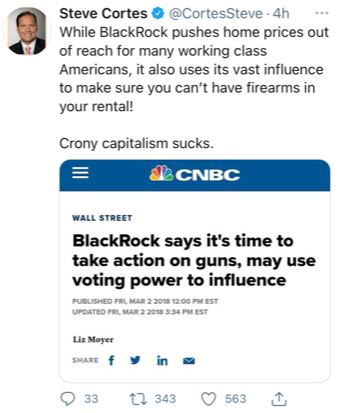 A publicly traded Real Estate Investment Trust named "American Homes 4 Rent" has accumulated 53,348 properties, and Goldman Sachs is getting in the game too.
And good old Blackstone is coming back for more, too. "Blackstone gets back into the single family rental game."
Every home gobbled up by an REIT or private equity group tightens the market for would-be home owners. That is bad. But even worse is the possibility (likelihood?) that obedience to woke culture will be a lease requirement of all renters by the emerging landlord cartel.
You may be thinking, "No way," there are over 80 million single family homes in the USA. How could investor and private equity groups obtain a critical mass of homes. And even if they did, how would they know what goes on behind closed doors.
Well for starters, only a fraction of those 80 million homes go on the market each year, and a flood of private equity money can buy a whole lot of those new-to-market houses. And as for what you say or do in private at home…
Uh-oh… A startup backed by Jeff Bezos and Salesforce CEO Marc Benioff is the latest venture working to extend real estate investing to the masses.
Amazon's Jeff Bezos would never monitor what is going on in my house, now would he Alexa? And doesn't he own the Washington Post, the same newspaper that smeared Nicholas Sandmann as a racist just for smiling at a bully of color. Although it cost Bezos' newsletter an unknown sum to settle, if Bezos will try to cancel an innocent teenage boy to further the culture war, you probably don't want him as a landlord.
What about Marc Benioff? Do you think as a landlord he'll allow you to exercise your constitutional rights as a US Citizen? Well, he's an anti-gun zealot who bans gun retailers from using Salesforce software.
Ultra-wealthy left-wing activists such as Bezos, Benioff, and the rest of the tech bros have shown that they are extremely hostile to personal freedom. Can they – or other up-and-coming plutocrats – create a de facto monopoly over housing like they have in tech fields? Who knows. Maybe. Two decades ago we all thought the internet was unleashing a new era of unconstrained freedom. We never thought we'd see retailing, communication, and media morph into a tightly controlled – and evil - oligopoly. But it did. And through the power of their oligopoly they are forcibly compelling the rest of corporate America to fall in line with them.
So, I definitely fear what is happening in the housing market. I fear that a new generation of potential homeowners could be denied access to that important milestone in life. I fear that a cartel of landlords could impose the left's social order in the most private area of our lives. Quite simply, I fear the prospect of "Monster Landlord."
What about our conservative free market principles? I don't care about any "free market principles" when it comes to the consequences of housing being controlled by a cartel of evil billionaires. My solemn principle is that I oppose those who would suffocate liberty, be it via government, corporations, or activist billionaires. We cannot let them control the nation's housing stock.
(buck.throckmorton at protonmail dot com)


posted by Buck Throckmorton at
02:22 PM
|
Access Comments