« Saturday Gardening and Puttering Thread, June 26
|
Main
|
Saturday Afternoon Chess thread 06-26-2021 »
June 26, 2021
Ace of Spades Pet Thread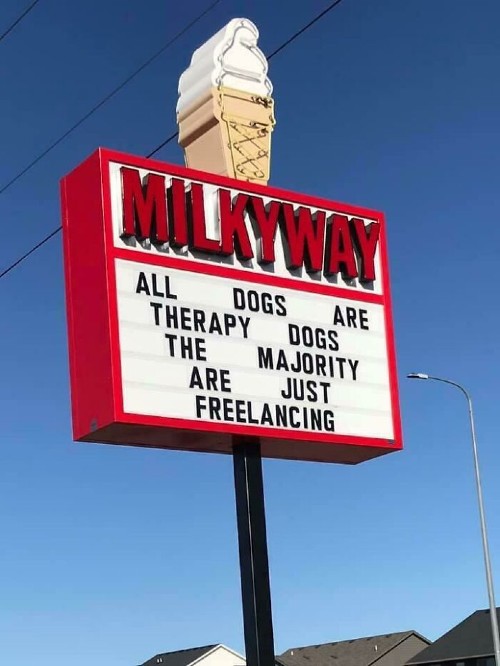 Good afternoon and welcome to the almost world famous Ace of Spades Pet Thread. I appreciate Mr. Sefton filling in last week. Your humble Cob was on vacation and no where near a computer.
So kick back and relax and let us jump into the world of animals.

***
A Little of This. A Little of That.
From our friend and fellow Cob-ette KT. A non-dog person attends his first Westminster Dog Show.
***
Walking the dog isn't always an easy undertaking.
***

Life across the Rainbow Bridge. (H/T Our Country is Screwed)
***
Herding dogs gotta herd. (H/T CBD)
***
Meet The PetMorons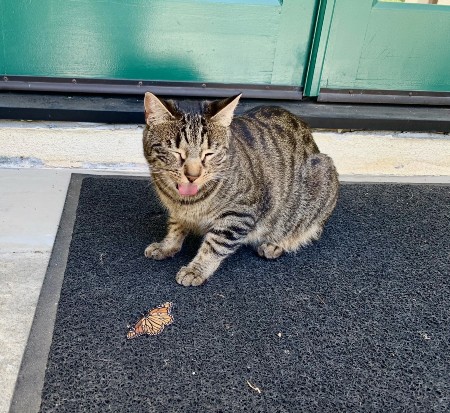 So proud of her prowess, now rethinking.
I think Olive will not be hunting butterflies ever again.
Great photo courtesy of my daughter who saw the whole adventure! - Keena
The look on Olive's face is priceless. She seems very proud yet shy of her great prowess. Thanks for your contribution today.
***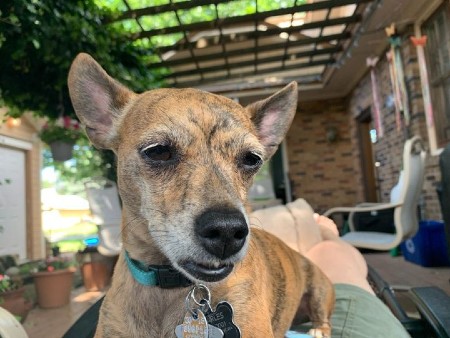 Dear Ace of Spades Pet Thread,

Longtime Ace of Spades HQ lurker and once in a blue moon commenter (ptleahy) and I have supplied you with a photograph of our Standard Poodle, Big Poodle in the past; however, I need to share a photo of Lowbacca, our Chi-Weenie. She is the queen of the empire and she bosses everyone around. She enjoys sleeping late, peeing in the house when it is too cold outside, and lounging in the sunlight when it is warm outside. We didn't name her and yes the name is from the cousin of the Chewbacca. We call her Lowbi. Thanks for what you do each week and I always look forward to the World Famous Pet Thread.
Well ptleahy thank you so much for your submission and kind words today. Lowbacca certainly does have the appearance of royalty about her. She certainly seems loved. Thanks.
***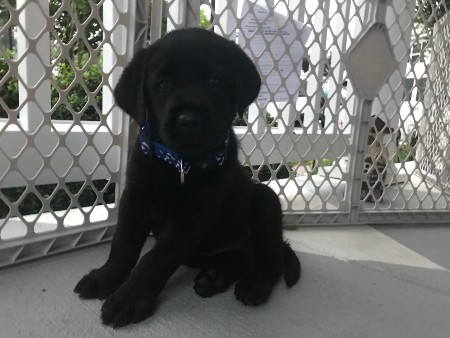 Hello Ms Hum. We lost our old guy, KJ, April 7th, have been missing him like crazy and just could not handle the silence of a dogless home. We thought we'd wait until end of Summer to look for another dog but a friend has 2 English Labs that had a big litter. So yesterday, we brought home Merlin. He's adapting really fast and is a hoot. Haven't had a little pup for a while, so interesting times ahead. - Russkilitlover.
First, condolences on your loss of KJ. It is never easy to lose a pet. Secondly congrats on the new addition. It looks like before he matures Merlin will give you a run for your money. Thanks for sharing.
***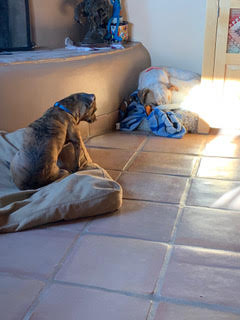 Hello,

Love your blog.

Last year, the smaller dog Mudd, eight years old, decided she wanted her bed back. Slush, two years old, was sitting in the sun, resting comfortably. Well, as comfortable as a 70 lb dog can be in the bed made for an 18 lb dog. Mutt basically honed in, tricked him to get out of the bed, then took over and refused to leave in spite of Slush's efforts. Hope you enjoy, feel free to use as desired. - JML
I bet those two are quite entertaining together. I get the feeling that Mudd is quite the leader of the pack. Thanks for the love and sharing your puppehs with us.
***
Hello,
This is Shadow, our newly adopted 4yr old German Shepherd. He was too much for his original family with small children whom he would knock down accidentally when playing. My wife and I lost our Shepherd to cancer late last year, and missed our 4 legged family member! He fell in the pool the first half hour at his new home, and since then he barks at anyone getting near the pool edge. He appears to have adjusted to his new home and life, my wife and I are much calmer than his previous home. We always enjoy the Saturday Pet feature, and Thanks for all you do for the blog! - K J
Looks like Shadow is at home next to the "cement pond". Nice looking pooch and so happy to hear that he landed at your home. It's nice to have a 4 legged family member! We appreciate your contribution today.
***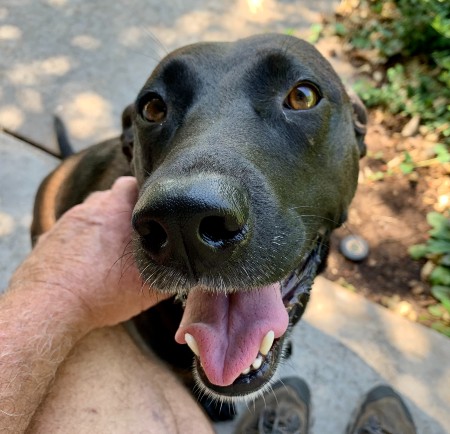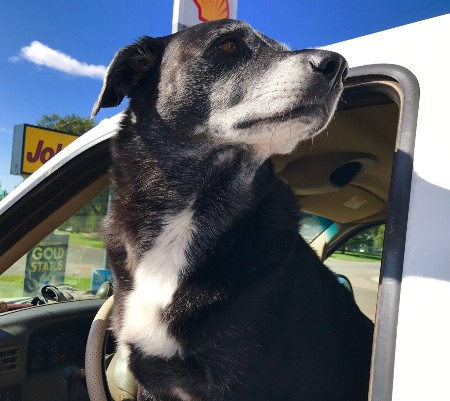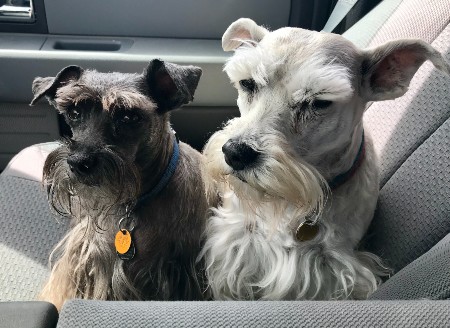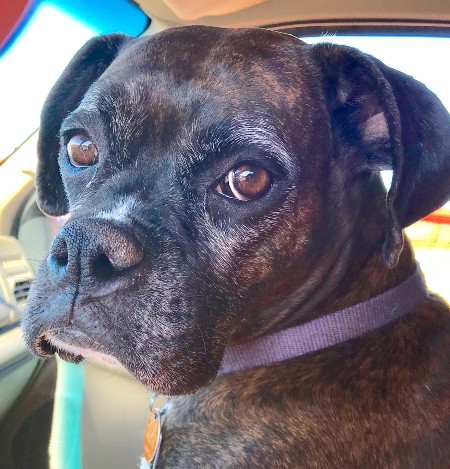 Hi Mis Hum, these pics loaded with a mind of their own, not in the order I was aiming for. First up is Sarah, a 6 year old Black Lab/ Pit Bull mix. She wandered up to our house in the wilds of Western Oklahoma when she was about a year old, and stayed. Always happy, born snuggle buddy. #2 is Clara, a 10 year old Australian Shepherd/Black Lab mix. Sweetest dog that ever lived, and uber-enthusiastic about bacon. She's had both knees rebuilt, so she has slowed down quite a bit. #3 is a pic is of our Schnauzers, Callie and Maggie. Believe it or not, they were half sisters. Callie was 15 last year. She had a bad mitral valve and collapsing trachea, which we medicated for years. When she stopped eating right before the Covid hysteria kicked off, we let her go. It nearly killed me. Maggie is fifteen this year, and but for some arthritis, still going strong. My constant companion. Loves to eat June bugs and grasshoppers. Last but not least is Emma, our 8 year old Boxer and my wife's personal bodyguard. LOVES the grandkids, is obsessed with cats. Hates electrical storms. The dogs sleep in the bed with us at night, so we don't get cold in winter. - Pete & Susie

My goodness what a large crew you have there! Really sorry to hear about the loss of your Callie. Schnauzers have a special place in my heart. Good luck with the crew and thanks for sharing with us.
***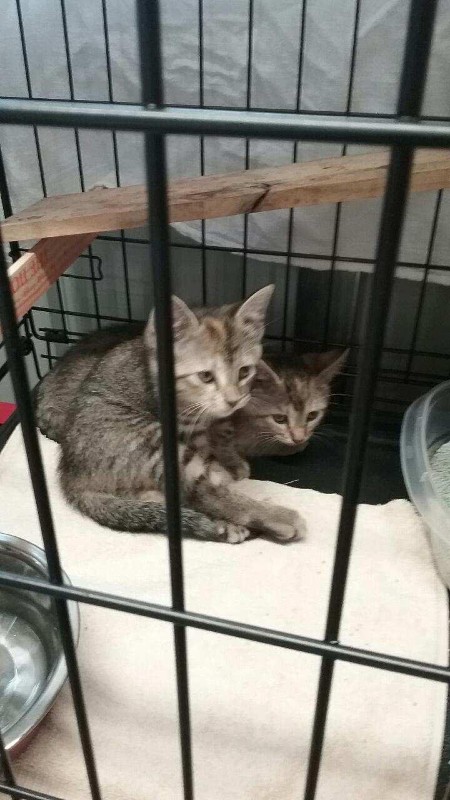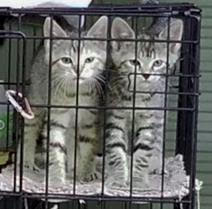 It's kitten time in East Texas...hubs and I moved back to Texas last May and have been busy settling into a new house way out in East Texas where we are happily surrounded by cattle and horse ranches and more trees than you can stir with a stick.

It is the perfect place for two rescued little girls to make their kingdom and reign over peasant field mice and churly lizards. All Hail the Princesses Thelma and Louise, just barely 8 weeks old...They are pictured just 36 hours after settling into their temporary crate while the next month or so will see them socialized, chubbed up, vaccinated and ready for their coronation.

Pretty cute, eh? (Photo 1)

After just 3 days of settling in, they look a bit more confident. I have it on good authority they come from serious mouser stock.(Photo 2) - Susan
Darn right they are cute!!! Congrats on your new home and your new kittehs. They certainly are cute and sound like they will have a great life in East Texas.
***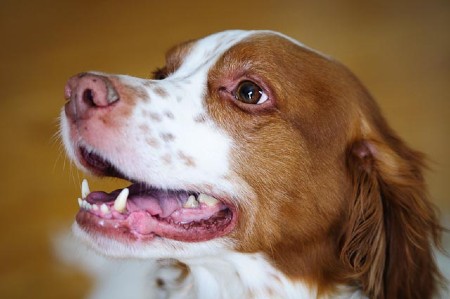 We lost Zander, our senior dog, on Thursday after a few months of fairly steady decline. He was 16, which is quite old for a Brittany I'm told, but he'd been starting to show signs of dementia toward the end. Our vet prescribed a drug that seemed to help him -- I called them his "dried frog pills" -- so he was still able to join the girls on the occasional squirrel or rabbit chase in our backyard, although he'd often lose the trail quickly.

He suffered a major stroke yesterday morning and was unable to get up. We got him to the vet as soon as the office opened and the vet gave him a quick exam and told us he probably only had a few hours left. She euthanized him on the front lawn and he died in my son's arms peacefully. - NR

Condolences to you and your family on the loss of Zander. He was a handsome fellow and lived a wonderful life with your family. Once again, so sorry for your loss.
***

Thanks to all of you who contributed to today's Pet Thread. You folks really make it work.
If you have something pet/animal related you wish to submit you can reach us here at petmorons at gmail dot com.
God willing, the creeks don't rise and I don't go on vacation we will be back here next Saturday. Have a great week!

posted by Misanthropic Humanitarian at
03:00 PM
|
Access Comments