« Ron DeSantis Pardons All Floridians For Mask/Distancing Violations
|
Main
|
Quick Hits: Teachers Union Head Randi Weingartner Finally Addresses the Depression Caused by Forced Isolation »
June 17, 2021
Victoria Secrets Rebrands Itself as the Lingerie of Choice for Woke, Ugly Women
Victoria's Secret has decided that beauty isn't beauty -- woke bullying "activism" is now true beauty.
The embattled lingerie brand, which has struggled to maintain its share of the marketplace amid numerous scandals in recent years, announced a new initiative Wednesday with a very different look. Replacing its typical crop of long-legged, bombshell models is a unique group of "trailblazing" women, deemed The VS Collective, "designed to shape the future" of the company.


"We are proud to bring together an unparalleled group of trailblazing partners who share a common goal to drive positive change," the company wrote in a statement on the rebrand, a clear attempt to move away from its long history of appealing to the male gaze.
Yeah... why would a woman buying a silk teddy wish to "appeal to the male gaze"?
I'm sorry, is there any other purpose of sexy undergarments? Undergarments which are not meant to be seen do not have to be pretty. In fact, they're often not very pretty.
The article notes that Victoria' Secret's former marketing director said something about the company not hiring plus-sized models. And a former executive is linked to Jeffrey Epstein.
And so: Their #Woke pennance.
..

"We are creating a platform that will build new, deeper relationships with all women," Martha Pease, Chief Marketing Officer, said in a press release. "In marrying our new partners' energy, creativity and perspectives with our network and scale, we can transform how we connect with and show up for women."

The founding members of The VS Collective will collaborate with the brand on product lines, digital content and internal programs, in addition to supporting women-focused causes. According to The New York Times, the iconic supermodel "Angels," with their massive bedazzled wings, are gone for good.

Among the new set of brand ambassadors is soccer superstar Megan Rapinoe, an outspoken LGBTQIA+ and equal pay activist who reflects the brand's pivot away from its narrow view of female beauty standards.
When women put on a matching silk bra and panty set, are they fantasizing they've become as hot as Megan Rapinoe?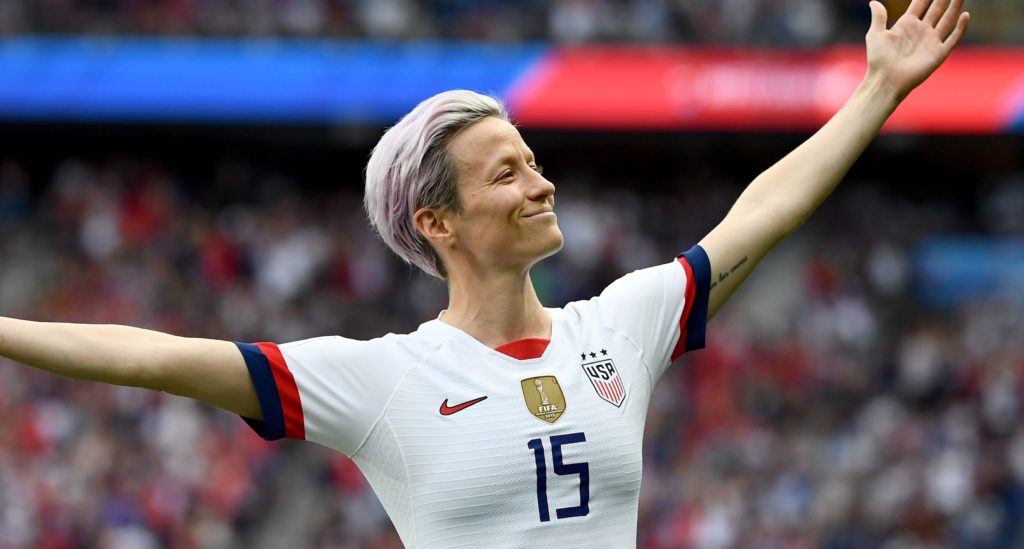 They've also hired a transgender and various other people who do not conform to the White Supremacist Patriarchy's ideas of feminine beauty standards.
Is this "Get Woke, Go Broke"?
Tim Pool made a good point a while ago: A lot of times, this bizarre pandering to the fringe left isn't a case of "Get Woke, Go Broke." It's rather a case of "Got Broke, Get Woke" -- companies are ailing, almost going bankrupt, and then choose to make one last desperate bid for media attention and renewed financial strength by rebranding themselves as Woke Political Goods.
Is that what's going on with Victoria's Secret?
Well, maybe. Victoria's Secret has been experiencing "financial woes" for years.
Moody's Investors Service on Tuesday downgraded L Brand's outlook from "stable" to "negative," with Moody's Vice President Christina Boni citing "the deteriorating operating margins and negative comparable store sales at Victoria's Secret for the past 10 quarters."

Moody's anticipates that L Brands, which "has very good liquidity and moderate leverage," can continue to generate around $375 million of free cash flow to reduce debt, according to a note emailed by Moody's to Retail Dive.

Boni's team also said they're concerned that Victoria's Secrets sales and profit "trends may remain weak" and that the company can ill afford any downward movement from its so far well performing Bath & Body Works unit.
In addition, Victoria's Secret is "massively restructuring." Something that financially healthy companies don't often do.
If that's what's going on-- well, good luck with alllll of that.
Because that never works.
Ask the producers of Terminator: Dark Fate. And the producers of the woke reboot of Charlies Angels. And the producers of The Last Jedi. And the producers of Woke Star Trek. And the producers of Woke Doctor Who.

I don't know if this is worth mentioning, but Megan Rapinoe is a nasty SJW bully who would cancel you in a hot second.
So: Via Twitch, shouldn't she be cancelled, given the #StopAntiAsianHate moral panic that Megan Rapinoe no doubt supports?
Good point on SJW racists generally:

What do you think? Will you be more or less likely to buy Victoria's Secret for yourself or as a gift?
I think the brand is radioactive.
And to be honest, Victoria's Secret was never what I thought it should be, based on their modeling shows. I would go into Victoria's Secret looking for something sexy -- and I would always find their undergarments to be... practical and not very sexy at all.
They were merely pink.

And this is my experience from 10, 20 years ago when I would bother going in the shop. I always was left puzzled as to why Victoria's Secret was considered "sexy" at all.
I don't know if it ever really appealed to the "male gaze" so much as "the male gayz."

Again, I think their sexy reputation was only due of their fashion shows, in which models wore stuff not even on sale in the shop.
And now the sexy fashion shows are gone.
Replaced by a mannish raging Entitlement Queen with a pink version of Richard Spencer's haircut.
Specualtion:
28 This is an executive exit strategy.

My theory is that executives go along with this (a) anticipating a short bump in sales and valuation due to the publicity, and (b) with the expectation that they will sell all stocks and find a different job. Company owners rarely do this shit. It is always grifters-for-hire in the C-suite that approve this stuff and they are the chicken, not the pig.

Posted by: Gentlemen, this is junta manifest

posted by Ace at
02:30 PM
|
Access Comments