ę MSNBC/NBC "Journalist" Jake Sherman: The Difference Between Our Coverage of Biden and Trump Is Explained Simply -- Biden Compliments Us and Calls Us Borderline Illiterates "the Brightest People in the Country""
|
Main
|
Victoria Secrets Rebrands Itself as the Lingerie of Choice for Woke, Ugly Women Ľ
June 17, 2021
Ron DeSantis Pardons All Floridians For Mask/Distancing Violations
DeathSantis also announced he'd be assisting in patrolling the border, by sending Florida law enforcement to Texas and Arizona to help guard our southern frontier.
Florida Gov. Ron DeSantis castigated the Biden administration for creating "a disaster and an emergency" at the nationís border with Mexico and said Wednesday that he would send law enforcement to Texas and Arizona, whose Republican governors have appealed to other states for help.

DeSantis became the first governor to heed the call from his fellow Republicans, Arizona Gov. Doug Ducey and Texas Gov. Greg Abbott, to send law officers to the border to help with interdiction efforts to capture those entering the country illegally -- including those working for cartels trafficking illicit drugs to all corners of the country.

"America's border security crisis impacts every state and every American," DeSantis said in a statement. "The Biden Administration ended policies implemented by President Trump that were curbing illegal immigration, securing our border, and keeping Americans safe."

Last week, Abbott and Ducey issued a letter seeking help from their fellow governors, claiming that the administration of President Joe Biden "has proven unwilling or unable" to secure the U.S.-Mexico border.
Let me quickly pre-empt the criticisms from NeverTrump liberals, who offered the same criticism of Trump: They will say that DeSantis is "pandering" to conservatives here.
And what does that mean?
You cannot "pander" by offering sound policy and decisions.
NeverTrump always assumes the leftwing position is the correct, right, and sound position, and therefore, any deviation from supporting the leftwing social agenda must be "pandering to conservatives."
They simply dismiss even the possibility that the conservative position might just also be the right position.
Note they never say that Paul Ryan is "pandering to liberals" by declaring that conservatives should not fight on any of the fronts of the culture war that the left is advancing on.
They don't think that's "pandering to liberals" because they think, as usual, that liberals are right. It's never "pandering" to do the right thing.
So they reflexively oppose conservatives on all fronts, and reflexively support liberals on all fronts.
But they're True Conservatives, guys.
Just ask them.
Send them emails courtesy of CNN and MSNBC and the Washington Post. Where all True Conservatives can be found!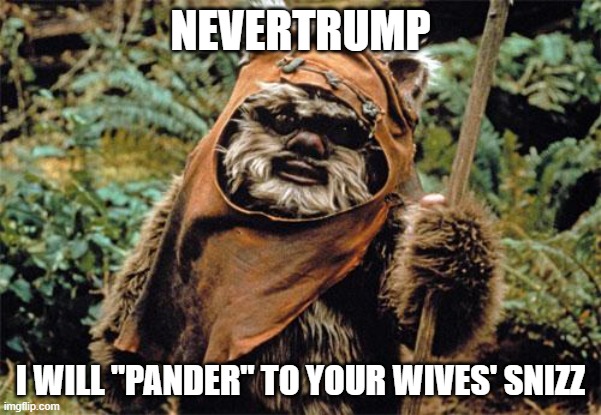 The plural of "snizz" is just "snizz," is what I decided just right now.

posted by Ace at
01:19 PM
|
Access Comments