« Daily Tech News 17 June 2021
|
Main
|
Mid-Morning Art Thread »
June 17, 2021
The Morning Report - 6/17/21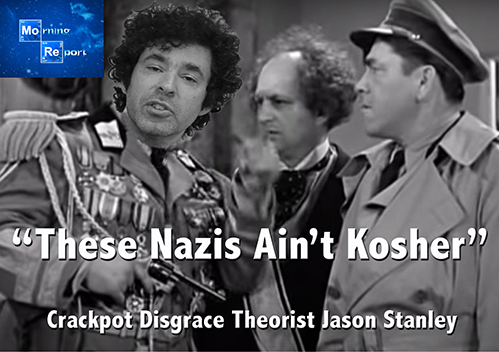 Good morning kids. Thursday, and not to put too fine a point on it but yesterday's summit between Russian strongman Vladimir Putin and US drooling kohlrabi Joe Biden was an unmitigated and absolute disaster. Between the "I, (state-your-name)" crib notes in 72-point type and shrieking at your own sycophantic propagandists to, worse, claiming that all is just Jim Dandy with the Russians despite everything from their wave of hacking attacks on crucial infrastructure to holding naval exercises just off the coast of Hawaii to persecuting and murdering political opponents and journalists (real ones, not the ones who play journalists on TV like Lester Dolt and Fake Jake Yapper), the message is clear to friend and foe alike: America is a joke. It's all there in bits and bytes down in the first part of the Foreign Affairs section, so read it and weep.
That said, while America's leadership (illegitimate as it is) may be a joke on the international stage, to the vast majority of its citizenry, it's as lethal as a heart attack. Well, after 76 years of grooming a so-called Ivy League (mal-) educated self styled elite, uncomfortable with our superpower status and even less comfortable being the lone real superpower for a brief moment, Joe Biden, along with Obama, Clinton and the Bushes is the result. Remember, Madeleine Albright, among others, was absolutely horrified when the Berlin Wall came down and then the Soviet Union collapsed every bit as much as Vladimir Putin, albeit for different reasons.
To one degree or another, the aforementioned and their apparatchiks have rejected American exceptionalism for globalism and all its pomps - not to mention all the perks and lucre for being on top of the heap here at home, lording over the unwashed lumpenproletariat; the Constitution and the American Dream be damned. The belief that America does not deserve an international leadership position as well as being the world's moral authority goes hand in hand with the cancerous chest-burster that has eaten away at our vitals here at home, and is now metastasizing into an acid-drooling behemoth run amok all over the ship of state. I am referring to Critical Race Theory, which I now call Crackpot Disg-Race Theory (amend your Ace of Spades style guides as indicated). I just about had a friggin' aneurysm when I read this one:


The Republican Party's fight against the teaching of Critical Race Theory (CRT) in schools is akin to neo-Nazis in Germany seeking to revise history and put an end to Holocaust education, according to Jason Stanley, a professor of philosophy at Yale University.

Appearing on MSNBC's The Mehdi Hasan Show on Tuesday night, the professor blasted Republican opposition to Critical Race Theory...

..."What if Germany, what if AfD -- the neo-fascist party in Germany that advocates ending Holocaust education -- came to power and ended Holocaust education?" he asked, adding that, "We'd all be horrified; everyone in America would be horrified by that." Furthering the comparison, the Yale professor claimed that both the GOP and German neo-Nazis share talking points. "They say the same talking points there... 'We don't want Germans to feel guilty about our past; we want people to not feel guilty about things their ancestors did,'" he said of the groups...

..."I don't know a single country where they're attacking education systems in this way and not also destroying the electoral system," he added.Hassan replied by stating that such ideas have "gripped the minds of millions of Republicans and yes it is part and parcel of an autocratic attempt to change the way we think about history and education."

The lecture comes as the battle over Critical Race Theory in schools has resulted in nationwide tension...

...In an essay published in the Economist last month, Stanley claimed that the "Republican attack" on the theory's aims is a "broadside against truth and history in education."
This is pure, unadulterated topsy-turvy world cancer. It is he and the schmuck on MSLSD who are the cause of the ills and evils that they rail against. But go tell that to the average college student or, more frighteningly, the average grade school student. We have been groomed for decades for a self-inflicted societal gang anal rape without even the consideration of lube. And that sound you are hearing are belts being unbuckled and flies unzipped.
If there is anything that gives me hope - and believe me, the prospect of elections isn't it - it's the fact that the more shrill, loud and unhinged these attacks become, the more I feel that there is a truly massive groundswell of rejection for all of this madness.
The public does not like critical race theory (CRT), now that details of what is being brainwashed into our children have started to leak out...

...While statewide bans against teaching CRT are planned, even more significant may be grass roots efforts to elect school boards that will not simply ban CRT but actually overhaul curricula and address PC bullying and other elements of the politicization of government-funded schools. John Hinderaker, a co-founder of Powerline and president of a Minnesota nonprofit organization, The Center for the American Experiment, has launched a strategically targeted campaign in Minnesota to recruit activists at the local level to fight CRT at the school board level.

School board elections are the Achilles Heel of the leftist school indoctrination strategy. They typically are very low turnout, which enables the unions to mobilize members, their friends and families, and those who make money off of the schools (often the largest employer in a given town) and elect compliant school boards. The Center for the American Experiment launched a 17-city tour of the state, gathering concerned citizens to meetings in all parts of the state. With enthusiastic turnouts and targeted programs on skills needed the effect change, it looks like the unions are panicking at the prospects of informed citizens turning out for school board elections. If it works in Minnesota, it can spread nationally like a prairie wildfire.
I know I said we're not voting our way out of this but the key was, is and always will be the schools. Getting on the community boards and school boards and looking at everything your kids bring home in the form of textbooks and homework and raising a stink when you see the first inkling of Marxism and anti-Americanism.
To do that now, especially given the fact that much of our society is being turned into a high-tech Stasi, is dangerous to be sure. But we cannot afford to play it safe now, when the wolf is literally at our throat. I love Trump but putting our faith in one man, or even a group of like minded people to be our salvation, is not the answer. It's going to take a mass movement to resist this. If the Junta is now setting up the apparatus to persecute and arrest political dissidents, well, what if hundreds, thousands, tens of thousands of us showed up at our local FBI offices and declared our allegiance to The Proud Boys, or admitted to be "insurrectionists" and demanded they arrest us? Crazy? Maybe.
Maybe not. Better it be on our terms than theirs. And once a mass movement gets rolling, nothing can stop it.

CIVIL WAR 2.0: LEFTIST PERSECUTIONS, CAPITOL HILL BLACK WEDNESDAY PROTEST AFTERMATH, DEMOCRAT PUTSCH, AMERICAN DISSOLUTION
NOTE: The opinions expressed in some links may or may not reflect my own. I include them because of their relevance to the discussion of a particular issue.
ALSO: The Morning Report is cross-posted at CutJibNewsletter.com if you want to continue the conversation all day.
Follow us on Twitter: @CutJibNews
Follow us on Instagram:@Cutjibnewsletter


posted by J.J. Sefton at
07:44 AM
|
Access Comments