« Saturday Gardening and Puttering Thread, June 12
|
Main
|
Saturday Afternoon Chess thread 06-12-2021 »
June 12, 2021
Ace of Spades Pet Thread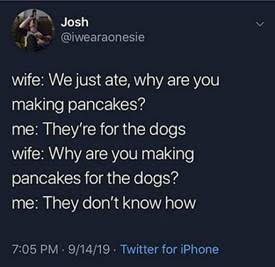 (H/T JT)
***
Good afternoon and welcome to the almost world famous Ace of Spades Pet Thread. C'mon in and relax and enjoy the world of critters.
***
A Little of This. A Little of That.

One of the neat things about being a Cob here at the AoSHQ is the correspondence I receive when it comes to the Pet Thread. You never know what you'll get. And the following story is one of those unusual stories.

PHNOM PENH, Cambodia (AP) — After five years of sniffing out land mines and unexploded ordnance in Cambodia, Magawa is retiring.

The African giant pouched rat has been the most successful rodent trained and overseen by a Belgian nonprofit, APOPO, to find land mines and alert his human handlers so the explosives can be safely removed. Last year, Magawa won a British charity's top civilian award for animal bravery — an honor so far exclusively reserved for dogs.

"Although still in good health, he has reached a retirement age and is clearly starting to slow down," APOPO said. "It is time."

Magawa has cleared more than 141,000 square meters (1.5 million square feet) of land, the equivalent of some 20 soccer fields, sniffing out 71 land mines and 38 items of unexploded ordnance, according to APOPO.
(H/T Ken)
***

Beware of The Dog!(H/T Lisa)
***
Meet The PetMorons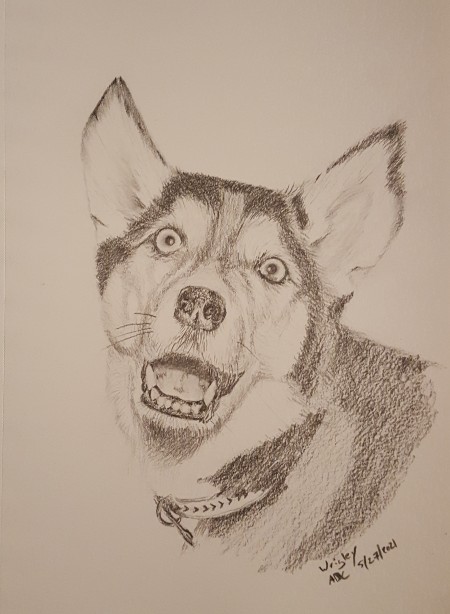 This is Wrigley, named after some field or something. I love that the collar is designed to look like the stitches on a baseball. - Sobek Pundit
Thanks to our wonderful artist and regular contributor.
***
Something a little different to add to the pile.

Engineering Instructor, decided one day I wanted to design a project around ducks....because why not? Got 90pc done and then admin shut me down.

I wanted my ducks. So now I have 14 Swedish Blues that I'm hosting to prove out the automation project. I've named my brace of ducks the "Swedish Shite Machines". Little metal...but it works.

Every evening we sit out on the porch and I let them play in the kiddie pool. Most calming thing ever. I could watch this on loop and skip the anxiety meds!

As always. Love the pet thread.

Robinton

Well, this is a submission we don't see often, a video with ducks. You'll need a bigger pool in the near future. Cool group thanks for your contribution today!
***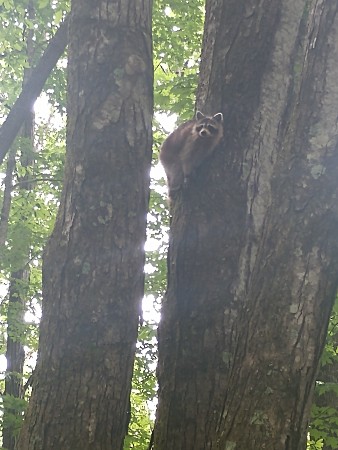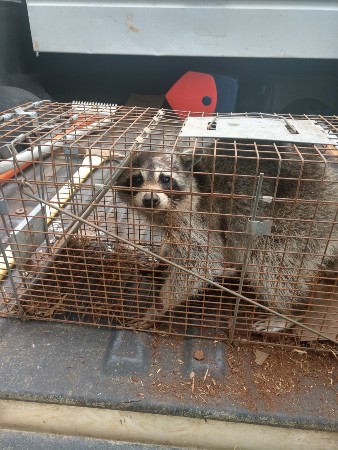 Pets/Animals
Mis Hum,

Don't rightly know if this should be here or in the gardening thread.

This Raccoon was one of the little scamps that have been digging holes in my garden this year. So far, I've caught three of them and one Possum in my live trap.

I relocate them to USFS land about 18 miles from my house. It's better than the .22 caliber pest control option because I don't have to dig holes in the woods back of the house to bury them and also I have neighbors closer than 300 feet on either side of my land. Plus I think they're out of season. - That Guy What Always Says Yeah Buddy.

Well when it comes to guns. Its better to be safe than sorry with neighbors. If you are around today please tell us how the raccoons handle the travel. Thanks for sharing.
***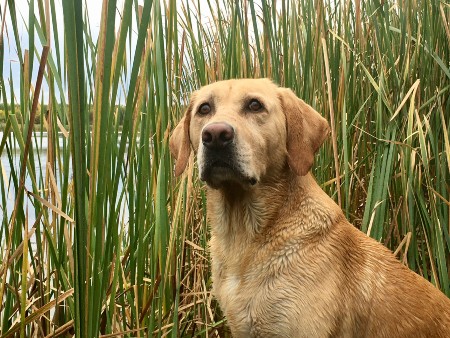 Hank the Tank-We rescued him because we were looking for a cat who would patrol outside and keep the critters out of the lawn. Hank had other plans. He spent the first 2 days wedged into the dropped ceiling in the basement and then a few months retreating to my closet if someone new visited the house. Now he's a demanding lap cat with a noisy purr who wants to know if you are going to finish the milk from your cereal. He ignores one of our girls and allows the other to bathe his glorious 13 pounds. He has no interest in going outside. -Leonard
A handsome lad who apparently had other ideas about his station in life. Why be a guard kitteh when you can be a lap kitteh! Thank you for sharing today.
***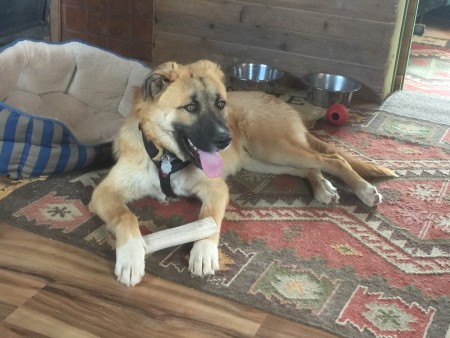 Hi, Ms. Hum,

I'd like to introduce my new sidekick Tobie. He's a shelter dog, apparently equal parts Shepherd and Golden but I wasn't there so it's just a guess. Also guessing at his age, which I estimate no more than 9 months given his proportions, habits and need to chew. His adult teeth are still coming in so he may have a bit of growing to do yet.

Tobie came home with me only two weeks ago, and no other dog or pup ever settled in so quickly. I predict he's going to be the smartest dog I ever took care of, and I'm really looking forward to being right. We're going to have a hell of a lot of fun together, if he just doesn't get sick and die on me like his predecessor. - Joel
Congratulations on your new side kick. Tobie appears to be a happy and healthy puppeh. Here's hoping you two have many happy years and memories together.
***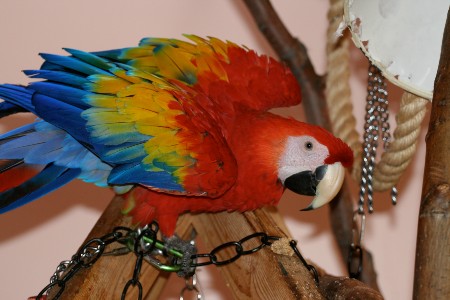 Love your Saturday pet pics and stories.

Here's my handful of trouble, a Scarlet macaw, Kula-I've had her since she was a little birdie, 16 years young. Her favorites are pistachios, green olives & blue berries. She loves hanging upside down and laying on her back on my chest so I can play with her grabby feet. - Michael
Oh my what a gorgeous bird. She sounds like quite the companion. Quite the varied diet she has. Thanks so much for your kind words and sharing with us today.
***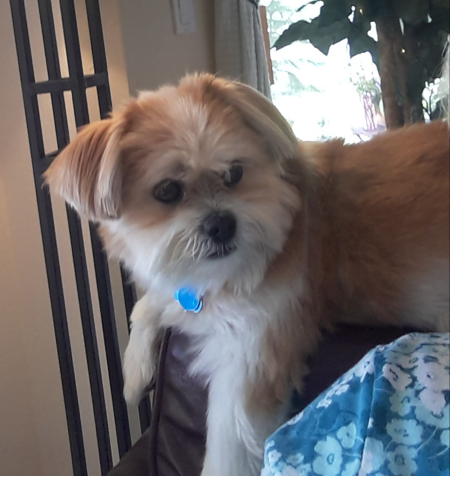 Here is a picture of our Shih-Pom Edison, who has been in your thread before. In this picture he is appearing on the back of my recliner at my shoulder which is his usual spot. Now that he is getting on in years and has arthritis in both his back legs, it is miraculous how he still manages to jump up on the back of the couch or the recliner so he can survey the house and back garden more easily. I've had cats who act like dogs, but Edison is the first dog we've had who is as nimble as a cat. - Debra T.
Edison has that look like he's the boss! Most pooches enjoy the comfy portions of the furniture. Good to see him again. Thanks for sharing.
***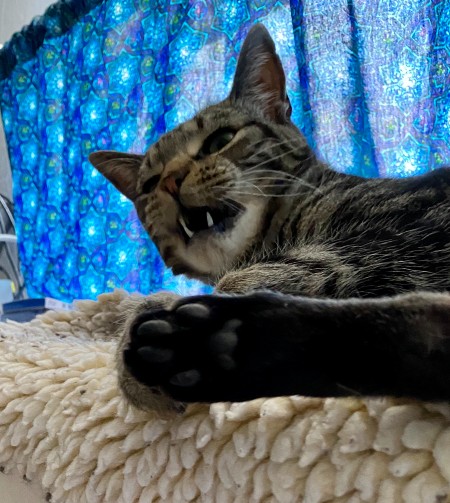 Hi, this is Avi.
He likes to cuddle humans and bite the faces and ears of his four-legged siblings. He sings spicy ballads through the windows at our friendly, well-fed feral kitties. He jumps from headboards and cat trees onto tender, prone mammal parts lying underneath them. He will chase and kill anything that moves. Whether is it the great red dot or a trespassing lizard. He gives wonderful scratchy kisses that can turn into terrible chin bites. At 4 years old, he is a lively, healthy and loved boy. - Jillybeans68
Yikes, those teeth look like they could leave a mark or five. He certainly sounds like an interesting and loved kitteh from your email. Thanks for contributing today.
***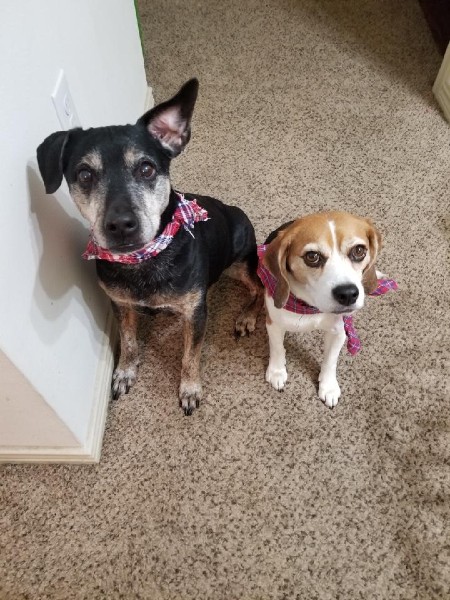 What happens when one set of grand pups finds out the other set became world famous. See bellow.
The pup on the left is Monty a very loving and sweet pup. Only wants a scratch behind the ears or a nice back scratch.
Finally found his forever home.
On the right is Villan a couple of genes short of a full beagle. Funny pup and loves to play hide and seek. Tell him to go hide, he will.
Call his name and he will howl till you find him. He also survived a rattle snake bite. No word on the snakes health.
He will also sit on the back of a couch and put his head on yours.
From a puppy mill.
So grandpa learned his lessen, pay attention to all grand-pups.

notasmartdog
Well the Pet Thread is happy to make Monty and Villan world famous! They look like wonderful companions. I've never heard of "Hide and Seek" with a dog without the dog running away. Thank you for sharing today.
***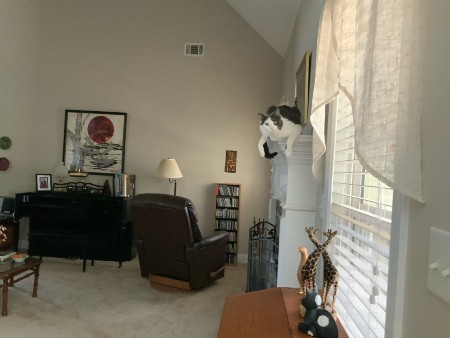 Hello, Mis Hum.

A while back I sent a pic of my backyard foundling, Dexter. Well, he has a sister now (brought to us by way of my husband's sister who fosters kitties). We named her Dali due to her fabulous stache, but she's a very vocal little girl and we started calling her "Bird". She's a dwarf and won't be getting any bigger. Weighing in at around 7.5 lbs, this little precious has stolen our hearts! Included is a pic of the two cats together for perspective. -Sincerely, SnowChick
Quite the 'stache' on that kitteh. Delightful markings! She certainly seems to have landed on her paws quite well in your home. Hope you and the kittehs have many happy years together.
***

Wow, what a great group of animals today. Thank you all for sharing your stories and submitting interesting links to boot.
If you have something you wish to share please contact us here at petmorons at gmail dot com.
God willing and the creeks don't rise we will be back here next Saturday. Have a great week!

posted by Misanthropic Humanitarian at
03:00 PM
|
Access Comments