« Saturday Morning Coffee Break
|
Main
|
Saturday Gardening and Puttering Thread, June 12 »
June 12, 2021
What has changed in 50 years?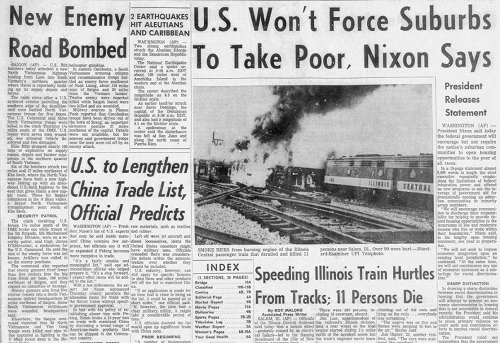 Headlines, June 11, 1971
Ogden (Utah) Standard Examiner
Some things don't change real fast. Others may change slowly, then real fast. The players behind these headlines seem familiar. But I don't remember learning much about the detailed contemporaneous events behind the China trade issue. How about you? China trade is in the news again, of course.
The headline concerning forcing suburbs to take the poor was kind of a surprise to me. Of course, today we have the Kendi-inspired idea of racial quotas in "government-subsidized white suburbs or gentrified neighborhoods". The headline at the top of the post came after the influence of Critical Theory expanded into social policy, but before Critical Race Theory.

Critical Race Theory is a current leftist battle front. The proponents of CRT control a lot of territory. CBD posted a rant on Thursday to remind us that grassroots action is the way conservatives change things. A Chinese-American mom in Loudon, County, VA who survived Maoist China took on the school board in the county with the highest median income in the country, a hotbed of CRT activism among the government set. In Fayetteville, Arkansas, parents have created a model resource in the fight against their "extremely corrupt, woke" school district, and have begun to organize. The school board has a five year equity competency plan. Five year plan. Sounds Non-Marxist, right?
Speaking of resources, Christopher Rufo has put out a Briefing Book that should be of use to opponents of CRT and other forms of wokeness. Cracks me up that he advises people to tell stories (like about the little kids forced by teachers to rank themselves by privilege). Borrowing "lived experiences" from CRT, except for the "must be in line with Theory" part.
Recently, academics and activists have been playing word games around the term "Critical Race Theory", often denying that it has any roots in Marxism. A favorite new strategy of those pushing CRT is to claim that opponents of CRT "don't even know what it is". Often by changing definitions on the fly. Rufo's briefing book includes quotes from CRT academics. But if you want to bowl them over with jargon, you can always turn to New Discourses. Just have some resources handy in case of an interview.
LEFTIST REVOLUTIONARIES 50 YEARS AGO VS. TODAY
J.J. Sefton put this piece by VDH above the fold in his Thursday Morning Report: This isn't your father's left-wing revolution:
Name one mainline institution that the woke Left does not now control--and warp. The media? The campuses? Silicon Valley? Professional sports? The corporate boardroom? Foundations? The K-12 educational establishment? The military hierarchy? The administrative state? The FBI top echelon?

The Left absorbed them all. But this time around it really believes that "by any means necessary" is no mere slogan. Instead, it is a model of how to disrupt or destroy 233 years of American customs, traditions, and values.
Woke revolutionaries are not panhandlers, street people, or Grateful Dead groupies. They are not even a few ragtag, nutty, and murderous Symbionese Liberation Army terrorists fighting against "the Man."

They are "the Man."

Our 21st-century revolutionaries are multibillionaires in flip-flops, tie-dye T-shirts, and nose rings, but with the absolute power and wish to censor how half the country communicates--or cancel them entirely.

They don't flock to campus free-speech areas; they are the campus administrators who ban free speech.

They don't picket outside the Pentagon; they are inside the Pentagon. . . .

They don't chant "eat the rich"; they are the rich who eat at Napa Valley's French Laundry.

They don't protest "uptight" values, because they are more intolerant and puritanical than any Victorian.
I recommend that you read the whole thing.
SHORT SUBJECTS
NPR Mysteries
Things we should learn from Anthony Fauci's emails. Heh.
Why did the New York Philharmonic choose Alec Baldwin to host their radio program on NPR?
And once again, why hasn't Cancel Culture come after Alec Baldwin?
Artists and writers who learned by imitating the greats
Thread: "All the great artists do it. Van Gogh was know to make copies of Japanese art, eventually forming his own style."
I once met a painting coach who tells students to copy their favorite artists.

At first, students resist.

In response, the coach tells them to listen for friction. "Do you hear that resistance? It's the whisper of your unique style."

Through imitation, we discover our voice.
Sounds like something putterers might want to try, maybe for the next thread.
Music from 50 years ago
This is the Thread before the Gardening Thread.
Serving your mid-day open thread needs

posted by K.T. at
11:18 AM
|
Access Comments