« EMT 6/12/21
|
Main
|
What has changed in 50 years? »
June 12, 2021
Saturday Morning Coffee Break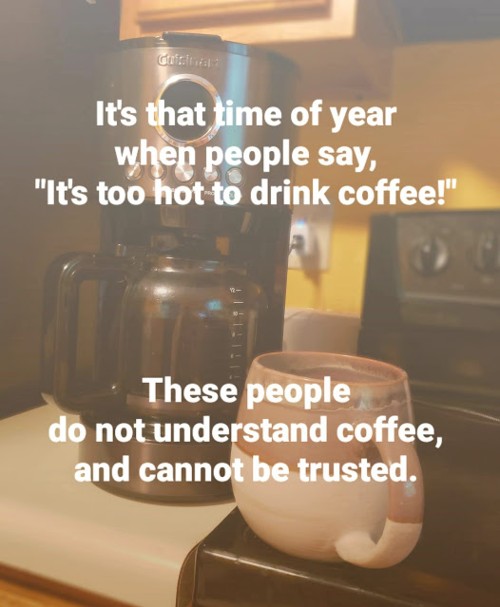 (H/T Hrothgar)

Good morning Morons.
***
Why Cobs and sailors love a filthy unwashed coffee mug.

Sailors call their unwashed coffee mugs "seasoned." (Photo via NavyHistory.org)
Athletes on a hot streak or headed to the playoffs in a given sport oftentimes opt out of shaving for fear of interrupting a routine that may throw a wrench into success. Such superstitions, however, are not limited to the participants of any particular sport.

Sailors, for example, but more specifically those those who have achieved the rank of chief, have one superstition that extends into the unsanitary. They never clean their coffee mugs.

The first time I learned of this I was 23 and working in an office in Washington. The director, a Navy veteran whose cubicle I shared, had a note stuck to his mug that read, "Don't wash me."

When I inquired, he informed me that it was something he picked up as a sailor. He'd done this with his black coffee for so long, in fact, that he'd simply grown to enjoy the taste of the weeks, months, or years old residue.

"It adds a lot of flavor," he said.
Rules? Opine, bloviate and be kind to one another. Oh and have a great weekend.

posted by Misanthropic Humanitarian at
09:00 AM
|
Access Comments