« Daily Tech News 4 June 2021
|
Main
|
Mid-Morning Art Thread »
June 04, 2021
The Morning Report - 6/4/21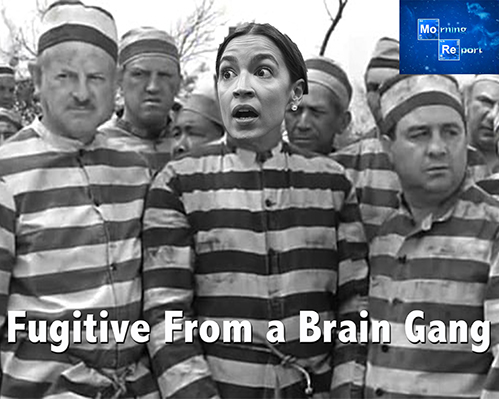 Good morning kids. Friday and the weekend is here. The Fauci revelations continue to be the top story, and I'm sure Ace and the cobs will be hitting this all day today. And considering this is Friday, it's more than likely we will see a masked flaming skull some time between 3:00 and 4:00PM. I think I've said my peace on this yesterday, vis a vis a granular outlook as well as the high-level implications, but the most current developments and reactions are listed below for your convenience and consideration.
Instead, I want to hit on (metaphorically as well as literally in the non-Biblical sense [and with a brick]) the latest pearl-necklace of wisdom from the maw of stacked, socialist imbecile Alexandria "Titty Caca" Ocasio-Cortez.
New York Democrat Rep. Alexandria Ocasio-Cortez said at a press conference Thursday the U.S. should "stop building" jails if we want to reduce the inmate population.

"It is not acceptable for us to use jails as garbage bins for human beings. We need to treat people and see them as human," Ocasio-Cortez said. "If we want to reduce violent crime, reduce the number of people in our jails, the answer is to stop building more of them."

"The answer is to make sure we actually build more hospitals, we pay organizers, we get people mental health care," she said. "It's to support communities, not throw them away."
I seem to recall a Monty Python sketch where IIRC John Cleese, dressed in a bowler, portraying a Sloane Ranger states (paraphrasing) "If we killed all the poor people, there'd be far fewer of them, statistically speaking." After a pause, "I know my views aren't popular but there you have it." Well, Cleese and Titty Caca do have a point. Yes, if we had fewer jails there would be fewer inmates. But the bodies would be stacked like cordwood all over Democrat-controlled Pliskin-land.
You can laugh all you want but the woman is not stupid. Her mind is a toxic mix of mal-educated ignorance and brainwashing. Yes, what she spouted out was absolutely crackpot, but remember that she is not relegated to either a nut house or even a faculty lounge. She was elected to Congress and wields considerable influence, if not there right now, then certainly over a not insignificant number of voters (legal, illegal or manufactured). And that brings me to the thrust of this essay. Standing right next to her as she put forth this glittering jewel of insanity was none other than Chuck "Cuck Schemer" Schumer. And the way he reacted is quite telling.
Social media users called out on Thursday the reaction that Democrat Senate Majority Leader Charles Schumer (D-NY) had earlier in the day when he stood next to far-left Rep. Alexandria Ocasio-Cortez (D-NY) as she claimed that the solution to reducing violent crime was to stop building new prisons.

"Why the hell did Chuck Schumer just stand there@and listen to this train wreck."

"Wow, @SenSchumer did nothing as she said it."

"Schumer is playing to AOC's tune. Why is he even there? Does he actually buy into this nonsense or is he that terrified of a primary threat from the bartender? Saw this w/ his loathsome cowardice re: anti-Jewish violence during the Israel-Hamas fighting. What a loser."
Give that last Twitter tweeter a kewpie doll! Although, there is this comment:
"Unless it's Joe Biden, and the rest of her party's leadership that is directly in front of her that she's lecturing, this is toothless, mastubatory theater."
Except it isn't "masturbatory theater," not if Schemer was standing right next to her nodding in agreement. Right now the Democrat Party is approaching the speed of light as we dive headlong into the abyss. But Titty Caca and the rest of the (Death) Squad are hell bent to jam the throttle to "Ludicrous Speed." Schemer and Malig-Nancy Pelosi are scared shitless of these freaks. No, not because they'll make the rubble bounce but because they will take away their multi-decade and sometimes multi-generational grift by being in charge. The prognosis is not good for them; all these old bastards like the aforementioned and Feinstein, Durbin, Hoyer, Clyburn are ready for the glue factory. The ones that are coming up do not have their temperament for faking love of country to con voters into pulling the lever for them every two years. The masks (no pun) have been dropped. If you didn't see that when dozens of US urban areas were turned into Dresden, then you were in a coma. Pardon my accidental Yogi-ism but these dinosaurs are going to go the way of the dodo.
[So-called quote-unquote 'president'] Joe Biden's decision to appoint former Ohio congresswoman Marcia Fudge to his cabinet has Democrats poised to send another self-described socialist to Congress.

Liberal firebrand Nina Turner holds a sizable polling and fundraising lead in the crowded primary race to succeed Fudge. The former state senator is backed by a who's who of congressional progressives, including Sen. Bernie Sanders (I., Vt.) and Reps. Alexandria Ocasio-Cortez (D., N.Y.), Ilhan Omar (D., Minn.), and Rashida Tlaib (D., Mich.).

Should Turner maintain her advantage and win the August primary, she would fit right in with the so-called Squad members. The former national co-chair of Sanders's presidential campaign, Turner has pledged to pass the Green New Deal, eliminate private health insurance through a government-run Medicare for All system, cancel student debt, and "completely reimagine" law enforcement -- in part by defunding police.

Turner's frontrunner status reflects the growing influence of the Democratic Party's progressive wing. Just months ago, Ocasio-Cortez and company welcomed two new Squad members after Reps. Cori Bush (D., Mo.) and Jamaal Bowman (D., N.Y.) ousted longstanding Democratic incumbents in 2020. Bush and Bowman's freshman class also includes fellow liberal representatives Mondaire Jones (D., N.Y.), Ritchie Torres (D., N.Y.), and Marie Newman (D., Ill.), all of whom replaced veteran party members in January.
In a not unrelated matter, it kind of makes you wonder what Joe Manchin and Kyrsten Sinema are playing at vis a vis the filibuster. Especially Sinema. Forgetting for the moment the concept of rules, morals and ethics in the sewer that is Congress, why are they going against the tide? Manchin perhaps is more understandable, given West Virginia is supposedly a more conservative state than Arizona (and yet WV keeps electing that guy). If two Democrat senators are really all that stands in the way of implementing the final nails in the coffin of a now dead America as founded, aside from speaking volumes about what the GOP is all about, considering that the Democrats are in bed and allied with dictionary definition political terrorist organizations - BLM and Antifa - Manchin and Sinema have a target on their backs. And I don't mean the Sarah Palin rhetorical one either.
ADDENDUM: I wonder what the parents of the 14-year-old girl chased and then gunned down like a dog in Chicago would have to say to Titty Caca. Funny how BLM, Sharpton and all the others aren't calling for mostly peaceful riots. Blacks gunning down other blacks doesn't fit the meme. These bastards can go to hell for what they have done and yet to do to this country.
Have a nice weekend.


ABOVE THE FOLD, BREAKING, NOTEWORTHY
CIVIL WAR 2.0: LEFTIST PERSECUTIONS, CAPITOL HILL BLACK WEDNESDAY PROTEST AFTERMATH, DEMOCRAT PUTSCH, AMERICAN DISSOLUTION
NOTE: The opinions expressed in some links may or may not reflect my own. I include them because of their relevance to the discussion of a particular issue.
ALSO: The Morning Report is cross-posted at CutJibNewsletter.com if you want to continue the conversation all day.
Follow us on Twitter: @CutJibNews
Follow us on Instagram:@Cutjibnewsletter

posted by J.J. Sefton at
07:22 AM
|
Access Comments