« Top Ten Things Kamala Harris' Step-Daughter Looks Like
|
Main
|
Quick Hits: Kamala Harris Declares Memorial Day Will Now Be For the Purpose of Honoring the Previous Weekend Edition »
June 04, 2021
So Stunning, So Brave: New Woke Corporate Product, Gay Legos;
And: Woke Corporations Fly the Rainbow Flag Proudly In America! (But Not in the Arab World, Strangely Enough!)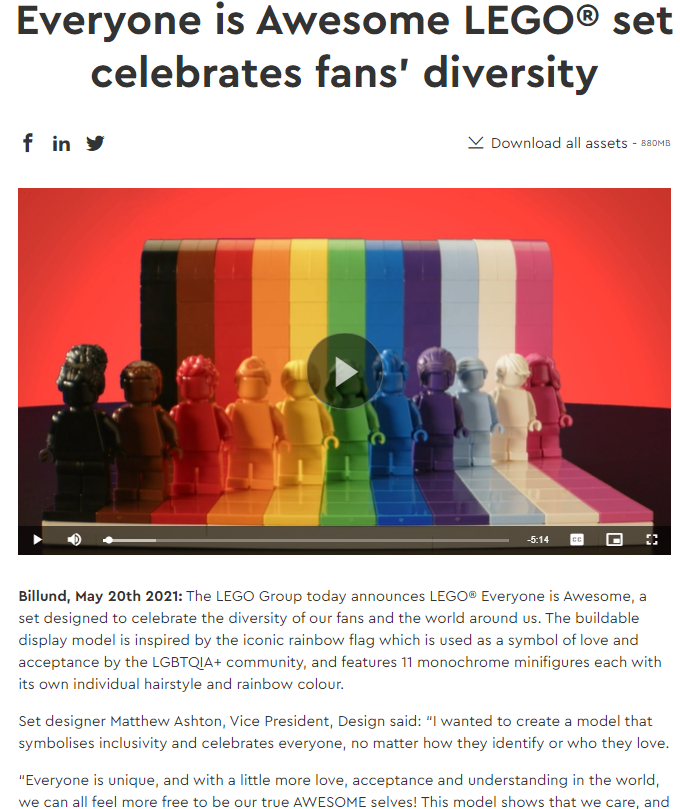 Billund, May 20th 2021: The LEGO Group today announces LEGO® Everyone is Awesome, a set designed to celebrate the diversity of our fans and the world around us. The buildable display model is inspired by the iconic rainbow flag which is used as a symbol of love and acceptance by the LGBTQIA+ community, and features 11 monochrome minifigures each with its own individual hairstyle and rainbow colour.

Set designer Matthew Ashton, Vice President, Design said: "I wanted to create a model that symbolises inclusivity and celebrates everyone, no matter how they identify or who they love.

"Everyone is unique, and with a little more love, acceptance and understanding in the world, we can all feel more free to be our true AWESOME selves! This model shows that we care, and that we truly believe 'Everyone is awesome'!"
Via SC Reviews.
Wait, I though they already made Gay Legos.

Look at all these Stunning and Brave corporations, proudly flying their Pride rainbow flags on their American social media accounts!
And look how even more Stunning and more Brave they are, not flying the pride rainbow flag on their Arabic social media accounts! (Click on the tweet then click on the individual pictures.)

My favorite is YouTube.
Why so homophobic, YouTube?

posted by Ace at
02:50 PM
|
Access Comments