« Quick Hits: Kamala Harris Declares Memorial Day Will Now Be For the Purpose of Honoring the Previous Weekend Edition
|
Main
|
Quick Hits 2: 2 Hot For Quick Hits 1 Edition »
June 04, 2021
GAINZZZ and BOOKZZZ and SHOWZZZ and PROJECTZZZ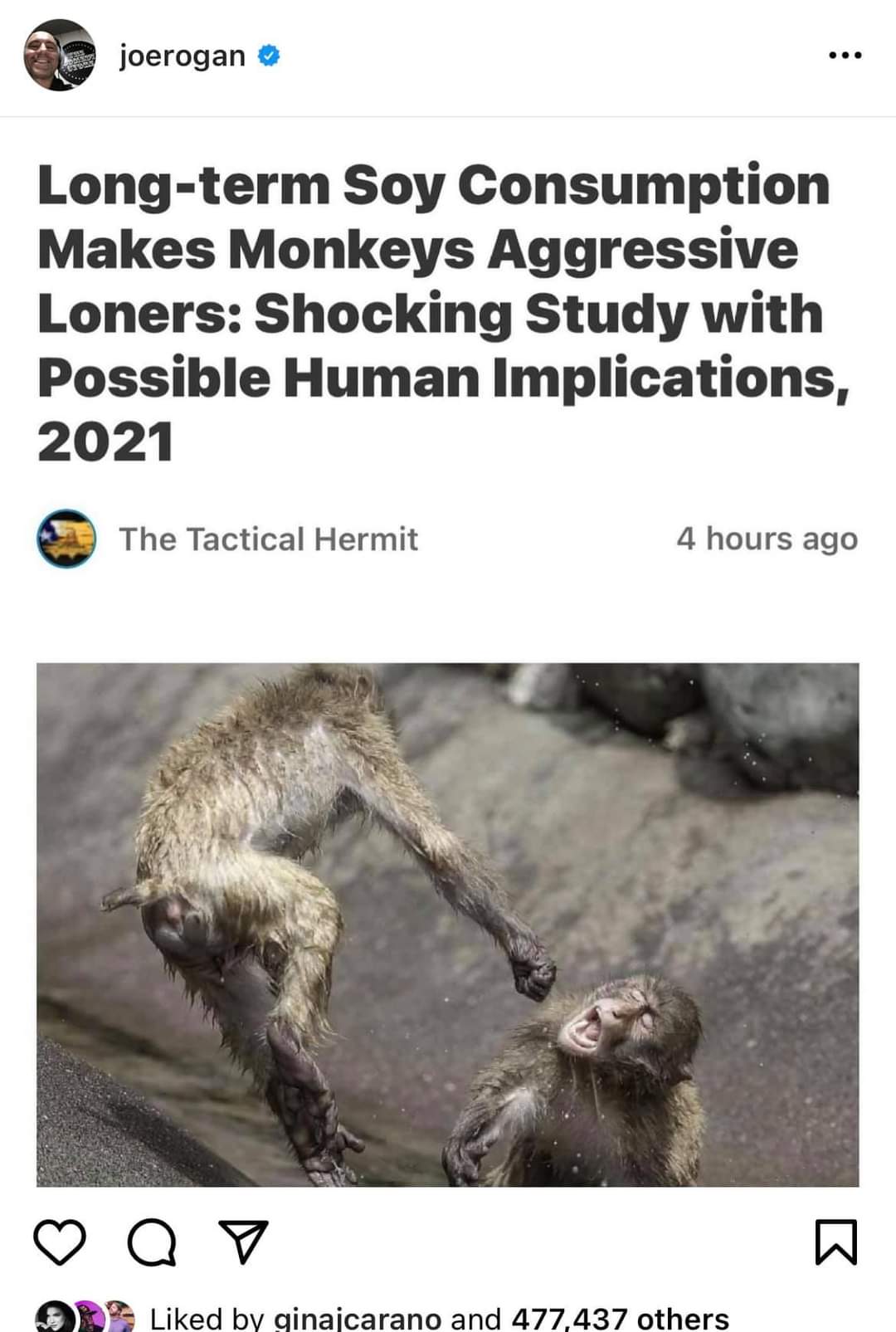 I don't think I buy this article. I don't think that phytoestrogen -- plant estrogen-- works in your body like, you know, human estrogen, and I don't think that it passes into your system intact after being boiled in your stomach acids.
But I think they Soy Meme is funny so there you go. Comedy trumps mere science.
Here's news on testosterone -- important for women as well as men.
It's been known for a long time that bodily fat actually reduces testosterone. The more bodily fat one has, the more of a hormone called SHBG one produces. SHBG converts testosterone to estrogen.
And the more estrogen and less testosterone one has, the more fat one collects. Testosterone is anti-fat, estrogen is pro-fat.
This is a vicious cycle, as you can see. Fat makes the estrogenizing hormone SHBG, but then estrogen makes more fat.
A study shows that the keto diet can, as one would expect (or hope, at least), increase testosterone.
New research reveals that a low-calorie ketogenic diet can help testosterone levels in overweight men, reducing overall levels of obesity.

A very low-calorie ketogenic diet can help testosterone and sex hormone (SHBG) levels in overweight men, according to a study being presented at the 23rd European Congress of Endocrinology (e-ECE 2021), on Monday, May 24, 2021, at 14:06 CET. The study found that after following a recommended low-calorie ketogenic diet for four weeks, body weight, fat mass, and body mass index (BMI) significantly decreased and a substantial increase of total testosterone and SHBG levels was also found. Testosterone is responsible for sexual and reproductive functions. However, it plays a significant role in calorie utilization and metabolism as well.

This study was the first of its kind to examine the effect of a very low-calorie ketogenic diet on testosterone and SHBG levels and therefore highlighted the tight relation between insulin action, energy balance, and testicular function. As men who are overweight or obese can also suffer from low levels of testosterone and SHBG levels, the data suggests that further research into a low-calorie ketogenic diet and its effect on male testosterone and SHBG levels may be a promising area for additional research.
I think maybe this is just the effect of shedding fat, while not avoiding cholesterol, animal fat, and animal protein. Which I think is needed to make testosterone.
But obviously I'm out of my depth here.
All right, so my report:
I got tired of not having GAINZZZ so I cheated. I went on a semi-fast. I'm on day 13 of it. It's not a full fast -- I am eating every day, having like 500 or 600 calories each day. And, on Oopsie Days, maybe 800.
But I've dropped seven or eight pounds. It's a start.
I know, fasting (or semi-fasting) is not ideal. But I have to shed some of this covid fat so I can just go back on a keto, no-cheating diet.
This isn't about vanity. I need to be back to fighting fit so I can make fun of Chonkers and Jonah Goldberg and fat Prison Lips with the conviction of a man with 12% bodyfat.
I finished Where Eagles Dare, the book and the movie. I can't recommend either. I guess the movie's okay because it's only a couple of hours.
But they were both big disappointments. The book mixes a highly convoluted double-agent espionage plat with an action movie -- trying to one-up The Spy Who Came in From the Cold with action -- and it's just not believable. And it's the sort of book that needs to be at least semi-plausible to work.
These guys are walking around in the most heavily fortified German army castle in the world, and the Germans know they're there, and they're able to operate pretty much at will and without encountering many sentries. And even when they do, they bluff their way past the guards based on their uniforms.
Even though the Germans know that there are enemy agents inside the castle, dressed as Germans.
No one issued a "Detain all persons who are not known to you personally by sight" order I guess.
The movie is just the same, but with nice photography and miniatures, and a lot of action, but mostly not good action. Just sort of "meh." The cable car stuff is good.
And the Clint Eastwood character in the book is kind of dull-witted and a follower, and the character in the movie is kind of the same, but it's Clint Eastwood. So... eh. Not a great role for him.
It's such a great, great premise. I loved the feeling in the beginning that the book was a mystery... and an action-commando story at the same time.
But it didn't work. The premise is a million dollar premise. The execution is not.
I'm now on Moonraker, one of the only Bond books I never read, and, I hear, one of the best ones. So far it's pretty good. Fleming's a good writer, I'm only now realizing.
For PROJECTZZZ: I've created a bird haven behind my place, with hanging feeders and a bird bath. I like looking at the birds. I watched a gently pleasant semi-comedy last month called The Big Year, about three competing birders (bird-spotters) trying for the record of most species seen in a single year. And I started admiring birds.
Good movie, by the way. It stars Owen Wilson, Steve Martin, and Jack Black. That casting is misleading -- it's not a wild comedy. In fact, it's kind of more of a light competition drama than comedy. But it's fun to watch. Not laugh-out-loud funny, but consistently watchable.
The only real gags in the thing seem out of place and were filmed, most certainly, just to be included in the trailer and give the deceptive impression that this is a big comedy-type comedy.
Also-- I'm pretty sure there are no curses in it, or any other kind of objectionable material. It's PG rated, but I think it's really G-rated, but I think they told the MPAA, "Please pretend this is a PG movie. G ratings are the kiss of death for adult movies."
Anyway, it's on Amazon. Came out in 2011. Cost me $5 or so to buy but it was pretty good. It's a decent movie to watch with your parents, or kids.
Not as many birds as I would have liked!
I don't know if that's a real weight loss or if it's faked. I choose to believe.
So what about you GUYZZZ?
What GAINZZZ do you have?
Any BOOKZZZ, MOVIEZZZ, or SHOWZZZ you want to recommend to your fellow readers?
Andy PROJECTZZZ?

posted by Ace at
04:27 PM
|
Access Comments