« Mid-Morning Art Thread [Kris]
|
Main
|
Ron DeSantis Responds to Paul Ryan's Demand that Conservatives Cede the Culture War to the Left: "Conservatives Must Gain Ground, Not Just Lose Ground More Slowly" »
June 03, 2021
The Morning Rant: It's Time For Red States To Assertively Push Back Against Woke Corporations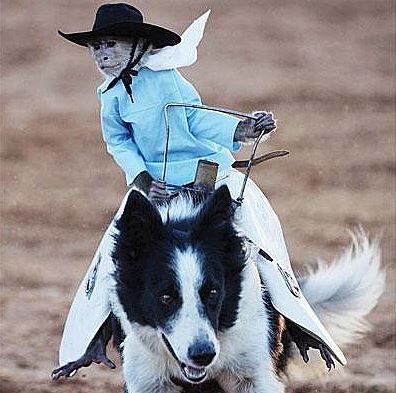 It's time for conservative state governments to fight back against woke corporations.
This is a welcome development:
DeSantis tells NCAA, 'woke corporations' where they can shove their threats over transgender sports law.
As is this: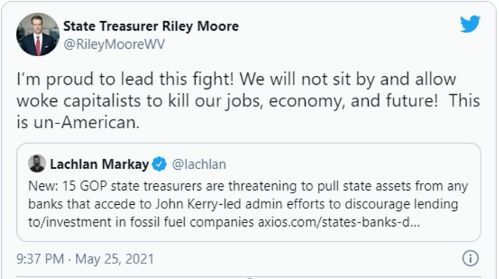 The Treasurers of fifteen states are threatening to pull assets from large financial institutions if they seek to decarbonize their lending portfolios.
We need more people in state government like West Virginia Treasurer Riley Moore:
"Frankly, it is not fair for the people of West Virginia to allow a bank to handle our money when they're diametrically opposed to our way of life."
"If you just cut these guys off at the knees — gas and coal in a state like West Virginia — and they can no longer conduct their business ... it is going to destroy us."
He's right, the leadership of woke corporations actively want to destroy the livelihoods of anyone who will not surrender to the radical left's vision. The fact that blue collar deplorables can earn solid incomes in energy jobs is especially troubling to ruling class leftists. They want the energy jobs eliminated and they want the deplorables crushed.
In a letter to Energy Czar John Kerry, the state officials wrote:
"We intend to put banks and financial institutions on notice of our position, as we urge them not to give in to pressure from the Biden Administration to refuse to lend to or invest in coal, oil, and natural gas companies. As the chief financial officers of our respective states, we entrust banks and financial institutions with billions of taxpayers' dollars. It is only logical that we will give significant weight to the fact that an institution engaged in tactics that will harm the people whose money they are handling before entering into or extending any contract."
More of this please. More of this especially from the big red states. Major corporations need to be able to operate in Florida, Georgia, Tennessee and Texas much more than those states need to accommodate the radical leftism that woke corporations are pushing.
Sadly, but unsurprisingly, Texas is not one of the 15 states that signed the letter. As you may have heard, Texas has an economy with a massive energy sector that creates enormous wealth. But Texas also has a governor who is desperately infatuated with the Silicon Valley tech bros who seek to impose California's destructive energy and social policies on Texas. Governor Weathervane takes great pride in Texas being the largest producer of non-carbon energy, even if his beloved windmills couldn't actually produce any energy during the deadly freeze last February.
One more thing - we know that the "free market" writers at National Review and the rest of Conservative, Inc. will have the vapors about those state Treasurers interfering with a private bank's decision to redline entire industries. Well how do they feel about the state of California imposing anti-petroleum Directors into Exxon's boardroom?
Exxon shareholders elect 2 or 3 green-energy advocates to Board, in day of landmark defeats for Big Oil.
How did Exxon shareholders do that? One of Exxon's largest shareholders is the California Public Employees Retirement System ("CalPERS"), which is a part of California's state government. After a brief delay in the vote, presumably because Exxon was trying to rally some favorable votes, CalPERS successfully teamed up with some left-wing hedge funds to force anti-petroleum activists on to Exxon's Board.
Anne Simpson, a CalPERS managing director, called Exxon's voting extension "highly unusual" but said the eventual results marked a "day of reckoning" for Exxon and its investors that will also "reverberate around boardrooms internationally."
With government agencies having significant ownership and control over major corporations, we can fully forget about the libertarian ideal of "private companies" making decisions that are free of government influence. The left has no problem using federal and state governments to coerce corporations into becoming soldiers in their war on American civilization. The right has a moral obligation to compel corporations to choose otherwise. Where we control government, we need to use it accordingly.
(buck.throckmorton at protonmail dot com)


posted by Buck Throckmorton at
11:00 AM
|
Access Comments