« The Morning Report - 6/3/21
|
Main
|
The Morning Rant: It's Time For Red States To Assertively Push Back Against Woke Corporations »
June 03, 2021
Mid-Morning Art Thread [Kris]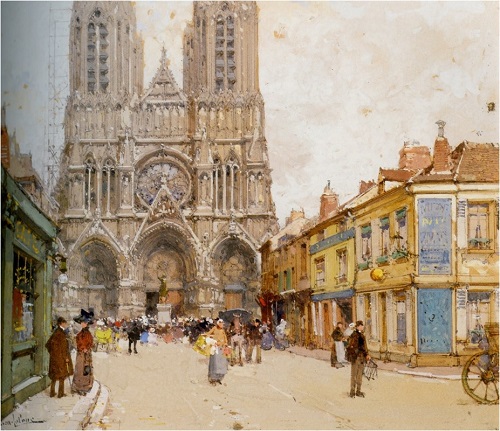 La Cathedrale de Reims
Eugene Galien-Leloue
What I like most about this work is the how the artist plays with contrasts—between colors, textures, space, and eras. The cathedral dominates the work. Its off-center position places the vertical contour of the church's right bell-tower at almost the vertical center of the work. If you follow this line straight down, it joins the left edge of the row of buildings on the right side of the painting. However, the artist was careful to make sure the church's spreading base overlapped the buildings' form for a more interesting view. The overall color and intensity of the cathedral is very similar to the sky, and their visual masses are about the same too. It's the cathedral's texture that allows it to stand out from the monotone background. Gothic architecture is not subtle. It is loud and glorious. It is meant to be felt and heard. While the work's lighting shows an overcast day, the church's textured façade captures what little sunshine is available and creates adequate highlights and shadows on its surface. These variations aren't deep or highly contrasting, but they are enough for the church to emerge from the dank background and loom over the street scene below.

The street scene is modern. Placed in the foreground, these buildings attract the eye and provide framing for the cathedral behind. They do not conflict with the church though. They complement it. The buildings are short, bright, and horizontal, while the church is brown and tall. The windows and doorway recesses, and the colors squares and rectangles on the buildings' faces slightly mimic the nooks and crannies of the high Gothic façade. I like how the artist composed the buildings so that they seem to resemble a curtain opening up on the cathedral's portals. To me, the arches of the portals seem to radiate out, like sound waves. The lines of the portals continue into the horizontals of the buildings and street—like rays. There's this neat visual metaphor that the past reverberates into the present.

While the facades of the buildings are quite flat, the rooves are not. Their contour is angular and vertical, echoing the cathedral. This jagged line joins the zig-zag pediment line immediately above the three portals, continues through them, and comes out the other side to follow the very steep eave-line of the storefront on the left. So while the artist separated the church from the buildings through period, texture, and color; he united them through line.

I also like how the artist contrasts space in the two halves of the work. In the top half, the composition is space-object-space (sky-building-sky), in the lower half this is reversed—object-space-object (building-empty street-building). While the street is a larger overall form than the buildings, the colors on the buildings cancel this out and balance that half of the work.


posted by Open Blogger at
09:25 AM
|
Access Comments