« Chinese State Media Warns of Nuclear War with US In Wake of Covid-Origins Investigation
|
Main
|
Quick Hits: Biden Has Another Spell of "Lost Time" Edition »
June 02, 2021
Oh, My: Publisher Scrubs References to Fauci's Book
Over the what Kamala Harris calls "The Long Weekend" Holiday, news broke that Anthony Fauci would be writing a book.
No doubt, he was given a huge multimillion dollar advance that will far exceed his royalties in what can only be called tolerated graft from the media to favored leftwing politicians.
An eighty page book.
A donation to Fauci disguised as a pamphlet.
Dr. Anthony Fauci appears to be taking a page from Democratic New York Gov. Andrew Cuomo's playbook by releasing a memoir about the so-called "lessons" he has learned in public service amid the coronavirus pandemic.

Titled "Expect the Unexpected: Ten Lessons on Truth, Service, and the Way Forward," the 80-page book will be released in November and is set to cover Fauci's career as a public health official, including his tenure as director of the National Institute of Allergy and Infectious Diseases.

"With more than three decades spent combating some of the most dangerous diseases to strike humankind-- AIDS, Ebola, COVID-19--Dr. Fauci has worked in daunting professional conditions and shouldered great responsibility. The earnest reflections in these pages offer a universal message on how to lead in times of crisis and find resilience in the face of disappointments and obstacles," the Barnes & Noble summary of the book reads. "
This sparked some controversy, because Fauci, like Cuomo, is a failure and a fraud, and should not be rewarded.
Furthermore, he's a public servant -- everything he knows which is relevant is supposed to be offered to the public for free.
But what do you think the odds are his little pamphlet comes with a few Surprise Revelations about the virus he's supposedly doing his best to keep us informed about?

Now the Post-Milliennial ">The Post-Millennial reports that mentions of the book have now been scrubbed from Amazon and Barnes and Noble. A correspondent doubted this was true, but she says she confirms what the PM reports: Fauci's book has vanished from Amazon and Barnes and Noble.
The scrubbing comes after a trove of thousands of pages of emails were released on Tuesday morning. Freedom of Information Act (FOIA) requests from Washington Post and Buzzfeed have resulted in a massive cache of emails from Dr. Anthony Fauci...

Fauci said early on in these emails that face masks are not helpful, received information that there was reason to believe the virus was engineered, and advocated early for school closures despite evidence showing that kids were not at high risk of contracting or spreading the illness.
The Post Millennial reports on those last revelations here:
[Responding to an inquiry about the effectiveness of masks:] "The typical mask you buy in the drug store is not really effective in keeping out virus, which is small enough to pass through the material... I do not recommend that you wear a mask, particularly since you are going to a very low risk location."
In this email, a researcher tells Fauci that it is perfectly possible that covid was engineered in a lab:
Kristian G. Andersen, director of the Scripps Research Institute, exchanged a series of emails with Fauci in early January, 2020. Andersen wrote that "The unusual features of the virus make up a really small part of the genome (<0.1%) so one has to look really closely at all the sequences to see that some of the features (potentially) look engineered." She said further that those on her team "all find the genome inconsistent with expectations from evolutionary theory."
Fauci of course notoriously denied there was any evidence that the virus was engineered.
Rand Paul and Marjorie Taylor-Greene have called for Fauci to be fired over the email disclosures so far.
You'll never believe this, but Jen Psaki held a press conference today and not one member of the "news" media asked a single question about Fauci's emails.
So strange! Especially given how many media scumbags are seen in Fauci's emails, begging him to tell them "The Bad Orange Man won't let me tell the truth about covid!"
ABC "journalist" wrote to Fauci telling him how much she "respected" him.
Crucially -- because she and all other reporters were having a feeding frenzy begging Fauci to tell them Trump was "muzzling" him -- promising to never write anything that would "jeopardize [him] in any way."
I take that to mean that she would protect his anonymity, but who knows.
Almost all of the leftwing activist press wrote to Fauci begging him to please, please, please tell them that Orange Man Bad.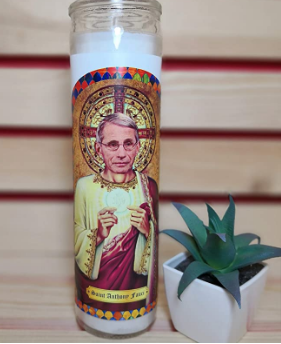 Note that these script-writers are attempting to tell their actor what lines they should say. They had a story pre-written and just wanted Fauci to confirm it for them.

The only positive thing I can say about Fauci is that it would have been very, very easy for this obvious narcissist to play to his fanbois and fangirls by agreeing, "Yes, I can confirm that the Bad Orange Man is Orange and Bad." But he didn't.
But he needs to go to jail for perjury.

posted by Ace at
06:11 PM
|
Access Comments