« Christopher Rufo Reveals the Racist Anti-White Training that Lockheed Martin Executives Are Forced to Go Throough
|
Main
|
Quick Hits: The Government Must Mandate That CNN is the Only Recognized Vendor of Government-Approved Disinformation Edition »
May 28, 2021
State Department Investigator: Wife of Wuhan Lab Researcher Died of Covid-Like Symptoms In December 2019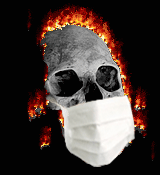 This isn't even new.
They knew from the start this came from the Wuhan lab.
They covered it up because a crisis launched by a hostile foreign country's government -- even if due to incompetence and sloppiness rather than intent -- would benefit the current president.
Who was Trump, of course.
Knowledge that China created this in the lab would have created a rally-round-the-flag effect for Trump.
So they lied.
They "fortified" an election. With lies.
And media and social media defamed and censored anyone who tried to tell the truth.
Eleanor Bartow for The Daily Caller:
The wife of a Wuhan lab researcher working on coronaviruses died of what appeared to be COVID-19 in December 2019, the leader of a State Department investigation under the Trump administration told the Daily Caller News Foundation.

It would have been an early clue that the virus could be transmitted among humans, yet Chinese authorities said that the virus was not transmissible for at least a month after they knew it was, allowing it to spread, according to David Asher, who led an investigation on COVID-19's origins and served in the State Department under Democrat and Republican presidents.

China reported in mid-January that the virus was transmissible among humans.

An individual who worked at the Wuhan Institute of Virology at the time provided the information on the lab researcher's wife dying, according to Asher.

...

The lab workers appear to have been more likely to have had COVID-19 than the flu, Asher said.

"How many normal people in their 30s-40s get so sick from influenza that they have to be hospitalized? Lab workers, I am told, are almost certainly getting flu shots.

"Moreover, what are the odds that several workers -- who happen to be the researchers on enhancing the pathogenicity of COV RaTG13 and associated COVS all fall very sick together?" Asher noted, referring to coronaviruses.
A source reminds me that he knew about this back in March 2020.
And that source said that numerous family members of Wuhan lab researchers had covid-like symptoms. Keep your eyes open for those shoes yet to drop.
And China covered it up.
And the US government covered it up, to rig an election.
THIS IS WHY THE BIDEN ADMINISTRATION CANCELLED THE STATE DEPARTMENT INVESTIGATION.
Where does Trump go to get his presidency back?
And when do we start the impeachment?
Update: Amazing -- the Washington Post is telling us to cool it with the lab leak theory, because it might cause "anti-Asian hate attacks."
Oh so again, we have to censor a story because... some Democrats are going to attack Asians?
As John Sexton notes -- strange that the Washington Post says that reports about the lab leak will inspire attacks on Asians, but they can't seem to figure out what's inspiring attacks on Jews by Muslims.
And the story goes on to connect all of this talk about the lab leak to President Trump and right wing news sites which "kept pushing the lab theory" when no one else was allowed to talk about it. So there's a clear political angle to all of this.

But if you really believe that discussion of this story is likely to result in a fresh outbreak of anti-Asian hate online and in the streets, then where is the similar concern about the recent anti-Semitic attacks? Multiple people around the country (and abroad) were harassed or beaten in the streets. Can we work backward from those incidents and identify the discussions and hot rhetoric that prompted it?
That might cause difficulty for the Democrat Party, so nah, brah.

No, all the dudes on videotape seen sucker-punching elderly Asians don't look like they keep up with the International Section of the New York Times.
I hate to point this out to The Bulwark's Sonny Bunch, but criticizing China was also valid back when the Bad Orange Man was president, too. Discussing the lab leak was also useful when Trump was in office, too.
Tell me-- did The Bulwark make that point?
Or did they jump on the "Trump is telling black men to beat up elderly Asians" bandwagon?
Is it only now permissible to tell the truth because FaceBook and the Washington Post told you it is?
Update: The media is ON IT: