« State Department Investigator: Wife of Wuhan Lab Researcher Died of Covid-Like Symptoms In December 2019
|
Main
|
Out of Quarantine Cafe: Not Bats But an Amazing Recreation Edition »
May 28, 2021
Quick Hits: The Government Must Mandate That CNN is the Only Recognized Vendor of Government-Approved Disinformation Edition
Deb Heine reports on the corporate media's Pulitzer-worthy probe into What Ice Cream Flavors Joe Biden Likes.
She notes that the Joe Biden Ice Cream Reporting has a slightly different tenor than their Donald Trump Ice Cream Exposees.
The leftwing media -- a classic anti-competitive cartel -- is determined to use friendly monopolies, or government power, to shut down all competition -- on grounds that the competition is spreading "disinformation" -- so that readers and viewers and listeners have no choice but to consume the leftwing media's deranged propaganda.
CNN, whose ratings are now low enough that people are going to have to be... encouraged to pursue a career in coding, is especially desperate to use monopolist or government power to force people to watch CNN.
CNN's effeminate Thumb in a Jacket With Padded Shoulders Chris Cillizza -- recently seen peddling misinformation that covid could not have been created in a lab -- wants to shut down OAN and Newsmax now:
Cillizza concludes:

The rise of far-right channels like OAN and Newsmax has led to a massive amount of disinformation flowing through American democracy. While espousing this garbage is a business model for these channels, it has massive impacts on Americans -- many of whom are living in a conspiracy theory that they have been tricked into thinking is the real world.
You mean the real world in which it is 100% certain that covid evolved naturally? Tht world, Chris?
Or the real world in which Donald Trump is a Soviet agent under the direct control of Vladimir Putin?
Or the real world in which Hunter Biden's laptop is fake and "RUSSIAN DISINFORMATION"?
How the hell are these rotten bastards, who are the worst purveyors of fiction and conspiracy theories on earth, presuming to arrogate the power to stamp out other people's alleged "disinformation"?
Which "real world," Prison Lips?
The "real world" where Anthony Fauci just "crushed" Trump about the lab leak theory?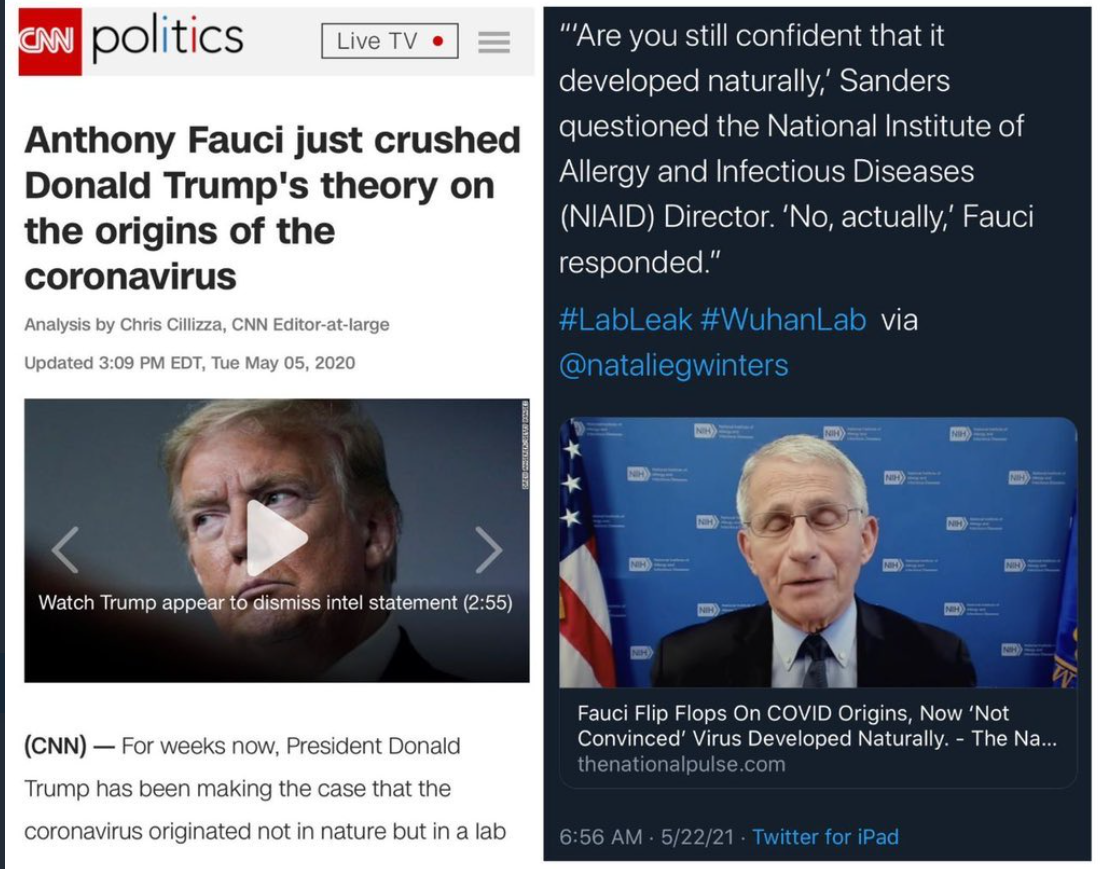 From Fox:
"Enter Anthony Fauci, the head of the National Institute of Allergy and Infectious Disease and perhaps the single most prominent doctor in the world at the moment," Chris ["Prison Lips"] Cillizza wrote at the time. "In an interview with National Geographic posted on Monday night, Fauci was definitive about the origins of the virus which has sickened more than a million Americans and killed more than 68,000:


"If you look at the evolution of the virus in bats and what's out there now, [the scientific evidence] is very, very strongly leaning toward this could not have been artificially or deliberately manipulated ... Everything about the stepwise evolution over time strongly indicates that [this virus] evolved in nature and then jumped species."

Having quoted both men, [Prison Lips] added, "Only one of these two people is a world-renowned infectious disease expert. And it's not Donald Trump."
See the tweet below: Every tech company also starts screaming "DISINFORMATION! CONSPIRACY THEORIES!" when any new tech platform challenges their monopoly:

And the corporate-paid pseudoright continues to bleat, "Yes, monopolies using their cartelized combined and coordinated power and/or government regulation to squelch their competition is precisely how Reagan always envisioned the free market working, in its final, perfected form."
"Journalist:" Let's not bicker and argue about who spread disinformation that benefited Red China (and the Democrat Party, natch) and who lobbied tech monopolies to censor the true information...
How's that MSNBC Audition Tape coming, Tough Guy?
Don't watch this if you're pro-choice and don't want to be very angry. It's an ugly whore crowing that she's going to get an abortion as if it's the greatest achievement of her life which, judging by her clothing, home, and teeth, it probably is.

posted by Ace at
06:28 PM
|
Access Comments