« Saturday Gardening and Puttering Thread, Memorial Day Weekend [KT]
|
Main
|
Sefton's Occasional Hobby, Art, Craft, and General Bodging Thread. »
May 29, 2021
Ace of Spades Pet Thread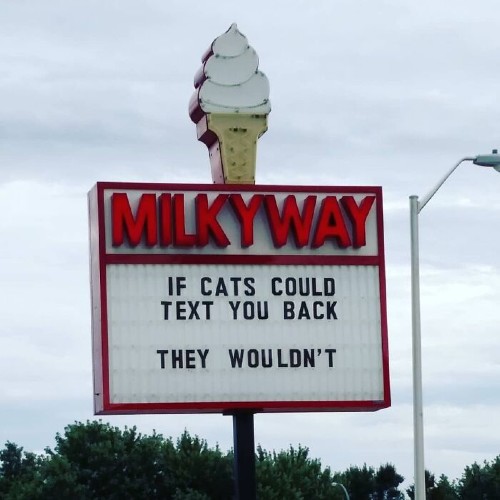 ***

Good afternoon and welcome to the almost world famous Ace of Spades Pet Thread. Hopefully your Saturday is going well and you can relax with the world of animals.
***
A Little of This. A Little of That.

The following was submitted by our dear friend Jane D'Oh. Breathtaking Footage of Half a Billion Butterflies
***
***

Every living creature requires water. You be surprised who shows up at water fountain.
***
Meet The PetMorons
Rascal crossed the rainbow bridge this afternoon. It was no secret he was my favorite. He always greeted me with that happy smile when I got there. This past Wednesday I knew something was wrong but I thought it was stress from bringing other dogs in for integration. He ambled over to me and laid his little head on my leg. Yesterday they took him to the vet and the vet thought he was just in pain and suggested laser treatments and muscle relaxers. Today 3-5 shift found him in laying in the hallway dead. I'm devastated. That he died alone just breaks my heart. RIP sweet little Rascal. Tell all the other Shep's pups who have crossed hello for us. You will be missed so much.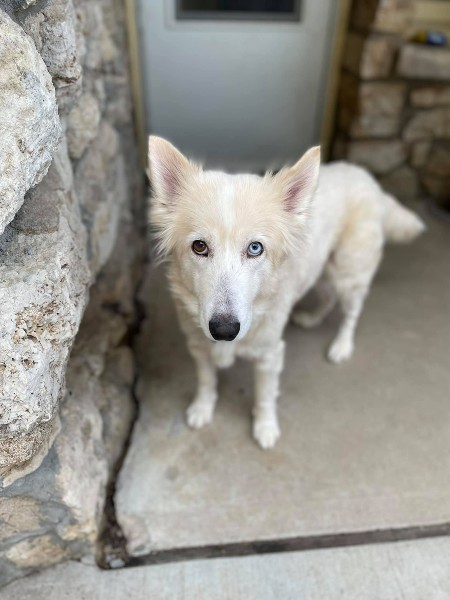 This is our newest addition to Shep's place, Baby a 10 year old chihuahua. He's almost blind but can see shadows and will follow you around. He's had 2 owners in his short 10 years, both elderly who sadly died and left Baby (who used to be named Taco) homeless. Second owner didn't like the name, hence..Baby. We are having a VERY hard time with the name Baby.. just doesn't fit a male dog I don't care if it's a chihuahua! At any rate he's a cuddle bunny and we love him..hanging tongue and all. -Jewells
Thanks for the regular news on Shep's Place. And a big Thank You for all the work you do with these wonderful creatures.
***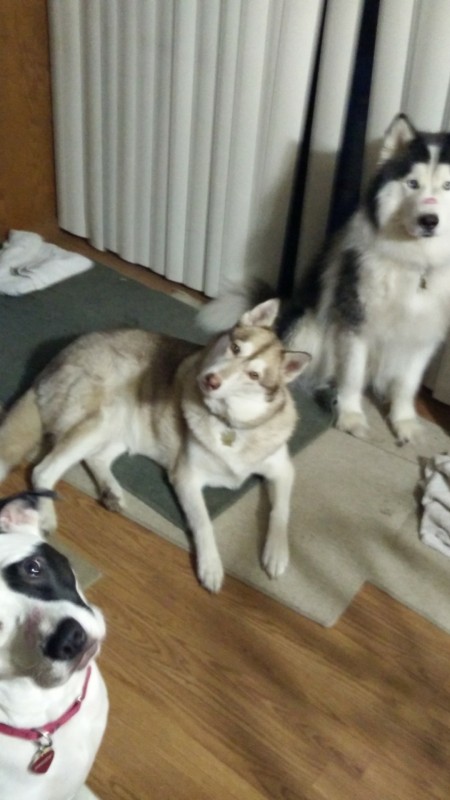 I sent this to you almost two years ago. Yesterday, my wife and I had to say goodbye to Riley, the best Siberian Husky a family could have.

He was 16 years and fought like hell the last couple of weeks of his life until he just had nothing left to give. He kept watch on us every night so we could sleep soundly. He was my wife's joy, a very vocal boy as many huskies are.

Riley is with Shasta. We have Dakota left. Our hearts are broken. With time, we will heal. Please accept this picture again. God bless you for what you do for all of us fur parents during our times, both happy and sad. - Brian.
No need to ask please when it comes to your loved ones. We are happy to share this wonderful photo. So sorry to hear about your loss. The love that pets demonstrate sure isn't rewarded by long lives. Too damn short.
***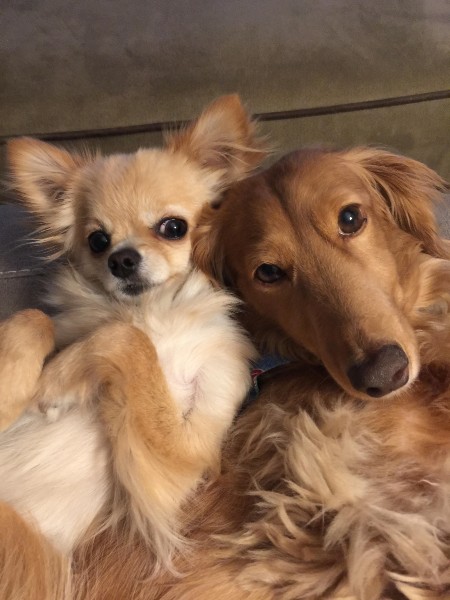 Tonka and Dexter. Tonka the chihuahua is a rescue. We lost our other chihuahua after 14 years. - Ken
What an adorable photo of these buddies. We really appreciate your contribution. Thanks.
***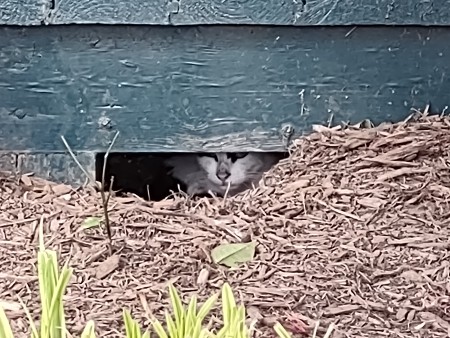 Hi Mis. Hum.

Remember the fox picture I sent you? This year, a cat moved in under the porch where the foxes had been in years earlier! -Isophorone Blog
For a guy who doesn't have pets you certainly keep your eyes open for critters. Thanks for sharing IB.
***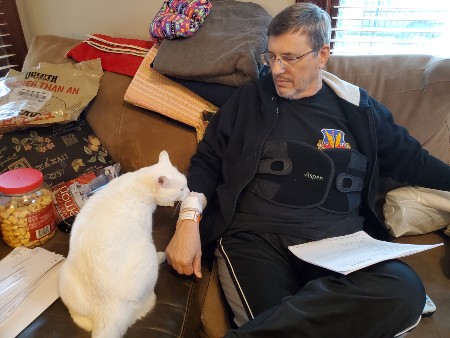 It's been a couple of weeks since Paul came home from the hospital after Spinal Fusion surgery. Right after he got home, our white cat, Big Momma, decided that he needed HER version of a "CAT Scan".

Thankfully, he passed with flying colors!-Teresa in Fort Worth
Hopefully Paul is on the mend and no longer needs CAT or PET Scans. Big Momma sure looks like the attentive kitteh.
***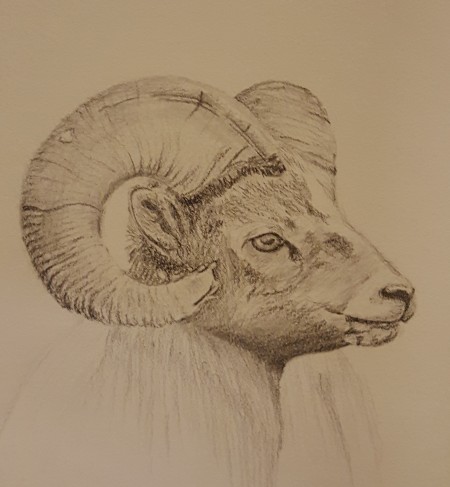 Tonight (5/17) I was walking around a city street in Virginia, enjoying the night air, when I saw a lady walking a friendly-looking pit bull. I asked whether I could pet her dog and she said yes, so I gave it some ear scratches and then spent the next minute petting this wonderful, sweet, adorable pittie. It made me sad to think that pet shelters all over the country are full of pit bulls that people don't want to adopt and that are often condemned as a group because of their reputation. the more I pet that darling little fuzzy tank, the more I loved it.

Anyway, here's a bighorn sheep. - Sobek Pundit
What a wonderful story. A story that needs to get out about pitties. Your art is wonderful! Thanks for sharing.
***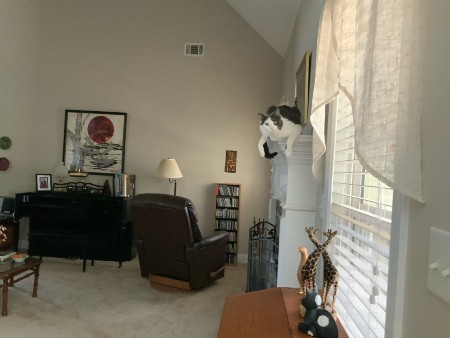 I thought you might like this picture of the macaws. My husband's nephew took in our macaws when I couldn't be around them any more. And he would Facetime with my husband, so he could see how they were doing. The blue and gold, Dewey, was his favorite. I post as notsothoreau
We don't get to see many birds on the Pet Thread. So getting this beautiful photo is a treat. What gorgeous birds they are and what a shot. Thank you.
***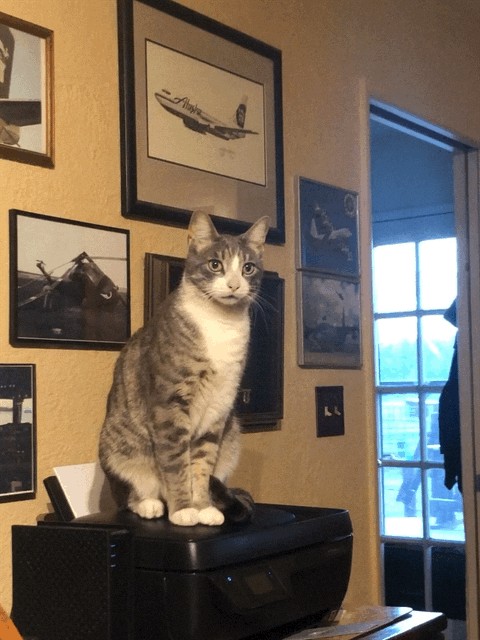 Scooter. A handsome devil more aptly named "Looking for trouble". -Robert
Oh we think you are pulling our leg. Scooter looks like a respectable kitteh who would never get into any trouble or mischief. We thank you for your contribution.
***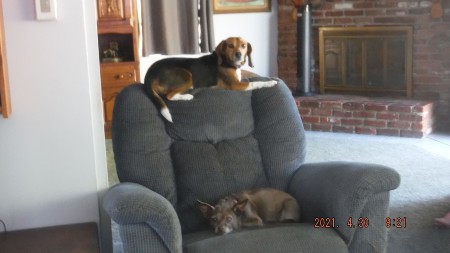 Here are my 2 nut burgers. Dollie and Bosco. Dollie is on the back if the recliner. Our 2nd beagle. She is almost 4 years old. Bosco (AKA The chocolate rocket) barks a everything and nothing and is a snuggle bug. We got him as a stray that My wife's friend's kid found wandering the street. The friend thought that Sugar (our 1st beagle who passed on to piddlers green 5 years ago) needed a playmate. The rest as they say is history. - Eric (The OC tanker)
Here I thought I had the only dog who would sit on the top of a recliner. Dollie has proved me wrong. They look like adorable pets who contribute joy to your home.
***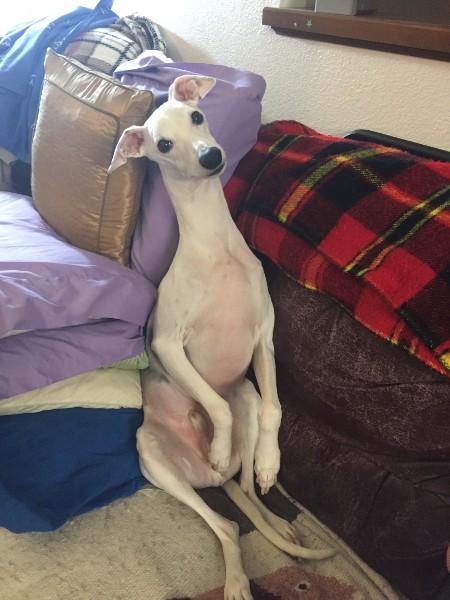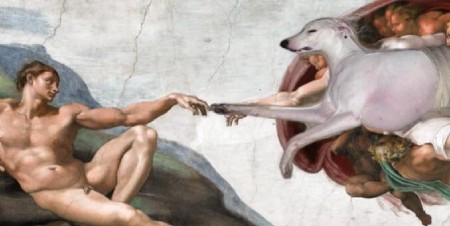 DJ 2007 - 2021

A couple of pictures of DJ in his younger days for the Saturday pet thread.

I'm kind of at a loss. I don't know what to say.

He was my buddy.

Oh..the 2nd pic is not real. My daughter did a rough photo shop type thing. J

I always chuckle when I see it. - Bosk

First, condolences on your loss. DJ looked like quite the character. Our sense of humor is similar. I love what your daughter did with photo shop. Awesome pic. Thanks.
***
Hi,

Thought you might enjoy this.

https://www.youtube.com/watch?v=v8VuxOYMlyM

Regards,

Bob (aka WillieStark)

Yes I did enjoy the video. And I'm sure the rest of the Morons will to. Gretl is a cutie and a handful all at the same time. Thank you for the video.
***

God's creatures are so wonderful and so are their humans. Thank you for sharing with us today.
If you have something you wish to submit you can reach us at petmorons at gmail dot com.
God willing and the creeks don't rise we will be back next Saturday. Have a great week!


posted by Misanthropic Humanitarian at
03:00 PM
|
Access Comments