« Saturday Gardening and Puttering Thread, May 22 [KT]
|
Main
|
Sefton's Now and Again Weekend Hobby, Arts, Crafts and General Bodging Thread »
May 22, 2021
Ace of Spades Pet Thread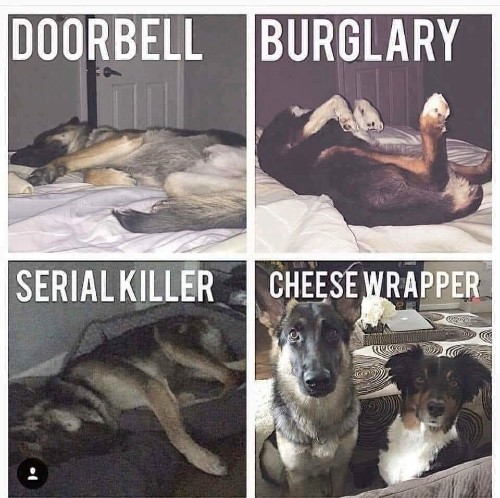 (H/T TN Deplorable)
***

Good afternoon and welcome to the almost world famous Ace of Spades Pet Thread. Please kick back, chillax and enjoy the world of animals.
***
A Little of This. A Little of That.
Quite the race..........

(H/T Bitter Clinger)
***

'Des Chats-Dessins sans paroles' (Cats- Pictures without Words) is a book of 1897 by Swiss-born painter and printmaker Theophile Alexandre Steinlen ( 1859-1923). Wonderful art!
***
How anyone can starve a dog? This afternoon's Feel Good Story.
***

From doggeh and kitteh owner Lin-duh. Cute video of them.
Thanks!
***
Meet The PetMorons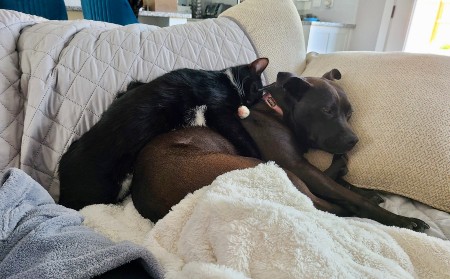 Itty Bitty Kitty & Rosie the Ferocious Pittie, naptime.

I believe these 2 may have made an appearance about a year ago, when my daughter found a weak, sickly, at-death's-door 3-week old kitten, and brought it in to try to save him.

Which she did, to the surprise of the veterinarian. Rosie the Pittie was immensely curious, and as you can see, the itty bitty kitty isn't so itty bitty anymore, and he and Rosie have become best buddies. I mostly lurk, post sometimes as "Reine".

OK, spill the kibble. Is this a staged photo or is this something that happens on a regular basis? It doesn't really matter its a sensational shot. Thanks!
***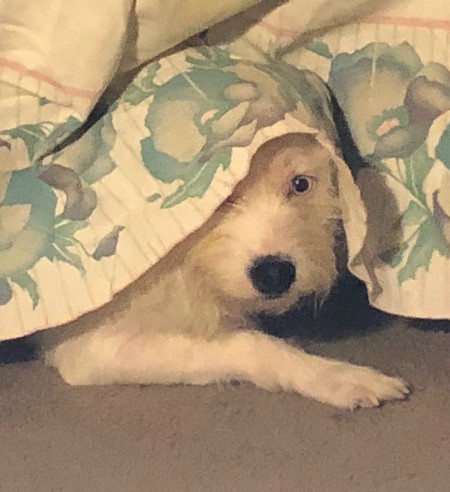 Bella, the femme fatale - Nic not provided.
I'm not sure if she is a femme fatale, but quite the adorable pooch in this photo. Thanks for sharing. If you are around today join in the comments and tell us more.
***
Here are some pet related photos I recently found.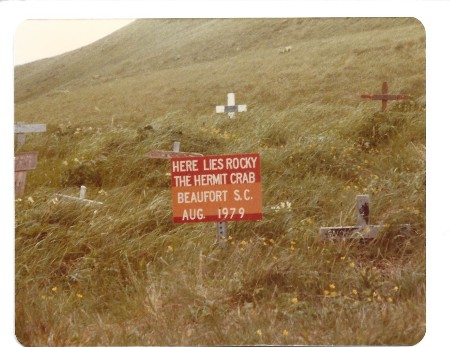 AND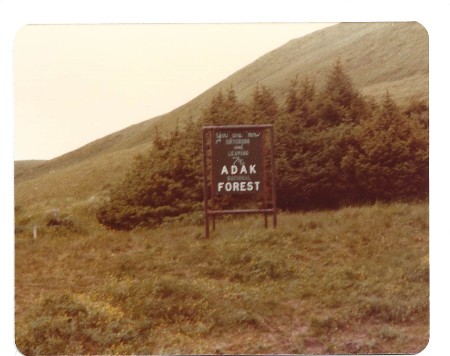 The first one is the Pet Cemetery located on the island of Adak, AK. It used to be a Navy base and people would bury their pets near the Adak National Forest with elaborate signs marking their graves. The base has since closed and there is only a small community there that serves a fish cannery located out by the old submarine pier from WWII.

The second one is a picture I took of the Adak National Forest in 1983. It consists of 33 trees and is the smallest and most remote of our national Forests being 1,200 air miles from the closest City. - no nic provided
Thank you for such an interesting story about the Adak Pet Cemetery. And we appreciate learning about the Adak National Forest. I for one had never heard of it.
***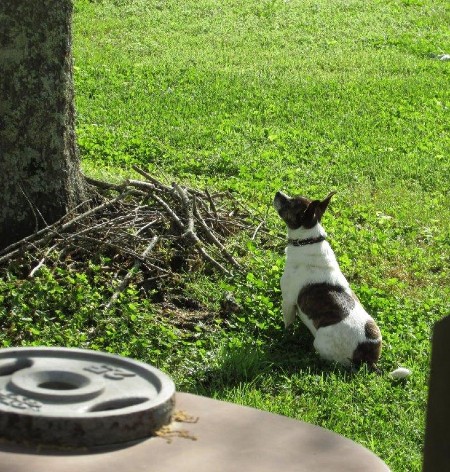 This is Gus, he showed up right when my last "found me" dog was dying.
I had had Jack for 14 years and I was not sure I wanted another dog
anytime soon. BUT, I went to run errands and he was in front of my
house in the middle of the road. (No collar) He acted like he knew
where he was going, so I thought no more about it. I must have passed
him 4-5 times with him laying curled up close to the road acting
completely at home. Well it was November and it got close to dark so I
jumped in the truck and went to see if he was still there. He was. I
asked "You wanna come home with me?" He jumped at the chance. (must
have heard about the good grub here) I had to put Jack down a couple
weeks later and was able to get to know Gus. He is a funny little guy.
He has only barked 3 times in 5 months. Never had a little dog before.
(never wanted one since they are usually yappy) Didn't mean to write an
epic on Gus. He HATES rain, but ice and snow is fine. Little weirdo.

You have showcased my beasties before and I thank you. Can't really
thank you enough, the pet thread is a pleasure each and every week. - Pam

First of all, no need to thank us here at the Pet Thread. But, you're welcome nevertheless. No one can ever replace Jack, but we are happy to here you have added a new addition to your home. Quite the heart you have there. Thanks for sharing with us.
***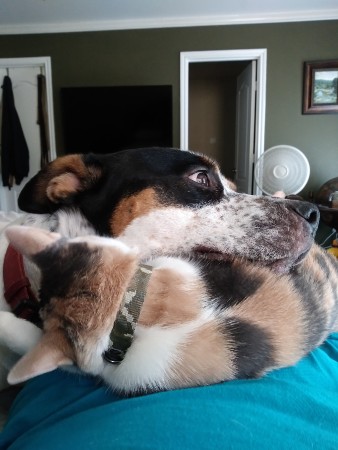 Good afternoon MisHum,

Finally sending in pics of our two Fur Morons. Buddy, the dog, was at the shelter in the process of being surrendered by a guy who worked too much to properly take care of a young energetic dog. I was there donating stuff from our late Abby (sobs) and although we hadn't planned to adopt just yet, well, could you resist that face? We've mostly cured him of chewing on, well, everything he could find - though it'll be a long time before we can have throw pillows. Not long afterwards I went to Petsmart for cat food for Grandma Chickenbones, our now late 16 yo cat who spent 11 years running our household (sobs again). There was an adoption event going on from a local shelter, and really, what did my husband think was going to happen? I like adopting middle aged animals, everyone wants the puppies and kittens but the older ones have so much love to give. These two clowns now chase each other around by day then at bed time curl up and Tatyana gives Buddy a nice mama cat bath. - no nic provided.

Hello and thank you for your contribution today. We agree with you, what happens when one goes looking at critters. You always get a least one!! It sounds like a wonderful relationship between those 2. Great to hear.
***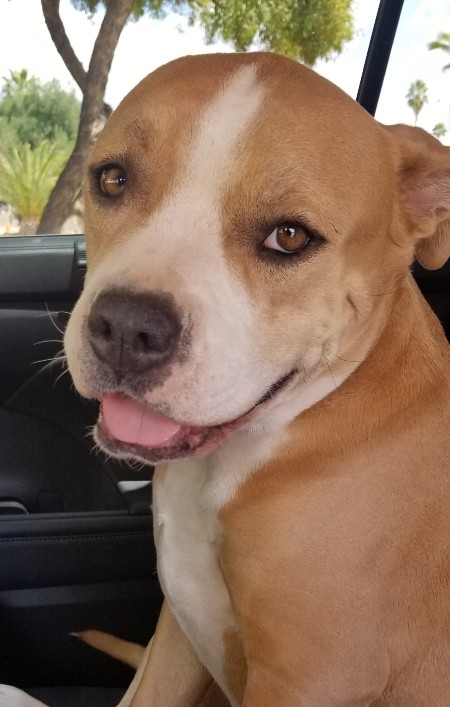 Our 4 year old Staffy/Pit Woodson we rescued from the county kill shelter. He has been like another kid - goes everywhere we do, takes the kids' toys and stuffed animals, and sleeps with the kids going from bed to bed at night like a gypsy. One thing about most dogs, they sure pack a lot of happiness into a relatively short life window. Gotta love 'em. Thanks - Gary

Well most of us here would never argue with your quote, "...they sure pack a lot of happiness....." He certainly looks like he brings joy into your family's life. That's awesome. Thanks.
***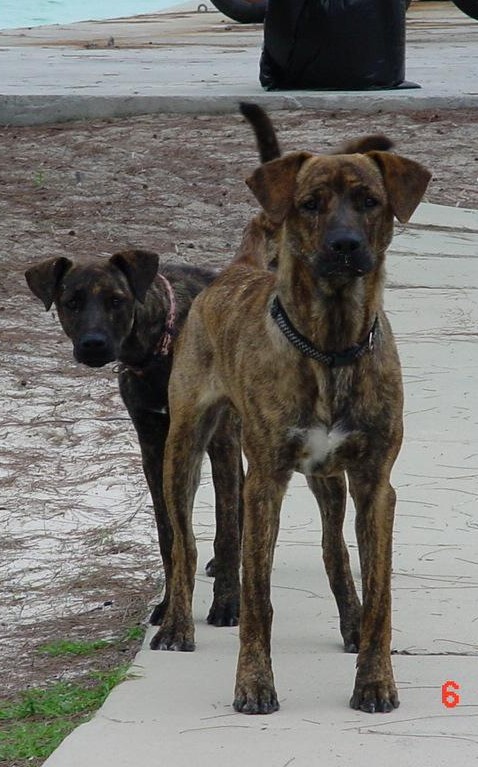 This is Jax and Kali on guard for what they think is an intruder, me with my cap on backwards.
These two were rescued Bahamian Potcakes on 'their' outlier island in North Abaco.

Loyal and loving "bush dogs", both are gone now, and sadly missed.
Richard
Thanks for sharing your friends with us today. So sad to hear they have passed on. Hopefully you can add another pooch to your life in the near future.
***

Our next entry has a video, written story and photo. Pretty cool video of Ranger the Kitteh.

Good evening,
Long time lurker and occasional poster as Veteran Of A 1000 Psychic Wars.

This is Ranger. Got home in 2008. Some kitten noise coming from engine compartment in 1998 Ford Ranger. Opened hood and hood suspension system near decapitated him before I noticed. 39 mile drive from from work. Already had 6 cats and 6 dogs. But could not turn away this little treasure. He is a talker and known as the Waambulance. Waah. Waah. Waah. I have two shelves full of pet ashes. He became the old boy last year when a 17 year old man cat passed away. He is built for black and white photography and can't resist an empty box.
I made a nice video about finding him that no one watched on youtube. Not asking you to post it but here - But if you want, I won't mind. Here is Ranger -
That is a nicely produced video. Thanks for sharing your story about Ranger today. He sounds like he hit the jack pot when you found him.
***

Thank you all for your contributions today. The In-Box continues to stay full and we appreciate that. If you wish to submit a photo or story to us by all means.
You can reach us at petmorons at gmail dot com. Please include your pet's name and your name as well so we can credit you.
Until next Saturday, God willing and the creeks don't rise. Have a great week!

posted by Misanthropic Humanitarian at
03:00 PM
|
Access Comments