« Ace of Spades Pet Thread
|
Main
|
Saturday Evening Movie Thread 05-22-2021 [Moviegique] »
May 22, 2021
Sefton's Now and Again Weekend Hobby, Arts, Crafts and General Bodging Thread
Hey kids! I hope you're all having a great weekend, escaping the madness around us and doing things you enjoy. Last time I did a hobby thread, it got such a great response that the cobs asked me to "cobble" up another so without further ado, let's head over to the basement, studio, attic, garage, spare room and get creative!
NOTE: It goes without saying, but, Jewish mother that I am I'll say it anyway, please use your power tools, any chemicals or other potentially toxic materials safely. Use eye, ear and lung protection at all times where necessary.
To get the ball rolling, here's a project of mine that I started and have had on the back burner for quite a while. It's a HO scale factory made from sections of the old Revell Superior Bakery/Weekly Herald kits and DPM wall sections (ground floor) that I created masters for and then cast in resin. The back two walls won't really be seen on the diorama and ultimately the layout I'm planning, but I learned a lot about the casting process and I'll use it to experiment with and hone my painting and weathering techniques for when I tackle the visible portion. Needs a ton of sanding and filing to hide a number of sketchy joints, but painting, weathering and detailing with drainpipes, signage and fire escapes, should cover a multitude of sins. One day I'll finish the damn thing...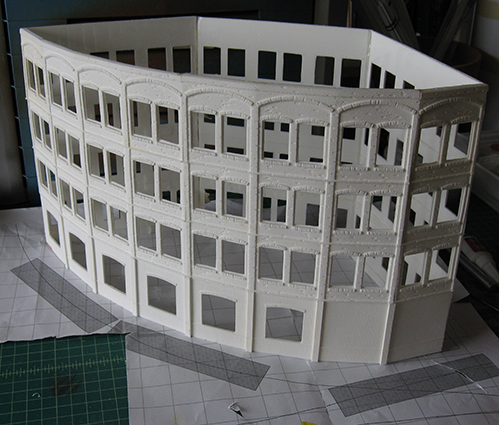 First up, I've featured this gentleman's layout before and as it's now more or less completed, he's now building an extension which will be a typical British branch terminus. I love how his layout has a much larger percentage of scenery to trackage, making the effect that much more realistic. His scenery-building techniques seem easy, with readily available, cheap materials but yield beautiful results. You'll see what I mean by perusing his channel.
Next up, this gentleman makes backgrounds for lizard terrariums but he does do the occasional fantasy diorama. This one kind of reminds me of the album covers Roger Dean used to do for Yes back in the early 70s. If you are into model railroading, war gaming or other kinds of diorama creation, there are some great techniques and ideas.
This fellow creates some incredible models primarily out of foam and cardboard. This one looks to be about HO scale but he also works in N scale and the results are just as outstanding.
For a change of pace, how about modeling a vintage Chris-Craft boat out of bamboo skewers, popsicle sticks and coffee stirrers? This is how it was done back in the old days when money was tight, and so were we. You could convert this into an R/C model relatively easily.
From wood and foam, we go to Sculpey. Not only does this guy use it to sculpt the Alien, but he also uses it to create the walls and details of the diorama itself.
Sticking with fantasy and sci-fi, some good scratch-bashing techniques are shown as this guy builds his version of a Star Wars pod racer as part of a build challenge with other modelers. Had no idea about LED filaments and can think of so many applications.
Switching it up a bit, for those keen on upcycling, this young lady has made it into a business. Normally, painting wooden furniture for me is a strict no-no, unless it's something cheap like pine or particle board, or beyond repair. She does very nice work.
As you may know, I am also a painter and my work is almost exclusively representational. That said, I do appreciate some abstract art. I really like this woman's techniques and the results she gets. There's a definite skill involved. But in this piece she combines those techniques with some floral, still life elements that I think are terrific. Kind of reminds me of Henri Rousseau's "The Dream." Note: this is part 1 of a 3-video series so be sure to check out all the episodes.


To model airplanes we go, and John Woodfield out of New Zealand is a master at RC slope soaring. Here is his stunning version of Carl Goldberg's classic Sailplane which he (Goldberg) designed for Comet Models back in the late 30s IIRC, obviously updated for RC by the builder.
Chest'r is an absolute master of furniture repair and upholstery. This is the final part of a 3-part series where he restores an antique foot stool. The video is at high-speed but he uses all the tricks of the trade, so just stop and rewind to see how he does it.
Finally, if you ever wondered what you can make out of a heap of old cardboard and newspapers, you'll be blown away by this. Incredible talent.

posted by J.J. Sefton at
05:40 PM
|
Access Comments