« Daily Tech News 18 May 2021
|
Main
|
Mid-Morning Art Thread »
May 18, 2021
The Morning Report - 5/18/21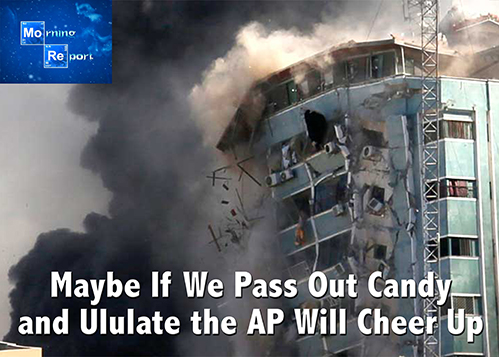 Good morning kids. Tuesday and Zhou Biden, or at the very least whoever is making the words that come out of his mouth not sound like the mush already in there, has come out and called for a cease fire between Israel and the Iranian backed and controlled Hamas terrorists. On Saturday, the Jew-hating America-hating freaks that comprise a substantial percentage of the Democrat Party were enraged that the Junta had remained silent on this issue. All things considered, it's akin to a show of solidarity for the hated "Zionist entity" comparatively speaking. But, Jarrett/Obama/Ayers/Soros are now calling for a halt. I guess that indicates that the IDF may have the upper hand, tactically and strategically, and we can't allow that, now can we?
The other thing that they are freaking out about is a weapons sale that predates the hostilities. All things considered, this too will probably be torpedoed, regardless of whether the Israelis are forced to cease fire or not. For the Stormfront trolls or those commenters who are Stormfront curious by "just asking the questions" who equate Afghanistan with Israel (oh yes indeed they did), you needn't worry about the Biden gang. Robert Spencer goes into detail on the low-lives now "occupying" crucial offices whose names should ring a bell: Robert Malley, Reema Dodin, Wendy Sherman, Maher Bitar, Uzra Zeya and Colin Kahl.


Oh yeah, this is sure to work: Secretary of State Antony Blinken said Wednesday, according to the Jewish Press, that he was "sending an envoy to the Middle East to 'seek to calm tensions' even as he urged Israel to avoid killing civilians." Israel does more than any other military force has ever done to avoid killing civilians, so that was not a good sign. Even worse was that the soothing envoy is Deputy Assistant Secretary of State Hady Amr, an indefatigable supporter of the genocidal Palestinian Arab jihad against Israel.

Back in 2002, Amr declared: "I was inspired by the Palestinian intifada." He said that Palestinians would "never, never forget what the Israeli people, the Israeli military, and Israeli democracy have done to Palestinian children. And there will be thousands who will seek to avenge these brutal murders of innocents." He did not, of course, say a word about Hamas' long-established practice of launching jihad attacks from civilian areas, so that retaliatory fire could be used for propaganda purposes. Of course, that was a long time ago, but Amr went on to a long career in the Obama administration and elsewhere, and never showed any sign that he had moderated his positions.

Anyone who is surprised that Biden's handlers would send a jihad supporter to talk with the Israelis and Palestinians hasn't been paying attention"...

...Having assembled this team of Israel-haters and jihad supporters, Biden's handlers are likely to press Israel to stop defending itself and make new concessions to the jihadis.
As I have stated for the past several days, Israel is facing an existential crisis as serious as any in its history. And considering we have a government - and an illegitimate one at that - that is openly anti-Zionist and anti-Semitic makes the potential for catastrophe that much greater. Make no mistake, that catastrophe will reach out and touch us right here. Pausing for a moment, the thought of the Middle Eastern situation today was almost unthinkable a year ago thanks to President-in-exile Trump. Iran was on the ropes, the so-called "Palestinians" had been removed from the chess board and the greatest regional geopolitical realignment in history that had never before been conceivable (or even wanted by the "peace process" pimps) was within our grasp. How quickly that can all vanish, mostly thanks to a rigged election.
No doubt, Israel is about to be put into the ringer. Regardless of who is running this country, it cannot afford to do the usual routine of get the terrorists in a stranglehold and then pull back to allow them to regroup, rearm and do this all over again in a few years time. Considering the magnitude of the rocket barrage, the Fifth Column of Muslims in its own country on top of the prospect of Iran going nuclear thanks to Biden, it might not have a choice this time but to bulldoze Gaza into the Med as well as root out the traitors in its own midst. That could cause a chain reaction (pun intended) not only with Iran but with China and Russia that are now asserting themselves in the area now that Trump has been removed from the scene.
Let me be clear here: nowhere have I said here or at any other time that US soldiers, sailors, airmen and marines should be deployed into this conflict or fight Israel's battles. Even if I wanted that to happen, considering who and what is in charge, that is a non-starter. That said, to not lend logistical, materiel, intel and diplomatic support to a genuine ally - the only truly modern, advanced, western democracy in the region - is to not defend our national interests for a host of geopolitical and moral reasons. I think tragically it is more likely that the Biden junta along with the rest of the UN et al are going to put such the squeeze on the Jewish state that it is going to react. How it will react is the question mark but somehow, somewhere, some way, someone is going to get their hair mussed. And to those isolationists out there, let me just say, you might not be interested in the world, but the world is interested in you. And with a regime in power that has no qualms about opening our borders and surrendering our sovereignty - meaning your own individual freedom such as it is - you should be rather thankful that there's at least one country out there that as it fights to keep the barbarians from storming its gates is, in that fight, forestalling the storming of the gates right here.
Then again, all things considered, we got stormed from within last November.


ABOVE THE FOLD, BREAKING, NOTEWORTHY
CIVIL WAR 2.0: LEFTIST PERSECUTIONS, CAPITOL HILL BLACK WEDNESDAY PROTEST AFTERMATH, DEMOCRAT PUTSCH, AMERICAN DISSOLUTION
NOTE: The opinions expressed in some links may or may not reflect my own. I include them because of their relevance to the discussion of a particular issue.
ALSO: The Morning Report is cross-posted at CutJibNewsletter.com if you want to continue the conversation all day.
Follow us on Twitter: @CutJibNews
Follow us on Instagram:@Cutjibnewsletter

posted by J.J. Sefton at
07:30 AM
|
Access Comments