« First-World Problems...Part 493
|
Main
|
Gun Thread: Re-Run Edition! [Weasel] »
May 16, 2021
Food Thread: The Plain French Fry: The Highest Expression Of The Fryer's Art?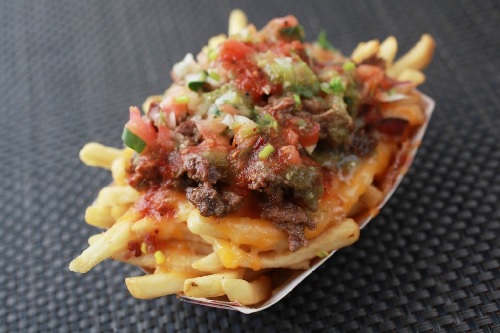 A great French fry is a glorious thing, and surprisingly difficult to achieve. Lots of places are content with just good or very good, and that is fine. As long as they are crispy and not mealy, I am happy to eat them, particularly with a good sandwich and a beer.
But dousing them with leftovers from the chili pot or the omelet prep station is an insult to the potatoes that gave their all for the apparently forlorn hope to be cooked crispy and eaten happily.
Cheese fries, chili cheese fries, and some even more revolting examples (check below the fold for a particularly vile concoction) are merely masks to cover up poorly rendered fries. Come on, if you can't appreciate a plain old French fry from a good, wholesome American fryer, then the communists have completed their infiltration of America and it is time for drastic measures.
I will grudgingly allow some fresh herbs, and maybe a sprinkle of Old Bay if you catch me in a vulnerable moment, but the food as originally designed by George Washington* is almost perfect. Don't let the theft of the concept by the frogs and the red coats fool you!
*This is entirely made up and is pretty much just word salad.
***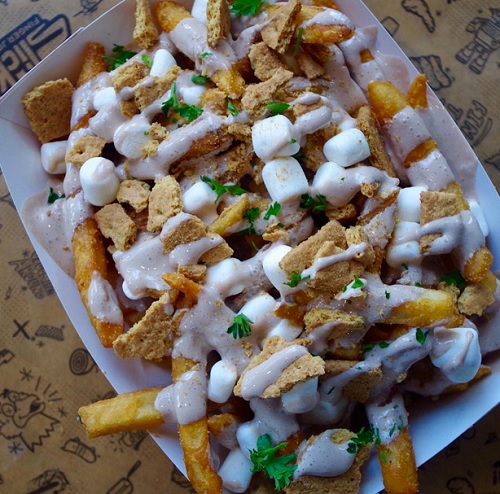 Yes, those are "Smores Fries."
Kill me now!

******
I drink a fair amount of gin when I am not drinking rye or bourbon or scotch, and I have come to prefer the London Dry style. Why? Mostly inertia. And when I buy it I tend to rotate the brands just for curiosity's sake. My newest bottle was Bombay Dry Gin, which is their London Dry Gin variety.
And it was not good at all in a Martinez...my current affectation favorite cocktail! The previous London Dry Gins were fine, but the Bombay version was aggressively junipery and too harsh to mesh with the other flavors.
I am always leery of drink recipes that call for a particular liquor. My suspicious side suspects some booze company payments or free bottles slid under the bar to the mixologist. But in this case I stand corrected. There is indeed a big difference!

******
I have mentioned one of my favorite local butchers a few times, and a few days ago they demonstrated why I like them. I went to the
Swiss Pork Store
to pick up some sausages and ground beef for burgers (yes...burgers and hot dogs on the grill!). They grind each order fresh, so I had a flash of intelligence (rare...I know) and asked the butcher to grind in a bit more fat than usual.
And all was good and fine and proper in Dildo World! Yup...give it a shot if you can. More fat than the typical 80%-20% is just better. Richer mouth feel, more flavor, and oh so juicy and tender.

******
What the hell is "kedgeree?" And who the hell is Valentine Warner?
Obviously it is some deeply disturbing Brit dish, cooked by an equally disturbing Brit chef.
A cursory internet search reveals that Valentine Warner is a TV chef, and not nearly as odd as I expected. But kedgeree is still sort of weird. Why cook smoked fish again? Why not just eat it?
Valentine Warner's special kedgeree
I have had Finnan Haddie and smoked salmon (both cold smoked and hot smoked) and they go very well with eggs. I just don't get the additional step....

******
Commenter "Bensdad00" sent this very interesting explanation of what exactly is going on with the word "bonded" on whiskey labels. Good stuff!
Bonded Whiskey

The phrase – to me at least - brings to mind pulp detectives, of course, but the phrase 'bottled in bond' for the most part was just a quaint bit of filler on a label, like VS, VSOP, or 'for industrial use only'. Until I started bartending nigh on a quarter century ago. What I found was a fascinating and little understood nugget of history that is relevant today in many ways.

The Bottled-in-Bond Act of 1897 when it was mentioned at all in my schooling, was always lumped in with the Pure Food and Drug Act of 1906 and Teddy Roosevelt's other terribly Proggy initiatives as being among the first significant consumer protection laws. In this light, Bonded whiskey is seen as a government response to adulterated liquor, safeguarding consumers by outlining the steps a distiller must follow to earn the endorsement 'Bonded".
According to the Act, to be bonded, a spirit must:

1) be the product of one distillation season and one distiller at one distillery.
2) It must have been stored (i.e., aged) in a federally bonded warehouse under U.S. government supervision for at least four years
3) It must be bottled at 100 proof (50% alcohol by volume).
4) The bottled product's label must identify the distillery (by DSP number) where it was distilled and, if different, where it was bottled.

And what does the distillery get for all their trouble? The only thing government can grant, really – Tax Breaks and the threat of government force against non-compliers. While whisky (or any other liquor, really – note the act makes no reference to types of booze) is under bond, tax on the production is deferred. And anyone who dares use the term bonded without actually being so will be dealt with by G-men. Think of the Act as a precursor of an IRA or a 401K, the liability created isn't due until the asset is ready to be used, with a side oder of goonery thrown in for spice. A win-win for all sides, distillers, consumers, and the Treasury, right?

Not so fast.

It should surprise none of you that those noble sounding intentions are all horseshit. The Bottled in Bond Act was nothing more or less than an early form of rent-seeking protectionism, pushed by the big Kentucky distilleries that were already established and aging whiskey for flavor purposes to denigrate their upstart competitors and the purveyors of white liquors (unaged Rum and Gin, mostly, since Vodka was a less than negligible product in the US at the time) who were cutting into the Bourbon Mafia's profits.

Every single point of the Bonding Act benefits big business and punishes competition.

1) Banning blending by seasons or distilleries reduced flavor creation and penalized small-batch production.
2) Forcing at least a four year aging period (good for Whisky, useless for Gin) delayed new entries into the market and forced greatly increased inventory cost onto any potential competitor. It also outsources the cost of security on stored product to the government and reduces the insurance costs on such product greatly.
3) 100 proof is the least objectionable of the requirements, but clearly favors the tasting notes and production values of whiskey over other spirits.
4) Being required to state who made the alcohol and who bottled it was not a factor for large distilleries that did everything in house, but it is a stigmatic mark on any speculator who attempted to enter the market and also on the stock of any competitor who went out of business with bonded booze in storage – essentially no one could bottle bonded liquor except the original distiller without looking like a fly-by-night operator.

The simple lesson here, no act of the government is altruistic or for the benefit of the public. If you don't see the scam at first, keep looking, because there always is one.

All that being said, and for all of the faults of the originating act, Bonded Whiskey is delicious and you should buy it. Old Grandad and Heaven Hill are two of the best and least expensive ones out there.

PS – a mostly unrelated note – when I enlisted in the Army way back when before 9/11, one of the forms we had to fill in was an asset disclosure, and one of the specific assets listed as exemplars on the form – along with stocks and bonds and federally insured savings accounts – was whiskey certificates. Asking the Sergeant in charge of paperwork at the time led to a colorfully enhanced answer that boiled down to "If you had any you'd know it so you don't now shut up'. But I've always been curious exactly how common possession of a chit for bonded whiskey was (assuming that's what a whiskey certificate means) that it necessitated being listed on mass-produced army forms into the 21st century. Anyone with information or insight please share. Is it actually still a thing or is it one of those reliquary phrases that broke off in the language, showing up nowhere but in legal boilerplate long after the initial reason for inclusion is inoperative?
******
******
Speaking of Brit breakfast food...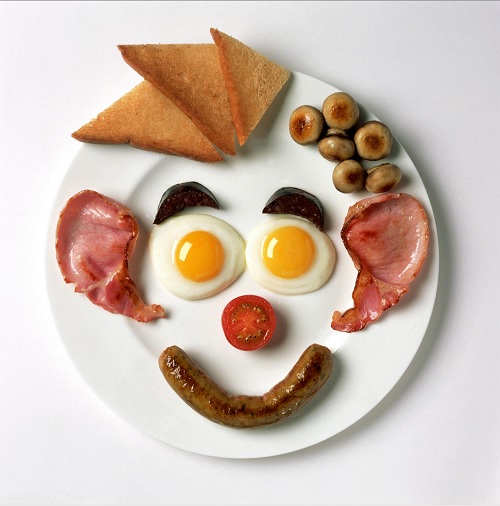 ******
Tender Broccoli Rabe that isn't bitter, beef short ribs that have meat on them (not the stupid little sliver of bone they sneak into the packages), Snap Peas (apparently they are no longer grown in quantity), spare bottles of Van Winkle Special Reserve 12 Year Old Bourbon, an herb garden that actually produces herbs, well-marbled NY strip steaks and elk backstrap to:
cbd dot aoshq at gmail dot com.
And don't think that you are off the hook with maple syrup and French Toast: I'm watching you...all of you! And I am watching you perverts who shake Manhattans and keeping a list for the Burning Times.

posted by CBD at
04:00 PM
|
Access Comments