« The Morning Rant: Minimalist Edition
|
Main
|
Bruce "Caitlyn" Jenner Tells CNN's Audience: I'm Only "Kind of On the Republican Side" »
May 11, 2021
Gas Shortage Hits East Coast as Biden Administration and His Media Praetorian Chant "There Is No Gas Shortage"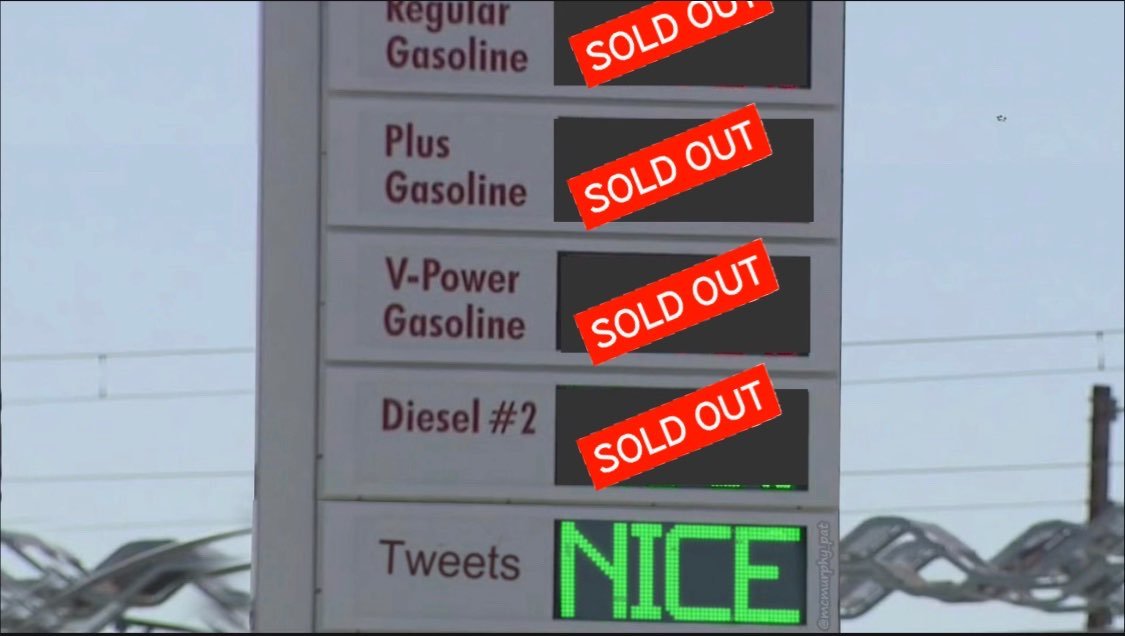 Who are you going to believe, the media or your car's lying fuel indicator?
Gas stations along the Southeast coast are being slammed by panic buying and long lines amid the shutdown of the biggest oil pipeline in the US from a crippling cyberattack believed to be orchestrated by a Russia-based criminal group.

The closure of the 5,500-mile Colonial Pipeline, which carries more than 100 million gallons of fuel from Texas to New Jersey each day, has stretched into its fifth day.

It sparked wild scenes of panic buying across Georgia, Florida, Virginia and South Carolina -- with North Carolina Gov. Roy Cooper even declaring a state of emergency on Monday.

"I DON'T HAVE ANY GAS AND THE STATE OF NORTH CAROLINA DOESN'T HAVE GAS!! WHAT IN THE 2021 IS GOING ON !!" one panicked driver tweeted.

Yasheeka Wiggin told CBS News that the "unbelievable" lines in Marion, S.C., left her thinking "it was a catastrophe coming!"

The Biden Administration -- which is no longer being fact-checked by the media, because it cannot lie -- initially denied there were any gas shortages.
The White House repeatedly reassured Americans on Monday there was no gas shortage in the United States after the Colonial Pipeline ransomware attack before acknowledging supply problems hours later.

White House press secretary Jen Psaki brought Homeland Security advisor Dr. Elizabeth Sherwood-Randall and Deputy National Security Advisor for Cyber and Emerging Technologies Anne Neuberger to reassure Americans the Biden administration was on top of the crisis, urging Americans to remain calm.

"Right now, there is not a supply shortage," Sherwood-Randall told reporters at the daily press briefing.

Psaki also note "at this point in time, I would just reiterate: We don't see a supply issue."
Does everyone remember Biden's (and the media's) constant charge that Trump was weak on Russia because he wasn't threatening military retaliation over "election interference"?
Well, Biden says the Russian hackers, who are supported/tolerated by Putin, are having a completely private confrontation with the pipeline company and so Biden doesn't need to take any position on it.
Muh Private Corporations.

posted by Ace at
12:22 PM
|
Access Comments