« Saturday Gardening and Puttering Thread - May 15 [KT]
|
Main
|
Saturday Afternoon Chest Thread »
May 15, 2021
Ace of Spades Pet Thread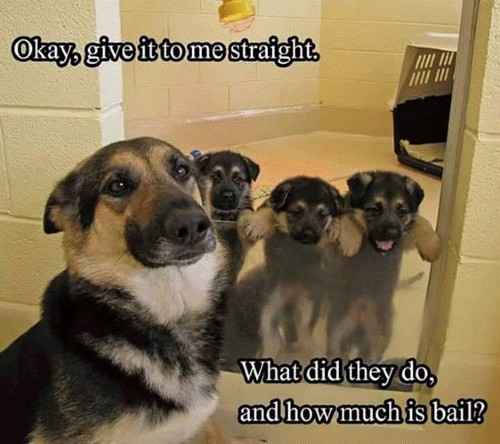 (Clearly PetMorons)
***

Good afternoon and welcome to the almost world famous Ace of Spades Pet Thread. We really appreciate you stopping by on a spring afternoon to check out the wonderful world of animals.
***
A Little of This. A Little of That.

I'm not telling you how to take care of your dog. But........There's a reason why there are crates/kennels for dogs.
***

I try to keep politics and current events out of the Pet Thread. However, our friend and fellow Moron Hrothgar sent this to me. Climate alarmists could cancel your pet ownership.
Talk about a pet peeve. The climate alarmists have come for your pets. No, really. A new report from Vox.com is now urging the public to consider offering a home to other pets besides dogs and cats. Why?

The report says their respective diets and lifestyles contribute to global warming for various reasons. In addition, the toilet needs of contemporary dogs include the use of pastel-colored poop bags while cats visit litter boxes where the filler is not necessarily made of natural, eco-friendly materials like wood shavings.

"Are our pets gobbling up the planet? From the meat-based meals to kitty litter to plastic poop bags, pet care is unarguably bad for the environment," Vox said, offering ways to reduce pets' carbon pawprint and citing the perils of pet waste — equivalent to "the annual trash of 6.6 million humans."
***
One of the first things I told the Fabulous Mrs. Mis. Hum. when we were dating was that I loved a particular breed of dog and I would always have one. She was cool with that. I don't see this relationship entering into the "Long lasting phase".

Correct me if I'm wrong, but when people fall in love with someone really hard, they're ready to sacrifice anything. Well, almost. We can stop biting nails, eat less junk, and swap that beloved gross hoodie we never part with for a nice shirt, but when it comes to pets, it's a whole different story.

A 22-old-man has been dating his girlfriend for 7 months and according to him, "she's amazing and we're super compatible in a lot of ways." She's also a vegan, a fact which shouldn't make a whole lot of difference, but the way she approaches veganism kind of does.
***

Cute photos to brighten your day.
***
The Pet Thread received this from our friend Northernlurker:
I'm a sucker for this sort of thing. - Northernlurker
You are not alone, we all are.
***
Meet The PetMorons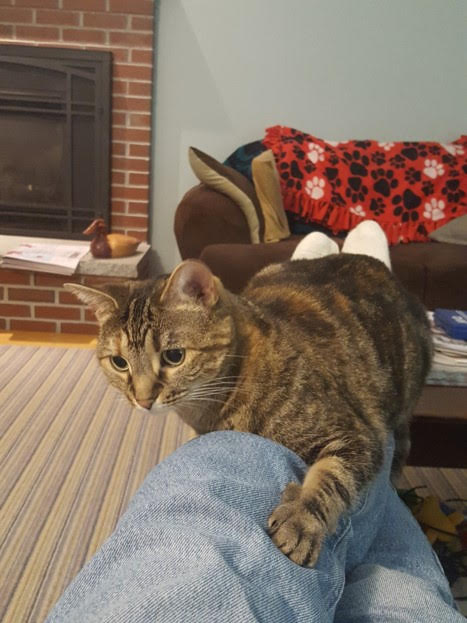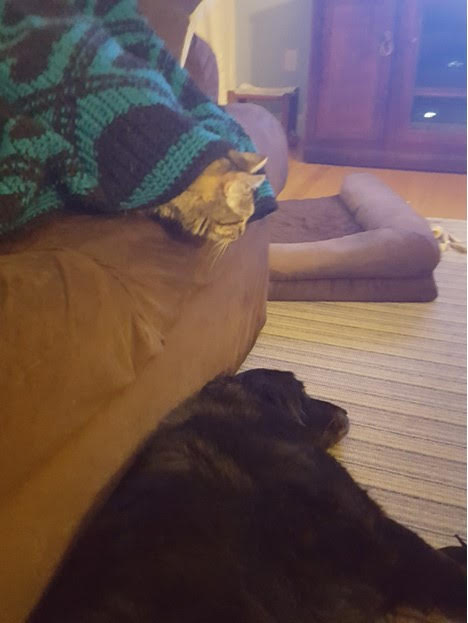 Below are two pics of our cat (Houdini) and dog (Fenway) from casa de Our Country is Screwed. 'Dini is 2yrs old feline we adopted as a kitten, and Fenway is a Flatcoat Retriever mix who is 10. You've shared them a couple of times on prior Pet Threads, which I thank you for. These two bring much joy and companionship to our home.

'Dini, pictured below, had hopped up on my legs just as I sat down on the couch and put my feet up. If the eyes don't give it away, she is absolutely full of personality.

The next picture 'Dini coming out of hiding and planning on some mischief against Fenway.

AKA "Our Country is Screwed"

The key part of your submission, "These two bring much joy and companionship to our home." I couldn't agree with you more when I look at our 2 knuckleheads. Thanks for stopping by with this story and photos.
***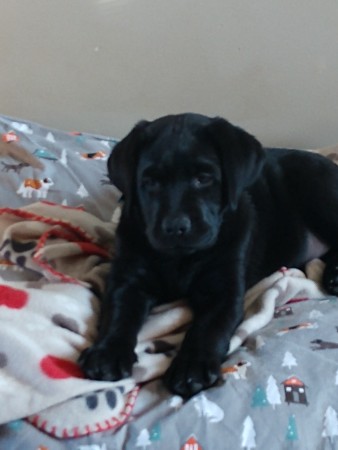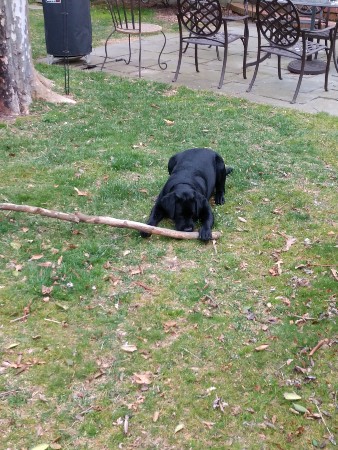 Long time lurker, rare commenter JR. Attached are two pics, grand-dog Hank at three months and just short of six months. He is now a 75lb termite, no piece of wood is safe around him. He has it rough: walks, treats, snoozing on the couch, crashing my video meetings. Don't trust Hank, Hank is asshoe!
I know this is supposed to be a G-Rated Family Friendly Thread. But, I call Bull Shit. How could such a cutie be an asshoe?
***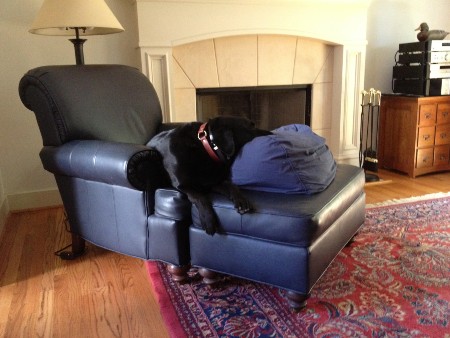 Max crossed the Rainbow Bridge into canine Valhalla in early March after twelve wonderful years with me. I was sent to work in Washington DC, Sodom on the Potomac, on temporary duty for six months that stretched into over two and a half years. I had lost my yellow Lab about a year before and my wife wanted a break from dogs. When the job assignment came up, I told her it would be lonely and I needed a companion. The choices were a puppy or a stripper. Needless to say, I got Maximus at eight weeks old instead of an exotic dancer. That was twelve and a half years ago. The photo is of Max sprawled out in my chair, his favorite spot. He is greatly missed and is survived by my two year old black Lab, Angus. Now Angus needs a new friend to keep him occupied when I work, so I am again on the hunt for a new pup (Not for me, but for my bud Angus). Thank you again for running the best thing on the interwebs, The Pet Thread. I never miss it. - "Texas 1911" an I am a lurker
First of all our condolences on the loss of Max. Personally, I know the strains of a long distance marriage and my K9 companion was what kept me sane. Good luck on your search. Thank you for sharing today.
***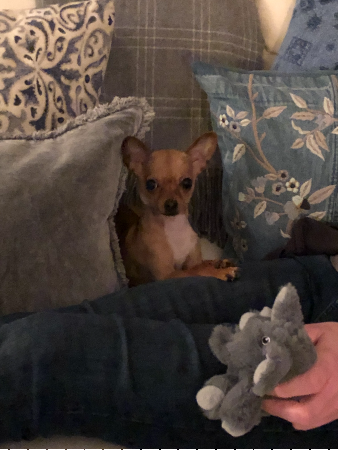 This is my little Daphne Moon. After being owned by Goldens and Labs for the past 20 years, I now have this little 5 lb. character. DM is my first adoption, and she came home with me right before the China virus shutdown. I had lost my chocolate Lab, Marley, not even a year earlier, and I was still heartbroken and not looking for another pet - until fate stepped in.
Then along came Daphne. My first experience with a small breed, and she is delightful and hilarious. She can also try my last nerve, but I suspect I try hers at times, as well.
I cannot thank you enough for the Pet Thread. I look forward to it every week, and it is my treat on Sunday mornings. - Daphne Moon in Dixie
It is a funny thing how God works and in mysterious ways as well. Daphne sounds like your typical dog when it comes to the nerve thing. Congrats on your new addition and may you two have many happy years together!
***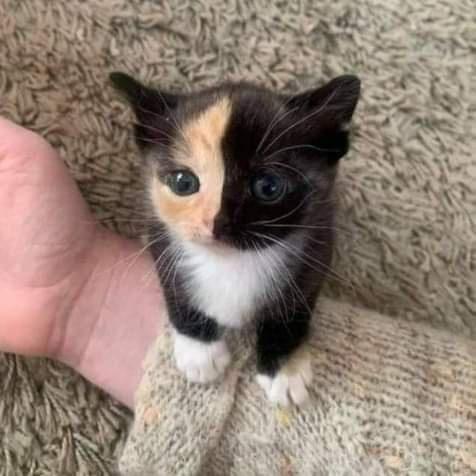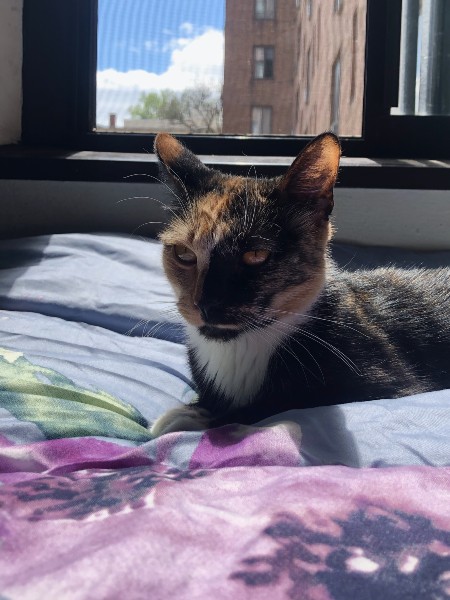 Warmongerel here. Infrequent commenter, frequent lurker.

While surfing the web, I ran across this picture of a kitten. I sent it to my daughter with a note: "Ha ha, looks like your cat". She showed it to her friend from whom she got the cat and it turns out that, of all the billions of pictures on the web, I just happened to run across the first picture ever taken of her cat. What are the odds?

The second picture is a recent one of Yin Yang in all of her majesty. She's not a big fan of people yet, but she'll get there.

Thanks for your hard work on the blog.

So Ying Yang is really an internet star. How awesome! Cute kitteh. And quite the story. Of all the gin joints......We are happy to hear you enjoy the Pet Thread. Thanks for sharing this neat story.
***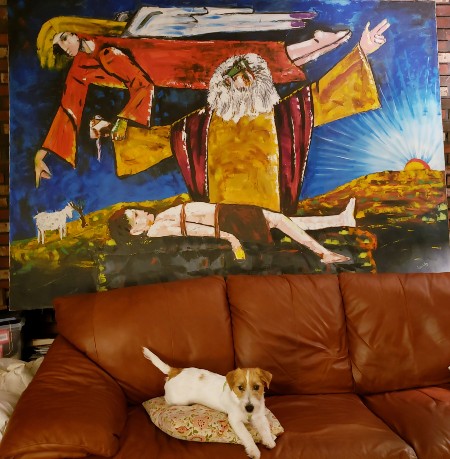 Bogie likes art, and finds his modernist "Binding of Isaac" to be cheerier and less scary than the one on the art thread. Actually, it's his favorite seat in the family room. I think he smells Rusty's scent on the spot.

Bogie has passed his first training class and will be moving on to less treat oriented sessions. The first week of class left him thinking he'd get treats every morning and it took days to correct this. I substituted a less delicious option. While he is still a bit puppish, he is much less jumpy than he was at first and is better socialized to people. He has not seen us as pups who can be rough housed in quite a while.

We walk about 3 miles a day, which he loves, and he can play a great game of fetch. I am still hesitant to let him run wild in the backyard as he has a regrettable tendency to chase other animals, especially deer. If it was only rabbits and squirrels, I'd be fine with it, but the local deer are far less frightened by people and dogs than they used to be. - CN
My goodness that is a colorful wall behind Bogie. I'm not sure how you can refuse that adorable pup T-R-E-A-T-S every morning. Thanks for sharing your experiences. It is difficult having a pup in an area full of wildlife.
***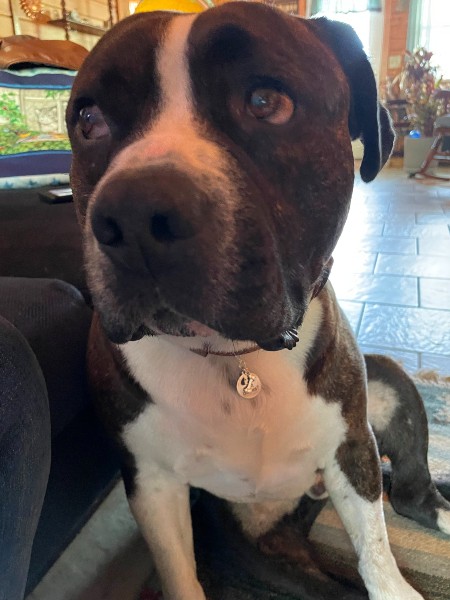 Hi, MisHum. This is my friend, Willie...the sweetest pit bull in the
world. He lives across the back fence and considers me a member of his
pack. I got him a new collar recently and then spotted the doggy bling
on Jewells' Etsy site. Here's the result. -creeper
Willie is quite the doggeh. Then add the bling. Wow. Quite a handsome dude. Sounds like you have one sweet neighbor. Thanks for sharing today.
***

What a fantastic group of Morons and PetMorons as usual. Thank you so much for taking the time out to share with us. The In-box was full this week. So we will get to all of your animal related links and PetMoron stories in the near future.
In the meantime if you have something to share you can reach us at petmorons at gmail dot com.
Until next Saturday, God willing and the creeks don't rise, have a great week!

posted by Misanthropic Humanitarian at
03:00 PM
|
Access Comments