« NPR turns 50, looks forward to the ideal Florida governor [KT]
|
Main
|
Ace of Spades Pet Thread »
May 15, 2021
Saturday Gardening and Puttering Thread - May 15 [KT]
Hi, everybody! Happy to be back. It will take some time to work through some of the great content submitted by The Horde, but here is a start:
I thought I'd send along this Tree Swallow and Bluebird, which I photographed this week. We birders are happy right now....lots going on in our gardens and yards. Lizabth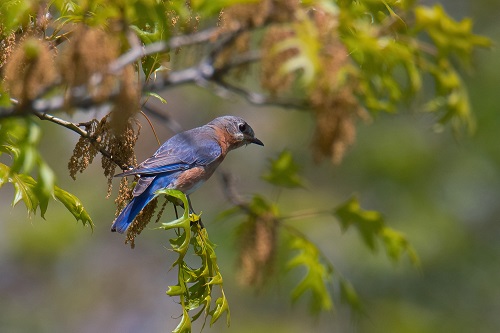 EDIBLE GARDENING AND FARMING
From Larro:
We took out the rv

On return, we stopped at little brothers house to spend time and do some brojects.
Here, after almost 4" of rain, is my SIL's garden.
There's kale, beets, only a couple onions, and caged maters. There is abundant weeds! The corrugated is so can walk on mud.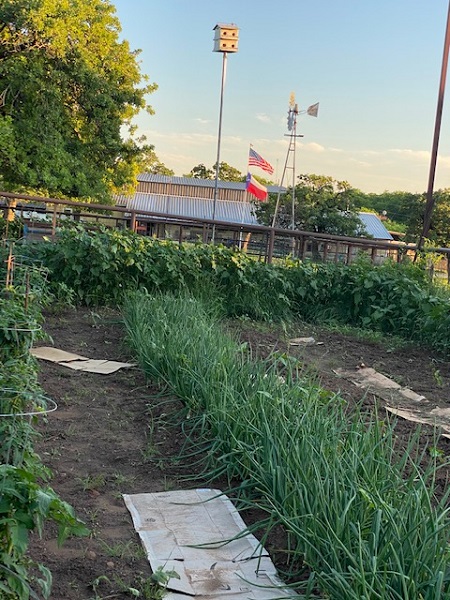 Now these are some flat out crazy critters; they wander out and stop traffic on road, and suddenly start a loud commotion.

Oh, did I say they like onions?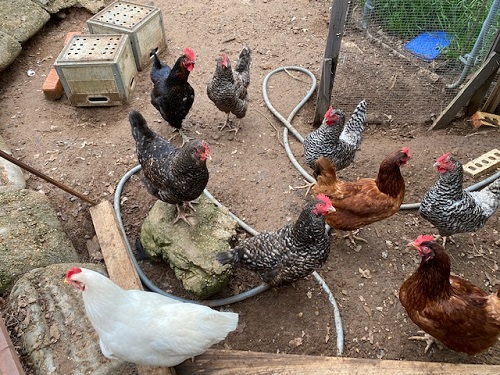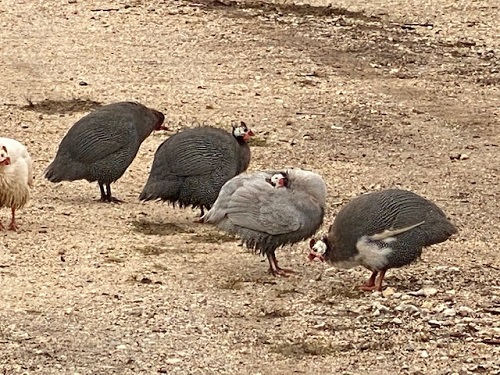 Do the eggs taste like onion if they eat onions?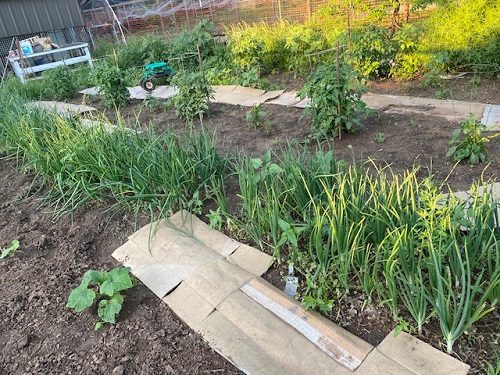 There's a great crop of calves. A very productive spring.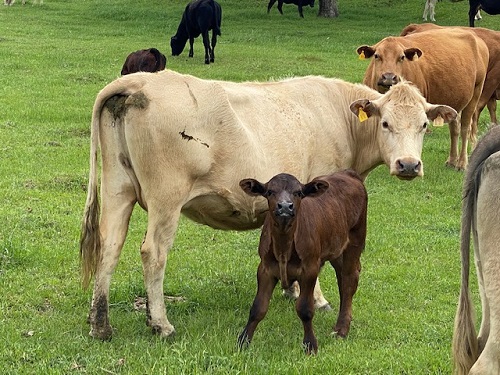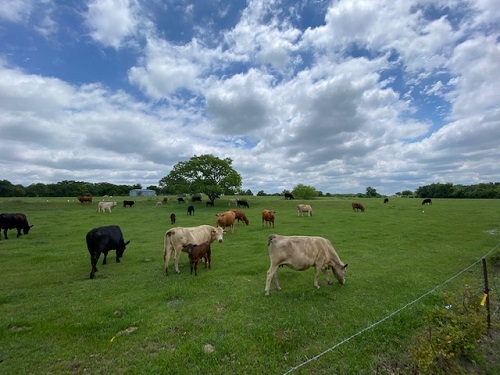 From Wee Kreek Farm Girl:
Harvested some parsnips, beets and carrots this week and still getting LOTS of kale for salads. Trying to use up a ton of my I'itoi onions, I started with 5 that I sent away for, and the first year I only got 15 which I turned around and planted, which the next year got me about 75, but I think I am about 10 years in and I have so many that I really need to stick to planting 75 a year and keep it at that. The 75 will give me about 750 little onions.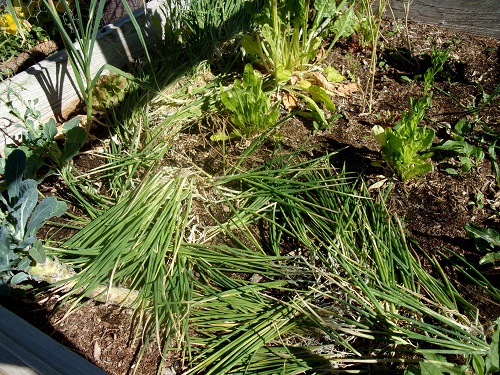 They are fiddly to clean but I like them because I always have onions on hand if I need them and I use them in place of shallots all the time in cooking. I have been harvesting sometimes 40 a day to process, as they freeze well too, but I am hardly making a dent. They have completely taken over a few of my beds which is how I realized I have an I'itoi onion problem. You can leave them in year round and they will just keep producing. I have attached a picture of one of my beds where they have taken over. The problem is I tuck them here and there and forget about them and then I have this situation. They are pretty unfussy and will grow just about anywhere. Here is a link if you want to hear the history of them.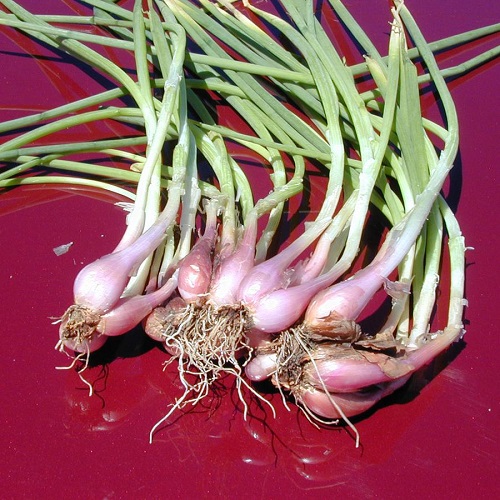 I wonder how they compare in flavor to the "Egyptian Walking Onion"?
GARDENS OF THE HORDE
Wee Kreek Farm Girl, a couple of weeks ago:
So the stalk has turned its flowers into seeds, which I assume you can plant, but I prefer to wait until it makes the baby agaves and plant those as it takes less time. But the stalk is still looking tall and hanging in there.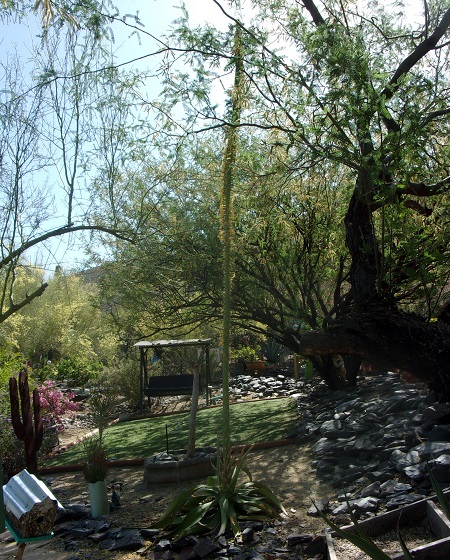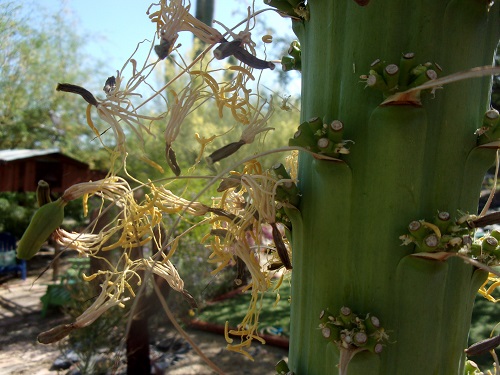 Things grow fast in spring in the desert. Not long after the photo above:
The agave is starting to make the baby pups on the stalk now and I managed to get a good picture. All the places there were flowers along the stalk there will be a baby agave pup. I have vowed to only start 5, as they are taking over here from years past. But the stalk will probably have 1000 pups on it. Isn't mother nature amazing. This agave stalk really wants to make sure it leaves some babies behind.

Wee Kreek Farm Girl
If you want to grow one of these agaves, speak up! Wee Kreek Farm Girl has seeds and pups. Thousands in all! Aren't the pups cute?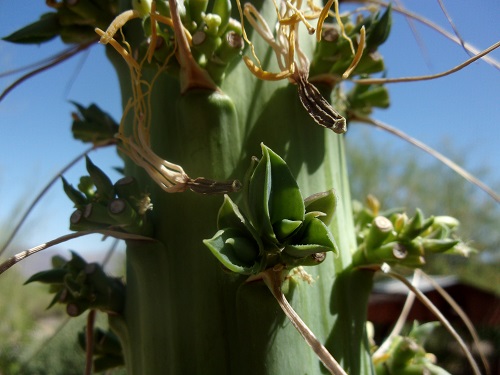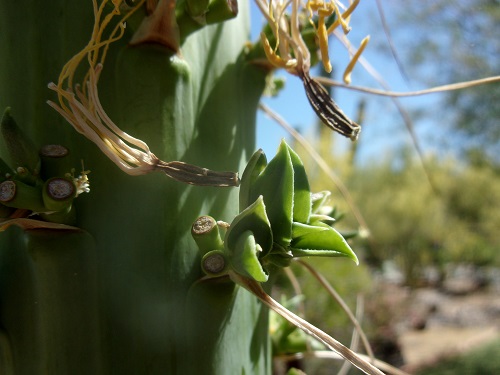 From 40 miles north:
Remember this?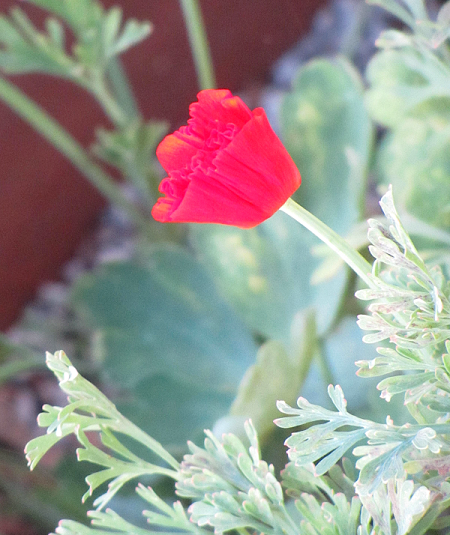 It turned orange, but it's like nothing I've ever seen. Maybe a hybrid? I planted some Icelandics last year, and I always seed California poppies and sometimes corn poppies, but I don't think I planted any English poppies.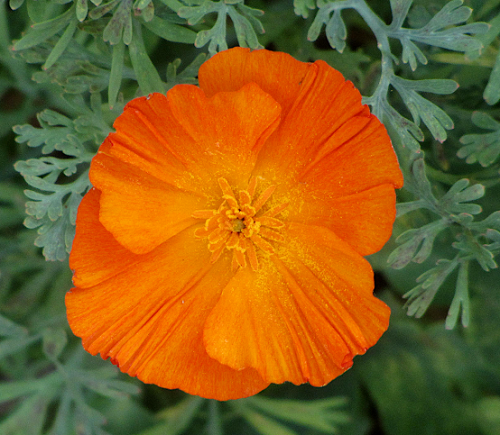 I think it's just a fancy California Poppy. Probably bred in England.
Also, some baby grapes.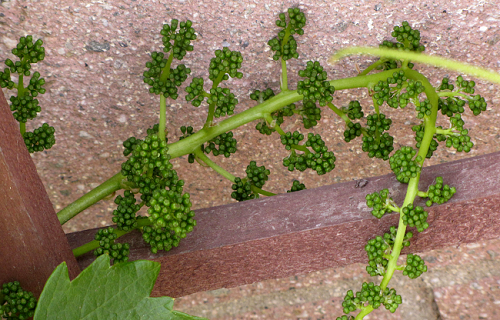 Past Comment Thread Standouts
Congrats to Grammie Winger on her renewed garden activities.
Got trees where you want to garden?
Back in April, Wee Kreek Farm Girl had the following excellent advice for people with trees in the yard who want a garden:
I posted this in the comments just now but as I was so late commenting I am sure no one will see it but if anyone cares

I am sure no one is reading this now, but I had company yesterday so I couldn't read/comment. Liked all the back and forth in the comments today. You people crack me up. I have to do raised bed here, which is a long hard lesson that I learned. I started doing beds in the ground and after a few years the plants wouldn't do well and I didn't really understand why and I dug one up and found that desert trees are always hungry and greedy for water and they will send their roots EXTREMELY far to get into your garden bed and suck all the water that you are putting in the garden bed for themselves and leave your plants thirsty for any water at all. I have had to dig up and put "bottoms" on all my raised beds to keep the tree roots out of them. I has taken me 5 years to complete the task. I just finished the last section two weeks ago. I even tried concreting the bottom of one of the beds and they managed to find the smallest of cracks and got their little roots in and invaded the bed.
Now I know better. So as much as I would love to plant in the ground, I can't. Mesquite trees are the worst offenders, but if you have any citrus near your raised beds they will do the same.

The picture is the last section of a garden bed that I had to dig out and convert to pots. This was a garden that we created out of an old fountain base that a friend didn't want. When I finally figured out that it was full of tree roots, Mr. Wee Kreek and I dug out all the nice raised bed soil that we had put into it, got all the tree roots out and lined it with heavy duty plastic, put the soil back in and two years later the tree roots had figured out a way to get into the plastic no problem. I thought fine, I will fix you, and Mr. Wee Kreek and I dug out the whole bed again and poured 8 bags of concrete into the bottom of the bed.
I thought for sure I had managed to fix it this time for good. NOPE. The tree roots are insidious. Two years later I could tell the roots were back so we dug it all out again a section at a time and converted it all to large pots which have a bottom and also I have learned to turn my pots every three months so if the tree roots manage to get into any pot that they don't have time to make big roots and get broken off while they are small. It isn't easy gardening in the desert, but I like a challenge. I am hopeful that I may never have to dig out another bed again, but the trees are very sneaky so I will let you know. Sometimes I think they are mocking me for thinking I can beat nature.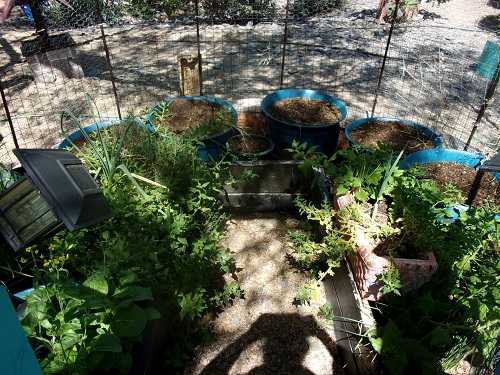 And here's a Poppy Mallow from 40 Miles North. You might be able to grow this in a container: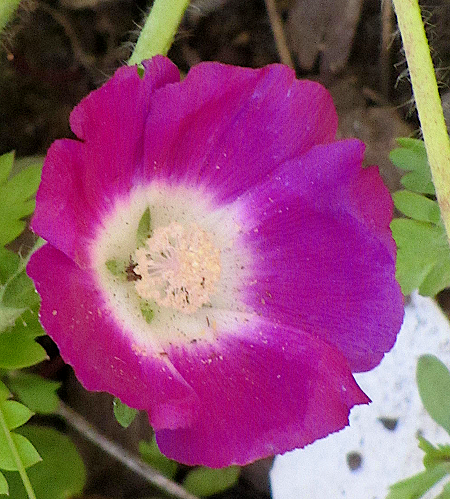 If you would like to send information and/or photos for the Saturday Gardening Thread, the address is:
ktinthegarden
at that g mail dot com place
Include the nic by which you wish to be known when you comment at AoSHQ,
unless you want to remain a lurker.


posted by Open Blogger at
01:23 PM
|
Access Comments