« First-World Problems...Part 412
|
Main
|
Gun Thread: Samurai Mother's Day Edition! [Weasel] »
May 09, 2021
Food Thread: It's Not Your Mother's Tunafish In A Can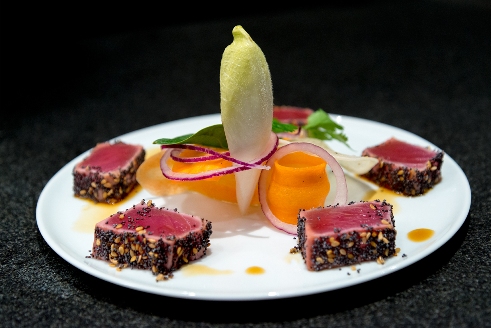 Crusted tuna is one of my favorite foods; tuna handles the texture of the sesame seeds very well, probably because it is a nice dense fish. Toothsome, as it were. One common problem though is when chefs use strong and vibrant flavors with tuna; it is a surprisingly delicate-flavored fish, in spite of its meaty appearance and moth feel, so it's easy to overwhelm the fish with the herbs and spices.
I realize that rare tuna isn't to everyone's taste, but it's easy to cook it medium...just treat it like a steak, only with milder heat. Just don't cook it well done, because the food gods will smite you for your sin.
One of the challenges of buying tuna for eating raw or rare is that depending on where the chunk is cut it may have lots of connective tissue. When it is cooked, the connective tissue is much less noticable, but when raw or rare it can detract from the texture. And tuna is not inexpensive, so try to choose a piece that has as little of it as possible.
Another reason for that photo is the beauty of well done food pictures. I have absolutely no talent at photography, and food is particularly difficult to photograph because...um...reasons. So when I see a nice photo of a food I really like, I'll grab it and torture you folks.

******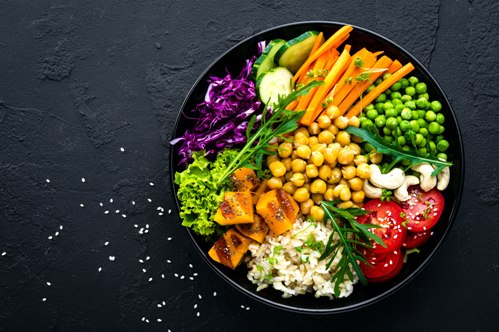 And here I was, just looking for some nice food photos. You were seconds from a clean getaway, but I followed the link attached to this photo and dropped down the rabbit hole of stupidity and cluelessness.
Being a successful vegan is about more than just food. Yeah, it's about being a pompous, superior, elitist asshole, whose virtue-signalling and blatantly offensive posturing probably does more harm than good.

By the time people become adults, she said, compassion is regarded as sentimentality. But Patrick-Goudreau read a book titled "Diet for a New America," an exposé on connections between diet, physical health, animal cruelty and environmentalism.

"I stopped eating land animals," she said. "I was the lone animal advocate in New Jersey."
Really? The only one? I have met plenty of people throughout my life who care deeply and passionately about animals...both pets and food animals...and act accordingly. But this deeply deluded and arrogant twit sees herself as some paragon of ethical behavior, and looks down on all of us peons.
Veganism is rapidly becoming a political stance in the tool box of the left. That some of its adherents are unaware of how easily they are used is a clear measure of their intelligence, or lack thereof.
******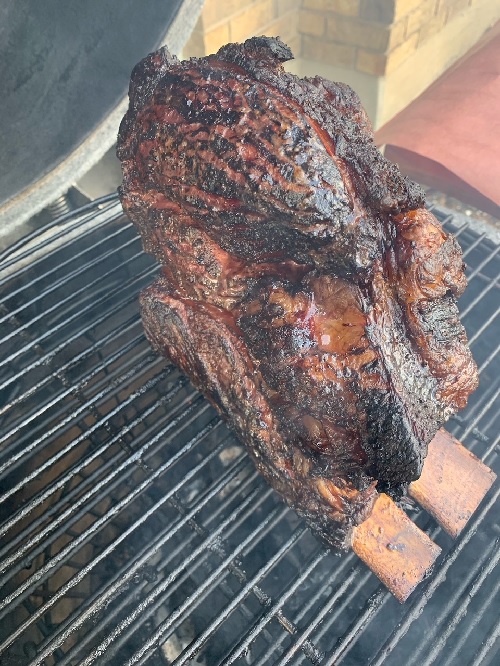 From our reader of Ukraine tomatoes fame comes delicious looking beef ribs. He tells me that he cooked them in his Kamado, which is an intriguing bit of old/new technology.
What I want to know is where he got those ribs? The only ones that are readily available around here are pathetically trimmed remnants from boneless prime roasts and rib steaks. it's sort of sad seeing them in the butcher case...naked and unappealing.

******
Well this looks like fun! It's recommended by commenter "bensdad00," in response to my comment that I enjoy the intersection of food and politics.
Swindled: From Poison Sweets to Counterfeit Coffee -- The Dark History of the Food Cheats
Looks like fun. And he has more...much more...which you will see in an upcoming Food Thread. Just think Whiskey!
******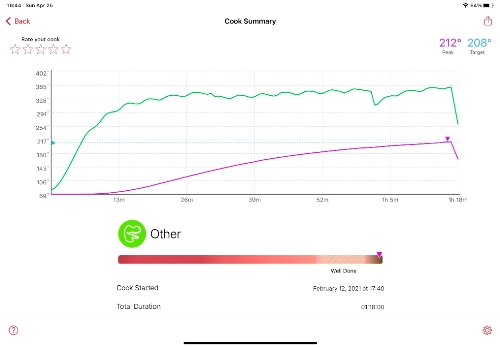 Most of you have noticed that I take temperature quite seriously, and consider it just like any other ingredient. here is a commenter who took it to the next level, and used his very cool Meater probe for some oven testing.

I jabbed a probe into a potato, and set it in a cold oven. I set the oven to convection roast at 400F with the rack in the middle. It took ~30 minutes to get to 340-350 ish! You can see an angular point of inflection around 30 minutes (that is when I put the potatoes in the oven for dinner). Notice the temperature loss for opening the door. You can see the undulations as the temperature cycles through the thermostat - yet still climbs. You can see another angular inflection around the 1 hour mark - this is where I jab the potatoes with a fork to vent, and turn them over. Notice the heat loss and recovery time. Please note, the oven never hit 400F at the probe. I am guessing you never see the display temp at the probe because of the distance from the oven thermostat to the probe - the thermostat sees 400F, but the center of the oven does not.
I am a bit surprised by his results, since the convection fan should minimize hot and cold spots inside the oven by distributing heated air throughout the enclosure. It is also possible that it is simply calibrated incorrectly.
Regardless, it is very useful to know exactly how hot or cold your oven runs. Of course that begs the question: how hot or cold does the recipe tester's (or chef's) oven run?

******
You snobby Italian food purists will probably scoff at this dish, which is an Americanization of a classic Italian dish. This guy claims his version is straight from Italy, but I don't care.
Chicken Sorrentino
is a really nice meal, and one that I had a few days ago at an old neighborhood restaurant in Hoboken. I was immensely pleased that the bartender and the patrons didn't give a shit about NJ's nazi governor's mask edicts. But I was even more pleased with how tasty the dish was!
I haven't tried this recipe, but nothing looks odd or out of balance, so go to town, and tell us about it next week.

******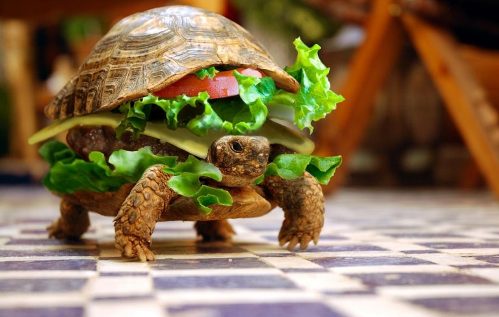 ******
Tender Broccoli Rabe that isn't bitter, beef short ribs that have meat on them (not the stupid little sliver of bone they sneak into the packages), Snap Peas (apparently they are no longer grown in quantity), spare bottles of Van Winkle Special Reserve 12 Year Old Bourbon, an herb garden that actually produces herbs, well-marbled NY strip steaks and elk backstrap to:
cbd dot aoshq at gmail dot com.
And don't think that you are off the hook with maple syrup and French Toast: I'm watching you...all of you! And I am watching you perverts who shake Manhattans and keeping a list for the Burning Times.

posted by CBD at
04:00 PM
|
Access Comments