« NPR Issues Major Correction, Retracting Intentionally-False Election Season Disinformation That the Hunter Biden Story Had Been "Discredited" By "Intelligence"
|
Main
|
Your Friends at Major League Baseball Are Attacking the Citizens and Economy of Georgia on Behalf of the Democrat Party and Their Radical Racist Election-Rigging Activist Base »
April 02, 2021
Media Holds Its Breath To Find Out If Story About a Man Ramming the Capitol Hill Barricades Is a Story Or Not, Depending On His Race
Update: Suspect Dead; One Cop Reportedly Dead; Multiracial White Supremacy Again?
If he's white, it's a Major National Story.
If it turns out he has a name like Aminadab Gaxiola Gonzalez, then it's not a story, and anyone asking why it's not a story will be declared to be a racist by a Daily Beast racist.
Update: It looks like this will not be a Major National Story, but will instead be a reason to explore "root causes" of "rage against oppressive colonialists structures," and to warn against "backlash" against one of the races that does not deserve backlash.

If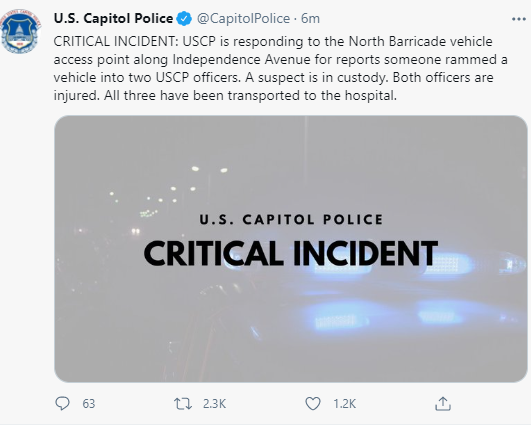 Meanwhile there was another random racial attack on a Jewish woman -- and on her one year old baby! -- by someone of an Unknown and Utterly Irrelevant Race.
Just so many MAGA-hat wearing, white-noose carrying White Supremacists attacking Jews and Asians in New York.
What race are the girls who spat upon an elderly Jewish man...? I can tell you which race they're not, because otherwise, it would be a Major National Story, wouldn't it?
Update: The suspect is dead.

Update: The Deep State leftists who are prosecuting the "insurrectionists" are leaping on the propaganda value of this already: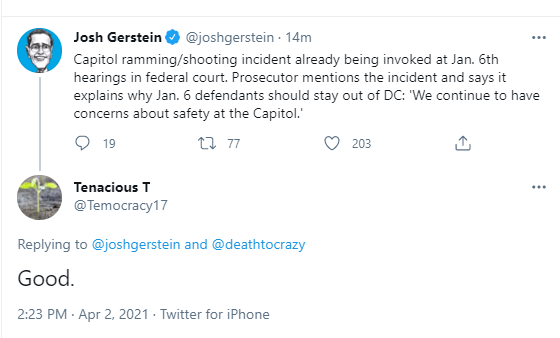 Maybe it's too dangerous to even have a trial, huh?
Maybe we should just have Fake President Biden decree that they are guilty.
Maybe it would be easier just to kill them, huh?
Update: Pictures here.
The suspect appears black to my eyes, so that may explain why the government rushed out the claim that they already knew, just a half hour into their "investigation," that this was probably a "lone wolf" attack and not connected to more dangerous (white) terrorism.
Update: One of the cops hit by the car is reportedly dead.
Jacqui Heinrich @JacquiHeinrich

BREAKING: law enforcement sources tell me a USCP officer injured today at the Capitol has died of his injuries.
Via Tami, Media Call Off All Coverage of Non-Story:
FOX NEWS "JOURNALIST" DECLARES, CONTRARY TO FACT, THAT BRIAN SICKNICK "DIED DEFENDING THE CAPITOL: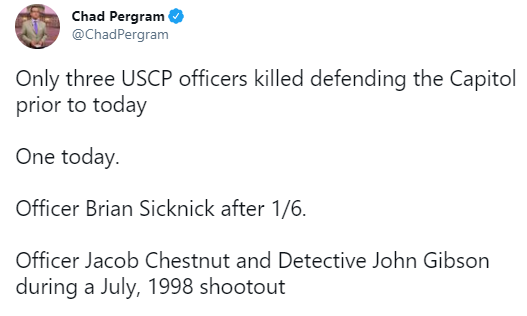 posted by Ace at
01:36 PM
|
Access Comments