« Media Holds Its Breath To Find Out If Story About a Man Ramming the Capitol Hill Barricades Is a Story Or Not, Depending On His Race
Update: Suspect Dead; One Cop Reportedly Dead; Multiracial White Supremacy Again?
|
Main
|
Capitol Vehicular Insurrectionist Identified as Noah Green, Black Nationalist and Nation of Islam Follower »
April 02, 2021
Your Friends at Major League Baseball Are Attacking the Citizens and Economy of Georgia on Behalf of the Democrat Party and Their Radical Racist Election-Rigging Activist Base
Because the perp in what I'm calling "The Capitol Vehicular Insurgency" is black, this is officially not a Major National Story, so I'm moving on.
Like CNN and MSNBC and the NYT and NPR and ABC and NBC and CBS and the Washington Post and AP and Reuters and Bloomberg all are.
Here's your daily reminder that we are all feeding your enemies who want to harass, imprison, dominate and kill you: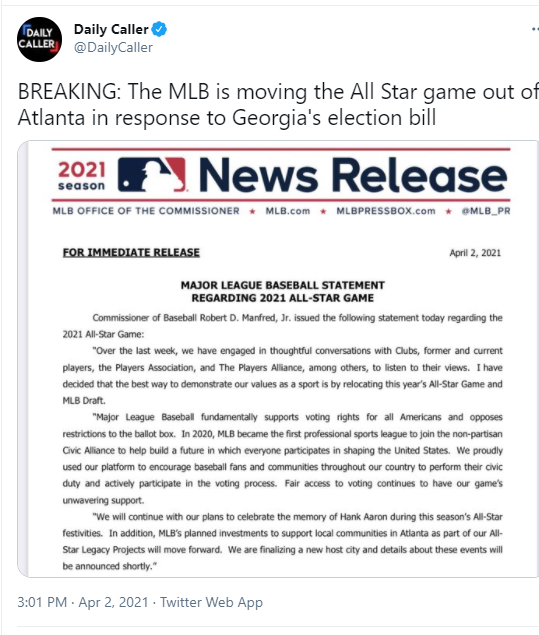 Say, remember when the NBA bullied, what was it, North Carolina over not banning trans bathrooms -- no, not even that far -- but merely banning localities from making trans bathrooms the law imposed on businesses?
TO KILL THE BEAST YOU MUST FIRST STARVE THE BEAST.
On the topic of the Corporatist/Statist Tyranny, Ron DeSantis has signed a bill forbidding corporations for requiring a vaccine "passport" to use their services.
Gov. DeSantis issued a wide-ranging order on Friday banning all businesses and government entities in the state from requiring a "vaccination passport," or documented proof of vaccination for the coronavirus.

The order comes as some events and businesses had already started to implement some form of proof of vaccination, including a South Florida festival and the Miami Heat.

It was also unclear how such an order would work with nationwide or international businesses such as theme parks, cruise lines and airlines.
Reminder: You can't spell "MLB" without "BLM:"
Lee Smith @LeeSmithDC

Don't forget: MLB supports a violent movement that laid waste to the small business bases of cities that support MLB franchises. These are arrogant and sinister people who run this league.

posted by Ace at
03:13 PM
|
Access Comments