« The Morning Rant
|
Main
|
Media Holds Its Breath To Find Out If Story About a Man Ramming the Capitol Hill Barricades Is a Story Or Not, Depending On His Race
Update: Suspect Dead; One Cop Reportedly Dead; Multiracial White Supremacy Again? »
April 02, 2021
NPR Issues Major Correction, Retracting Intentionally-False Election Season Disinformation That the Hunter Biden Story Had Been "Discredited" By "Intelligence"
Deliberate lies and Soviet-level disinformation pumped into the body politic by our communist radical China-compromised corporate press.
NPR issued a correction on Thursday after falsely reporting Hunter Biden's infamous laptop was "discredited by U.S. intelligence and independent investigations by news organizations."

The now-edited, inaccurate claim was part of a review of Hunter Biden's memoir, "Beautiful Things," in which the president's son details his past as an alcoholic and a crack addict

"A previous version of this story said U.S. intelligence had discredited the laptop story. U.S. intelligence officials have not made a statement to that effect," the NPR correction stated.

...

NPR senior editor and correspondent Ron Elving initially wrote, "The laptop story was discredited by U.S. intelligence and independent investigations by news organizations."

NPR issued the correction after critics blasted the nonprofit media organization for the bogus statement.

The updated version of the NPR story said, "Numerous news organizations cast doubt on the credibility of the laptop story."

Oh, the press is reporting that the press doesn't like the story. Wow, what Pulitzer-level reportage.
Why the retraction, now?
Well, 1, it's after the election, so the disinformation campaign is no longer the top priority.
And 2, it's hard to maintain the fiction after the crackhead accused child molester admits the laptop "certainly could be" his.
In an interview with "CBS Sunday Morning" about his new book, Hunter explained he didn't definitively know if the water-damaged MacBook Pro laptop abandoned at a Delaware repair shop belonged to him, but he left the possibility open, saying it could "certainly" be his.

"You don't know, yes or no, if the laptop was yours?" CBS's Tracy Smith asked in a clip of the interview set to air on Sunday.

"I don't know," Hunter said, before clarifying that "of course, certainly" it could have belonged to him. "There could be a laptop out there that was stolen from me."
Note that CBS does not ask him about the emails he sent, whose authenticity is verified by one of the addressees who received them, Tony Bobulinsky, detailing pay-for-play schemes with China paying money to Joe Biden.
He repeated the scripted lie that while this laptop "certainly" could be his, he still insists that maybe Russia planted it with a computer repair shop near his home.
NPR will not of course face any social media banning for repeatedly publishing this disinformation. Some fonts of disinformation are more equal than others.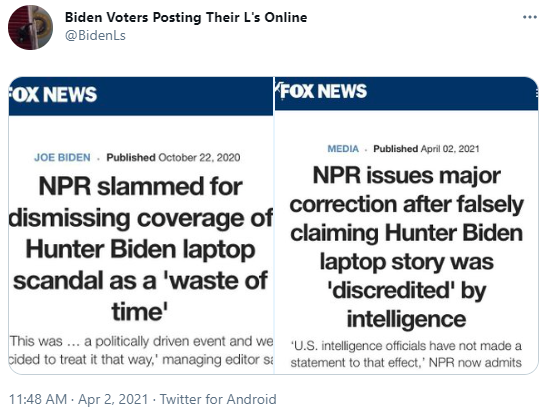 posted by Ace at
12:26 PM
|
Access Comments