« GAINZZZ and PAINZZZ
|
Main
|
Quick Hits: Homie What Set You From? Edition »
April 23, 2021
It Was Just "Trans Day of Visibility" (So Soon Again?!!?) and The Geek Media, Filled With Weak Men Easily Bullied by Aggressors of Any Sex, Rush to Comply With The New Bullies' Rules
So, how did you celebrate your Trans Day of Visibility?
I celebrated by dressing like David French and masturbating shamefully to a scene from Victor/Victoria. I had my favorite Captain Marvel t-shirt and panties on.
This SC Reviews is filled with good stuff, as usual. All the below gotten from this video.

From Dataracer, Star Wars doubles-down again on identity politics.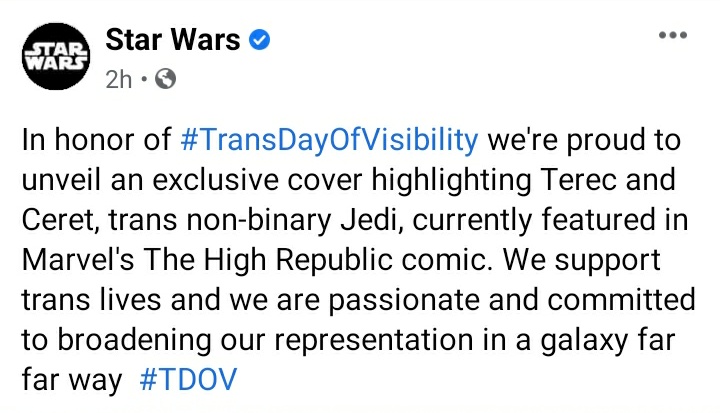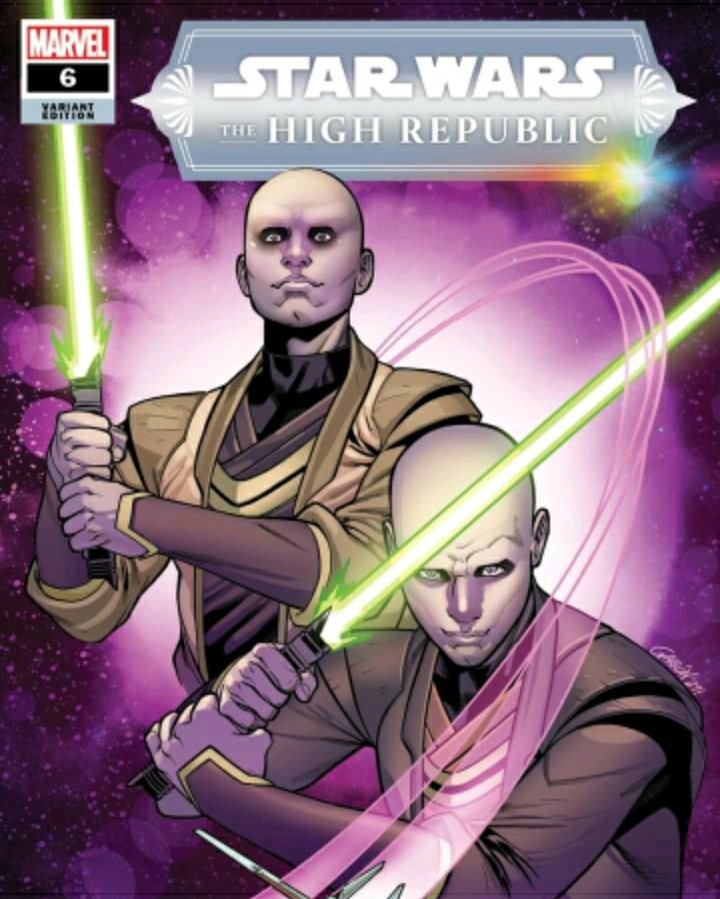 These people have no ideas. None. Disney's Lucasfilm is doing exactly what Disney's Marvel Comics did last year in unleashing the nonbinary siblings "Safespace" and "Snowflake."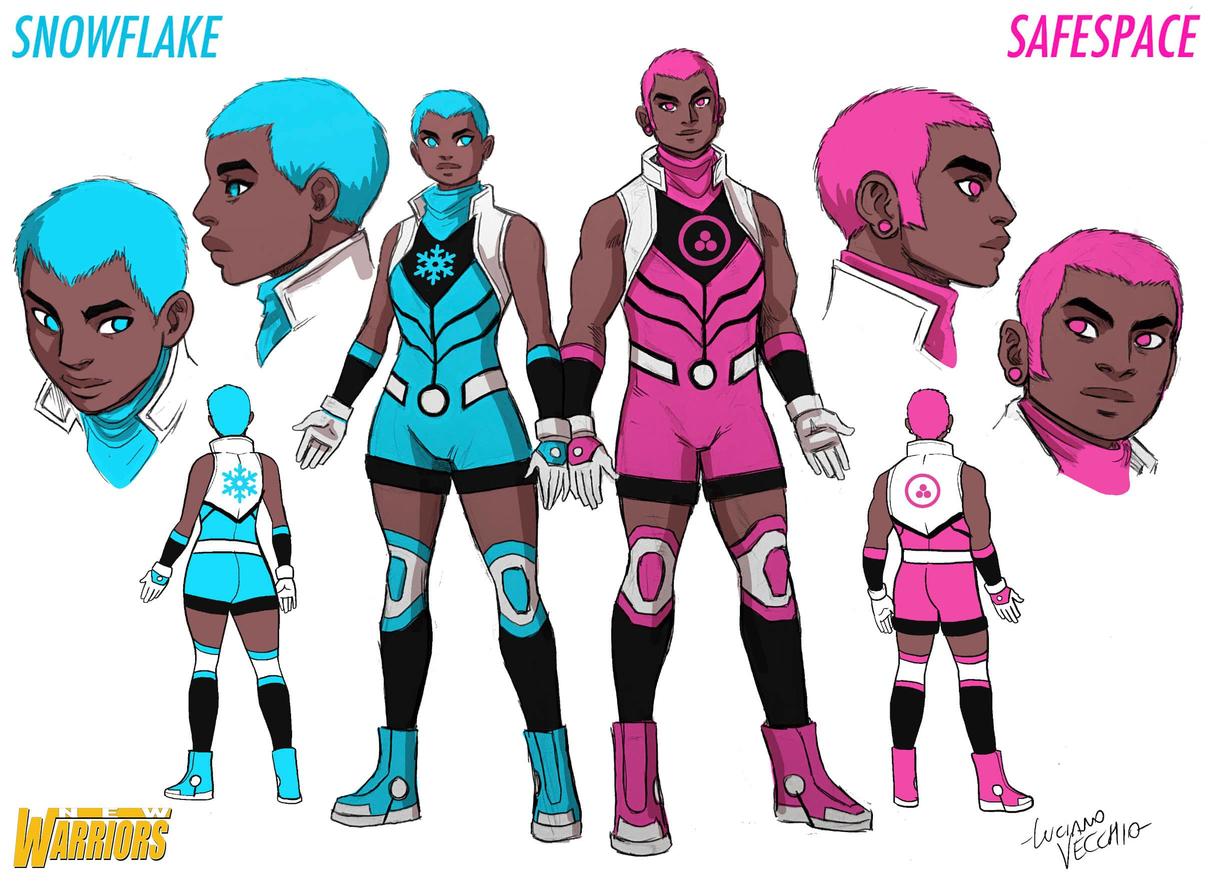 Just the same recycled shit that no one wants, again and again, crapped into the unwilling mouths of their fleeing customers, with not even a fig-leaf of originality to make it appear new, and both wonder why their audiences are abandoning them.
Dataracer notes:
@Dataracer117


They posted this on Facebook so you have to use your personal account to call them out.

And then get doxxed & harassed by radical activists for your "bigotry."

Don't fall for it FM.
WizKids, who is the officially licensed manufacturer of plastic miniatures for Dungeons & Dragons, now lists the pronouns of its figures on the front page of their web store: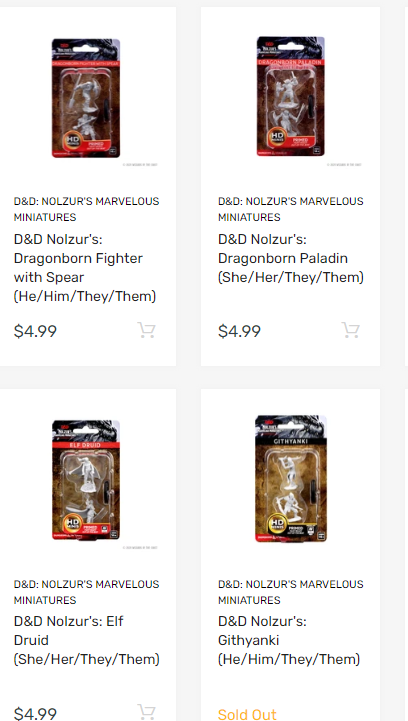 I'm having trouble navigating the site to find that exact page, but if you go here and look down to the miniature on the lowest right, you'll see the nonbinary pronouns for a fantasy "Aasimar" "paladin" are in fact now specified as:
D&D: NOLZUR'S MARVELOUS MINIATURES D&D Nolzur's: Aasimar Paladin (He/Him/They/Them)
That paladin is about to cast Blessing of Liberty (TM), a 9th level spell first researched by St. David of Frenchland, a 20th level Pharisee Zealot.
Here's some more bullying by the transextremists:
Aggressively plain-looking actress Sarah Paulson -- who mainly plays moussy, dour spinsters, because that's what she is -- is a leftwing lesbian.
That's not an insult, that's what she is. And yes, it's relevant to this story.
She is rash frequently seen in leftwing propaganda videos, usually featuring her and a bunch of other C-list "celebrities" telling you what to think about social issues.
In that insanely annoying and pretentious video "taking responsibility" for the White Race's killing of George Floyd (per the message of the video), she's the severe-looking schoolmarm Karen who first appears to demand to speak to your manager.

She also attacked J.K. Rowling over Rowling's defense of girls sports and women's spaces for girls and women.
So her #Woke papers are perfectly in order.
But...
There is no rest for the #Woke. If you fail to be #Woke even for one second, the other #Woke piranha will start attacking you.
A trans extremist popped out of nowhere to demand that Sarah Paulson post her pronouns.
Just as tranny bullies previously attacked the fair Gina Carano.
And, surprisingly, like Gina Carano... Paulson told them to fuck right off.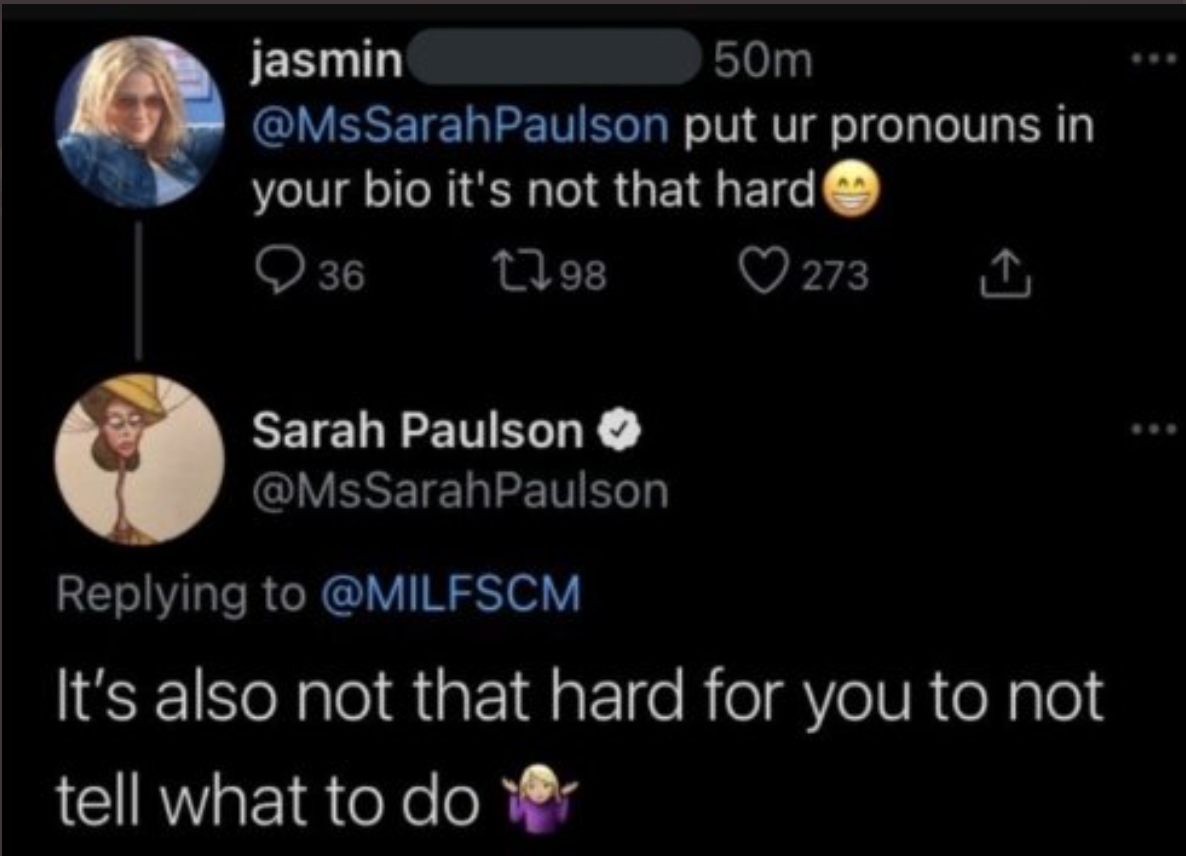 Well! That's not acceptable! We can't have people simply disobeying the commands issued to them by mentally-ill shut-ins whose only social outlet is bullying normal (relatively) people online!
So trans extremist bullies immediately began using what the left would call "misogynist genderized attacks" against her, calling her ugly and a "fugly bitch."
They also called her lesbian wife "a hag."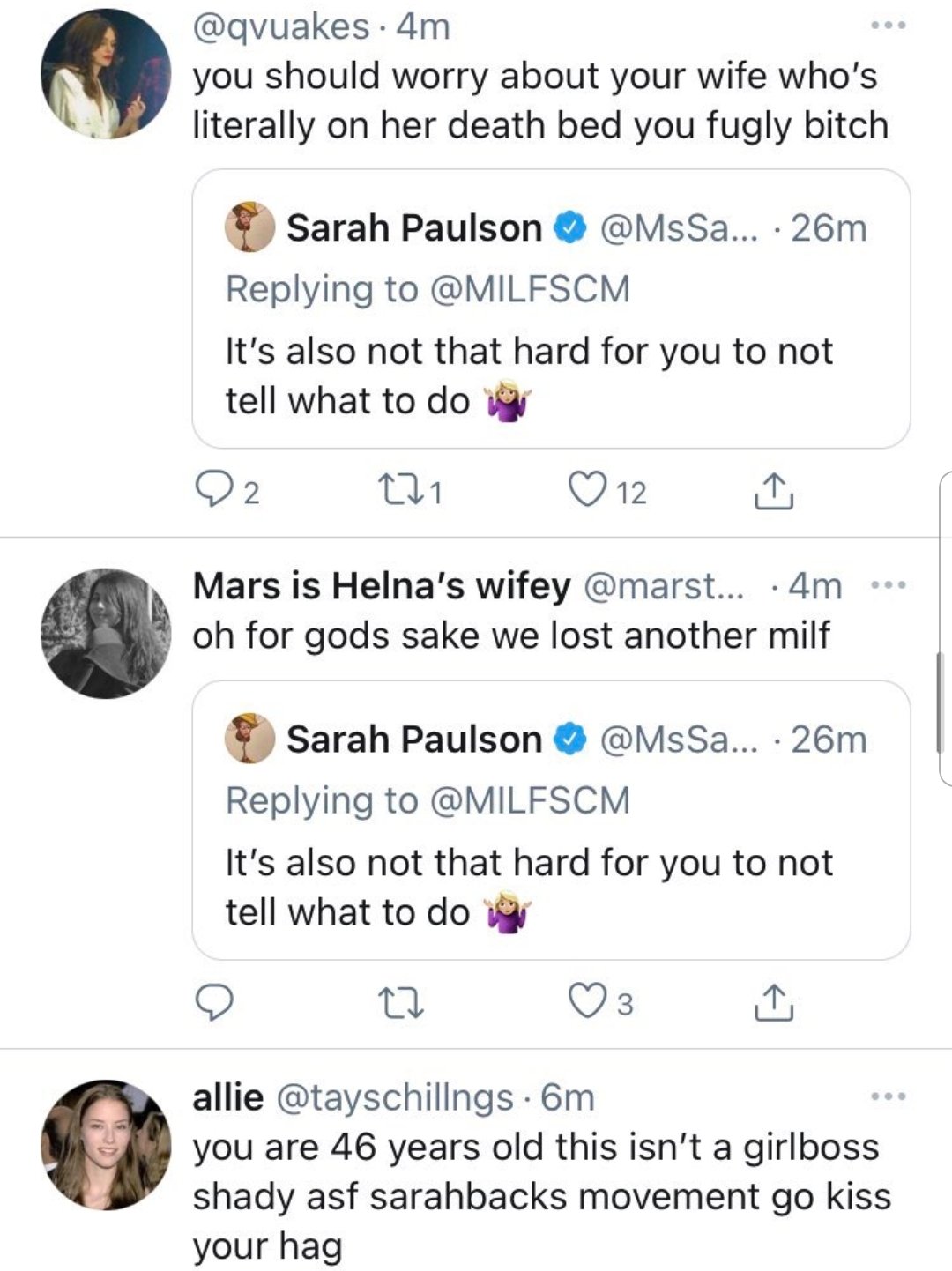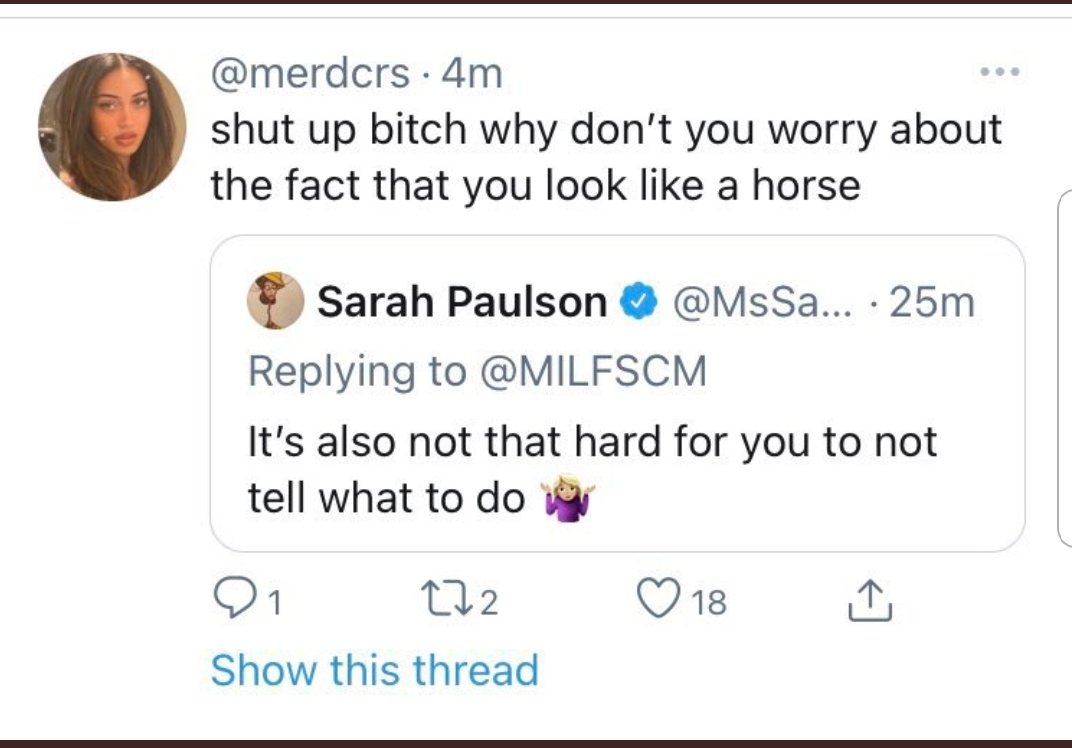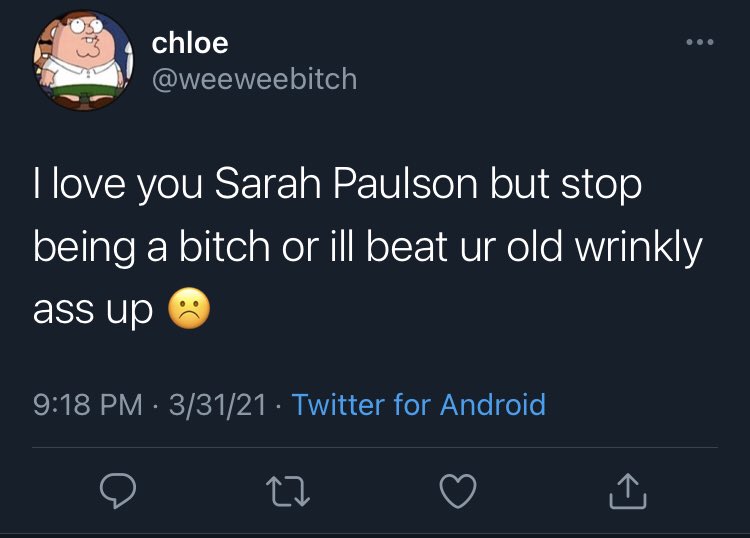 Yes these are exactly the sort of frenzy-eyed pervert puritans we should definitely permit to dictate the acceptable parameters of public discourse.
Now you use that kind of genderized, bullying dogpiling on one of these very-marginalized-and-yet-suspiciously-coddled-and-privileged snowflakes, and you see how long the Tech Bros allow you your free speech rights.
More abuse collected at @Woke_Misogyny. Skip down to March 31st. The c-word starts making its inevitable appearance. And of course "dumb whore."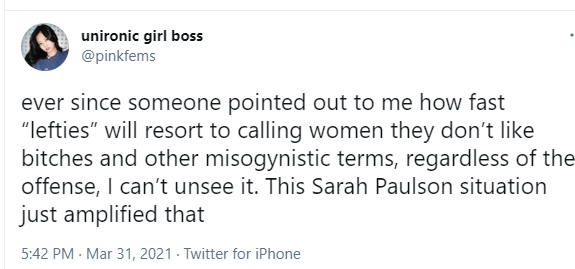 Oh, and one more, this one via a friend: Demi Lovato, whoever she is, must be a low career point because she just announced she's "pansexual."
Rogan clarified that she means "sexually fluid" and that she's interested in both women and men. Lovato replied, "Yeah -- anything really."

He asked if the term is "pansexual" and Lovato replied, "Yeah, pansexual."

Lovato went on to say she heard someone call the LGBTQIA+ community the "alphabet mafia" -- and loved the term.

"That's it! That's what I'm going with. I'm part of the alphabet mafia and proud," she said.
Relatedly, Demi Lovato just reported herself "triggered" when she went to buy herself some frozen yoghurt and was Eye-Raped by signs for diet foods.
Singer and actress Demi Lovato has accused a frozen yogurt shop of "harmful messaging" about diet foods, which she said can be triggering for her and others with a history of disordered eating.

Lovato posted on her Instagram stories April 18 that she found it hard to order from The Bigg Chill in Los Angeles after seeing their sugar-free cookies and other options marketed as "guilt-free."

She tagged her posts "DietCultureVultures," starting a new hashtag to identify companies that she said were encouraging disordered eating behavior. She later clarified that she thought labeling products as simply sugar-free, gluten-free, or vegan instead of "diet" would create a more welcoming environment for all customers, including those with previous diet-related issues.
Demi, sounds like what you really are is a carbosexual.
Or should I call you, "Semi-."
I mean, come on. Get some GAINZZZ, girl.


posted by Ace at
05:04 PM
|
Access Comments