« Workers Accidentally Ruin 15 Million Doses of the J&J Vaccine
|
Main
|
Marco Rubio, of All People, Blasts Delta and Coca-Cola for Attacking Georgia for Its Voter Law, While Continuing to Give the Concentration-Camp Operating Communist Chinese Regime They're in Bed With a Free Pass »
April 01, 2021
Quick Hits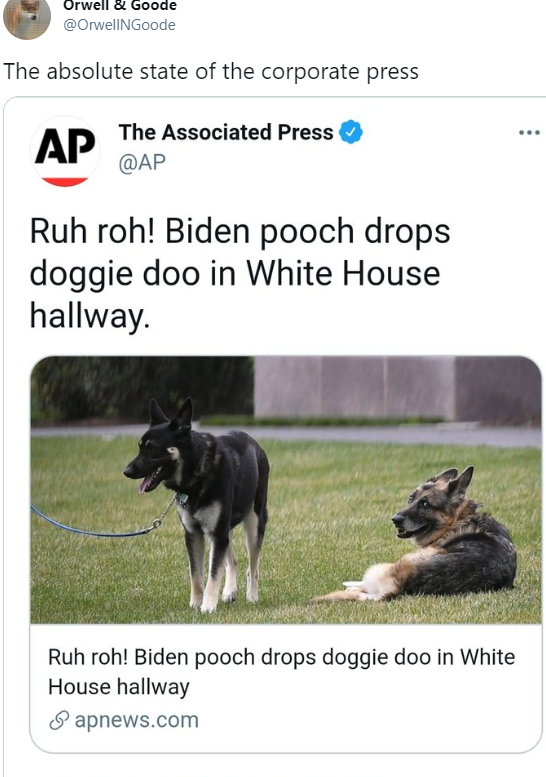 America's Oldest Teenager -- sexless grifter and feebleminded Twitter Addict Bill Kristol -- proves once again that he is a True Conservative by jerking his babydick off over Biden's $2 trillion infrastructure proposal: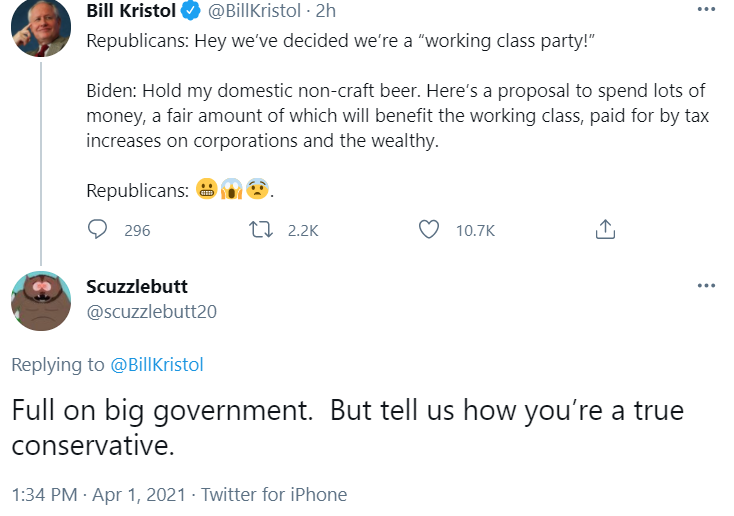 Fellow Obese Grifter Jonah Goldberg is always whining that conservatives spend too much time "owning the libs" (i.e., owning his friends, future employers, and current donors).
And yet he never chastises the World's Oldest Troll Bill Kristol for constantly "owning the cons."
It's strange -- you'd almost suspect they were on the same leftwing propaganda ops team and were funded by the same leftwing donors.
Meriam Webster now defines being "color-blind" to race as The New Racism.
No, really.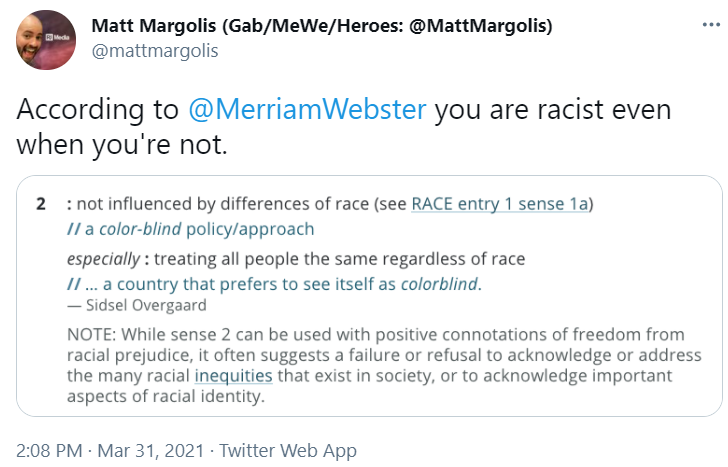 The media brands the massage parlor shooter as a "white man" who killed "mostly Asian" victims.
But then suddenly decides that Specifying the Race of Perp and Victims is racist when it comes to an Arab man shooting ten white vicitms.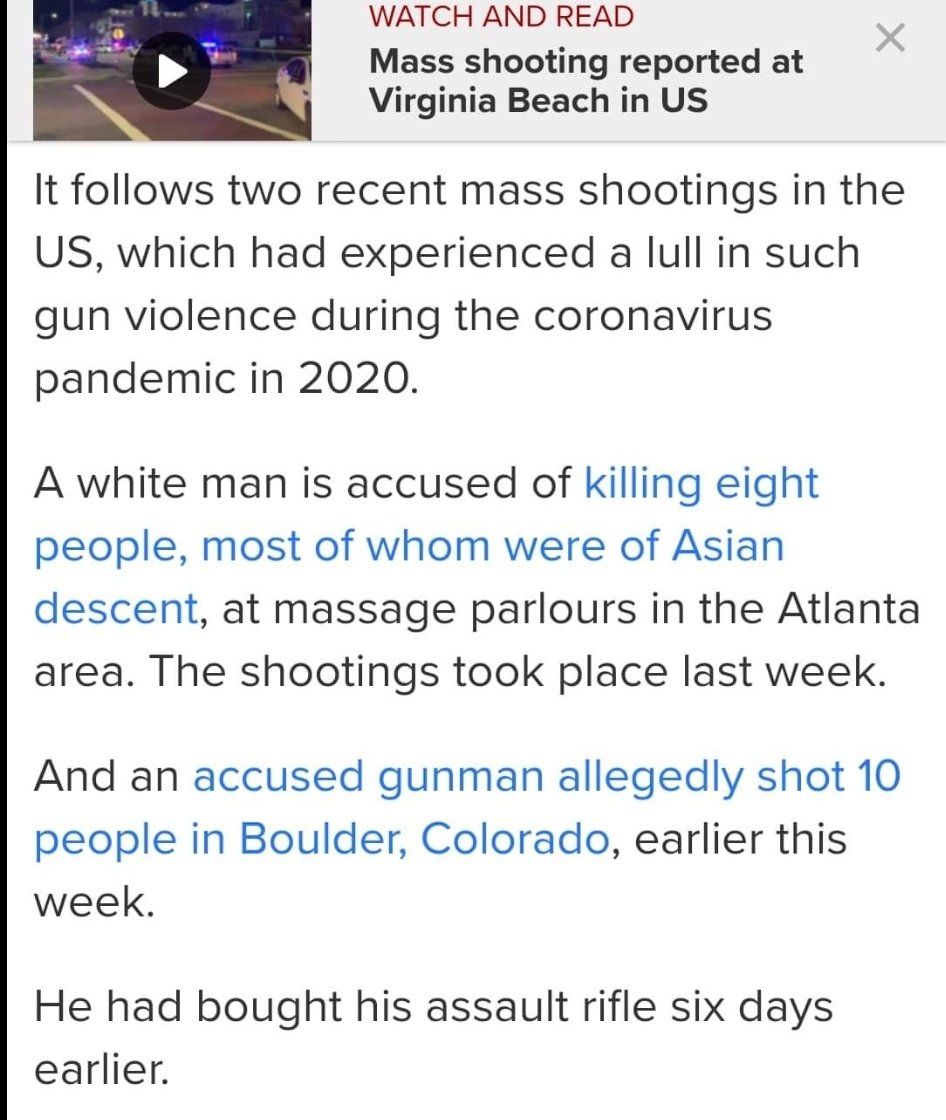 Did you catch that? His race was "Gunman."
And the race of the people he killed was, "people."
Maybe we should just identify people as that, as just people of no defined race.
But the media seems very, very determined to let you know the race of the Evildoers when it's One Single Race.
Even the New York Post decides to play "Guess That Race" with the perpetrator of an attack on Asian people, while specifying that Asians were the victims.
A hate-spewing suspect threatened to slash an Asian man at a Home Depot in Brooklyn -- just a few hours after an Asian woman was attacked by a racist assailant in front of do-nothing onlookers in Manhattan, police said Tuesday.

The 28-year-old victim in Brooklyn was with his girlfriend at the store in East New York around 2:30 p.m. Monday when a stranger approached the couple, menacing them with a 2Χ4 piece of lumber, cops said.

"Why you with that little d--k Asian n----r?" the suspect asked the woman, who is not Asian, according to police and a source.
Even Obama-voter Ann Althouse is noticing the media's alternating laser-like focus on race and then its complete ignorance of race.
"No mention of the perps race in the headline. That is weirdly the most obvious clue to their race nowadays. #JouralismDiesInWokeness."

Says one of the commenters on the Washington Post article "New York authorities file hate-crime charges in attack on Asian American woman."

There isn't even an attacker in the headline. The only human beings in the headline are the "authorities" and the "Asian American woman." The evildoer disappears. There's no attacker, only an "attack." But if there are hate crime charges, then the human mind is all important. "Attack" stresses the outward action. "Hate" requires a hater. There is a shadow of a person in the word "hate," the gesture at a mind.

But this person is depersonalized -- depersonalized because he is black. If a white man had stomped on an old Asian-American lady, he'd get full recognition in the headline. Is that racist?
By the way, this is a completely separate incident from the proceeding one.
Just more of that Multiracial White Supremacy in action.
Strange how only one race is allowed to be a perpetrator in stories written by journalists propagandists and racial arsonists.
Again... no worries about "backlash against whites" as we always hear about after a terrorist attack. It's like they... sort of want there to be a backlash.
Since most reporters are white (despite all their claims of loving diversity): May the backlash fall upon their own heads.

George Floyd's girlfriend testifies that the man he was in a car with was... his drug dealer.

She's white, I guess, so I guess that means that St. George will have to be absolved of this Racial Sin in the special heaven they made for people who die from sticking a pound of narcotics up your asshole.
Oh look, it's another delightful cyberflirting exchange between David French and Jonah Goldberg about superhero movies: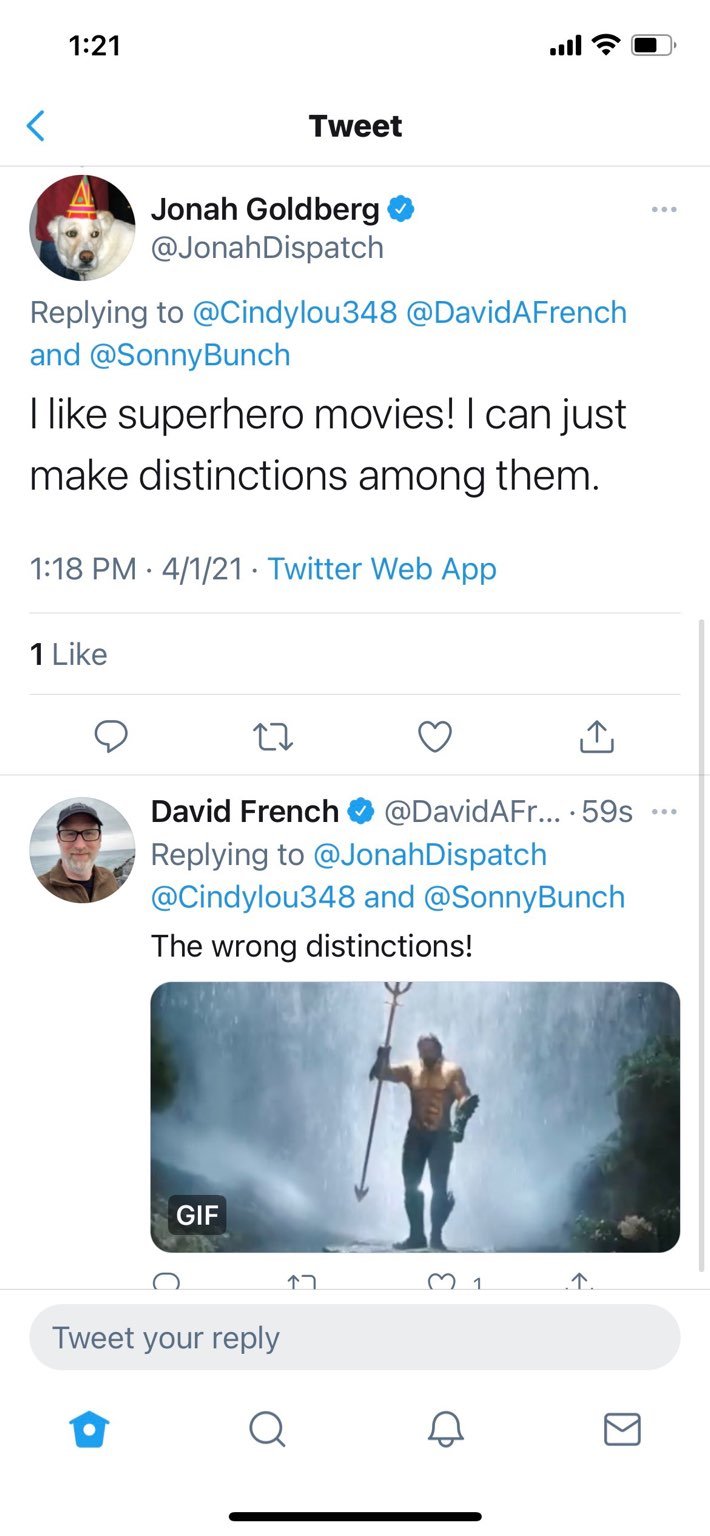 Weird, because I can't make distinctions between The Dispatch and The Bulwark.
Or the Lincoln Project.
Or National Review.
Won't be long now before Sonny Bunch comes in, and people post a Venn diagram showing the overlap of wrong opinions and Sonny Bunch's opinions.
It's so effortlessly inventive and fresh, every time!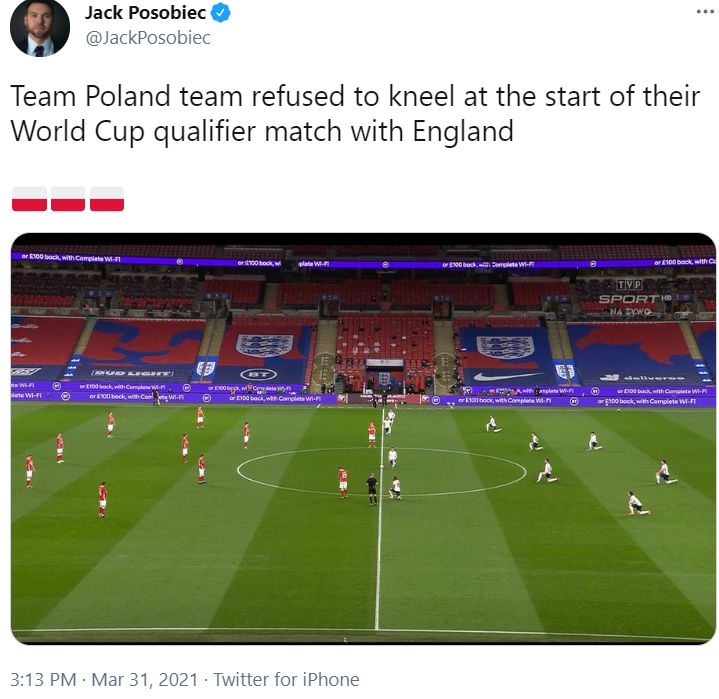 Let's check in with the moderate centrist that Conservative, Inc. grifters assured us was more mentally up to the job as president than the real one, Trump:
Biden's idiot wife Jill -- oh, excuse me, I mean his idiot wife Doctor Biden -- is also bilingual in English and gibberish.
What she's trying to say is the simple Spanish Si se peude (see, say pweyday), which was literally said by Obama at every rally in 2008 and 2012, but "Doctor" Biden apparently didn't pick up that credit in Seventh Grade Spanish while "earning" her "doctorate."

posted by Ace at
04:47 PM
|
Access Comments