« Bizarre Twist: Documents Seem to Indicate That the $25 Million to be Extorted from Don Gaetz Was to Be Used... as Ransom to (Supposedly) Free Robert Levinson, a Hostage Held By Iran
|
Main
|
Wednesday Overnight Open Thread (3/31/21) It Is What It Is Edition »
March 31, 2021
Quarantine Cafe: White Boy Summer Edition
Early night for me, peeps.
Dog who is terrified of everything is given TLC and hamburgers until he learns to trust people.
The only thing is, with this type of video, they're always like "The power of love triumphs."
Well, yes, but more "The power of hamburgers triumphs," if we're being accurate.
Dying pittie rescued from a homeless encampment finds new life with his foster family.
Dog who was kept on a chain for seven years isn't allowed other dogs -- he could get violent -- but eventually learns to love his neighbor-dog.
Dog finds injured parrot and becomes a canine caregiver to it. It's sad when the parrot flies off, but...
Senior chihuahua that no one wanted hits the Foster Lottery when a famous person takes him home.
Earlier this week, Chet Hanks (son of Tom) announced, enigmatically (and of course controversially), that he had a feeling we should expect a "White Boy Summer."
He clarified that a White Boy Summer was non-political and non-discriminatory.
Chet's initial WBS post, captioned "Is it bout to be a #WhiteboySummer or am I trippin ???? Tag a REAL vanilla king #Respectfully," defined the type of white boy summer he was after as a "me, Jon B., Jack Harlow-type white boy summer," adding in a second video that "having any ill will whatsoever towards anybody that's different from you, that's not white boy summer dude... the real vibes is just having nothing but good vibes toward everybody, everybody."
He didn't really explain what this meant, but he did start offering some "rules" you'd have to observe during White Boy Summer, including "no plaid" and "no boat shoes."
More controversially, he decreed that, during White Boy Summer (or WBS, as the kids call it), you're no longer allowed to use the word "smokeshow."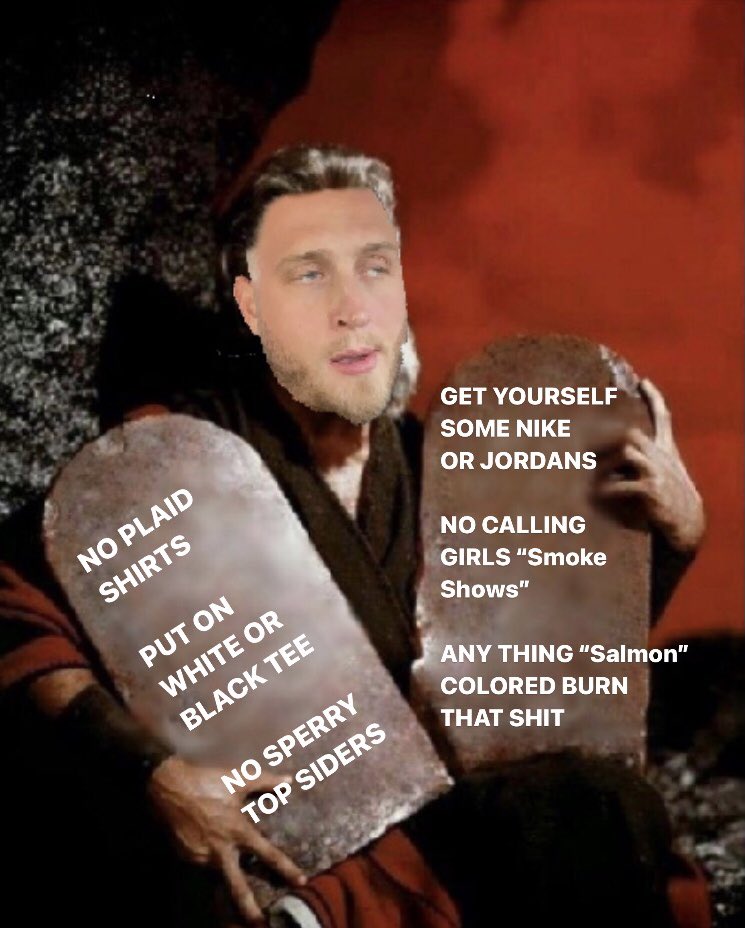 People are still mystified as to what this could mean. Some white males are a little shocked that it's possible to say "white boys" in a non-insulting way in 2021.
Via Silence is Golden, everyone has White Boy Summer fever: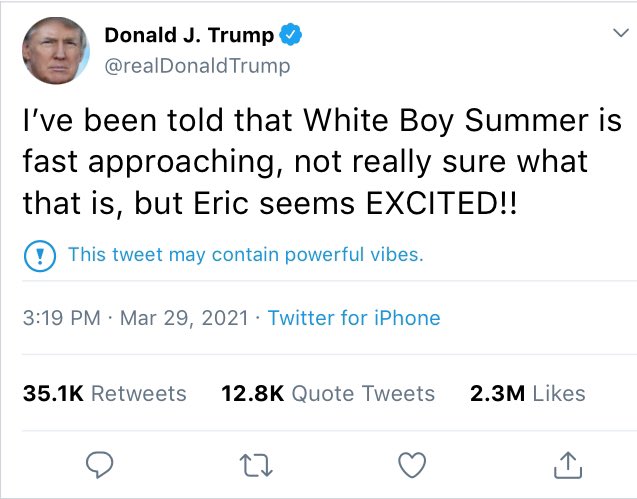 That, of course, is one of those fake Trump tweets, because Trump isn't allowed to be mentioned on social media any longer.
This is America, land of the brave and home of the free. Yay.

posted by Ace at
07:01 PM
|
Access Comments