« Wednesday Overnight Open Thread (3/24/21) Minimalist Early Edition
|
Main
|
Mid-Morning Art Thread [Kris] »
March 25, 2021
The Morning Report - 3/25/21 [J.J. Sefton]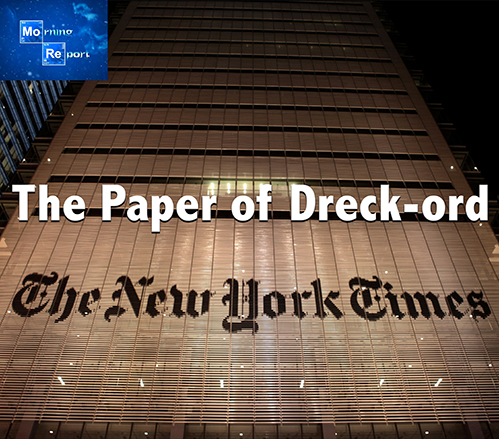 Good morning, kids. Thursday and there's just so much happening as we come apart at the seams that it's difficult to focus in on just one or two things. In the wake of the shootings in Atlanta and Boulder - which contrary to the propaganda about a so-called white supremacist movement out to overthrow the government and reinstate slavery were perpetrated by an insane woman-hating leftist and a Syrian-born jihadist who had plotted to kill President in Exile Trump and as many of his supporters as he could at a rally last September - the junta in power in DC is going full tilt boogie to grab our guns. Yesterday's headline on the front page of the NY Times screamed:
ATLANTA AND BOULDER: 18 DEATHS IN ONE WEEK
18? In one week? In two cities? Hell that's called a relatively quiet Saturday night in Chicago, Baltimore, Detroit, Compton, and every other Democrat-run urban hell-hole where young blacks and Latinos have been gunning each other down year in and year out for decades. And the Slimes has the fucking unmitigated temerity to run that editorial dressed up as a headline while basking in the glow of a Pulitzer Prize for "The 1619 Project," a blood libel that is right up there with "The Protocols of the Elders of Zion." It makes for a nice bookend for the one they got for Walter Duranty's coverup of Stalin's genocide of the Ukrainians in the early 30s for which the Paper of Dreck-ord still has not returned the prize money 88 years on.
Funny with all this talk about evil, racist, insurrectionist white supremacists hunting down innocent colored people on a daily basis, one tends to overlook the fact that the victims in Atlanta were predominantly Asian, which is a group that critical race theory pimps consider "white adjacent" and that the current junta and its enablers in academia and in our courts have openly targeted for exclusion in our universities and elsewhere, while all of the victims in Boulder were white and gunned down by a Religon-of-Peacenik.
Speaking of Syria, it looks like the regime will finally get its wish to have boots on the ground there. Or should I say stiletto heels worn by the Max Klinger Airborne Division? And while we're wasting blood and treasure there because John McCain - whose funeral continues - along with Obama and Clintons have some sort of interest in running guns to the terrorists and which got Chris Stevens and three other brave Americans killed in Benghazi, China is itching to create some sort of incident as a prelude to invade Taiwan. Joe Biden may be a shambling, stumbling dementia patient but he's still cognizant of the fact that he's owned, withering body and condemned soul, by Emperor Pooh-Pooh Platter.
The only real enemy that this junta has a raging hard-on to put a hurt on are the citizens of the nation it now lords over. Illegally. And the beatdown will continue until morale improves.
NOTE: The opinions expressed in some links may or may not reflect my own. I include them because of their relevance to the discussion of a particular issue.
ALSO: The Morning Report is cross-posted at CutJibNewsletter.com if you want to continue the conversation all day.
Follow us on Twitter: @CutJibNews
Follow us on Instagram: @Cutjibnewsletter

posted by Open Blogger at
07:42 AM
|
Access Comments