« 9th Circuit Rules That There Is No Right to Carry a Weapon
|
Main
|
Quarantine Cafe: Breakfast Club Class of 1984 Edition »
March 24, 2021
Kristi Noem Spokesman: Criticizing the Governor For Selling Out Girls to Corporate Interests Is Just "Uninformed Cancel Culture"
Ah yes -- some people, including Noted Genius and Serious Scholar Jonah Goldberg, have claimed that routine political processes are "cancel culture" on the right.
He objected to efforts to push his neocon ally Liz Cheney out of office as hypocritical "cancel culture" from the right.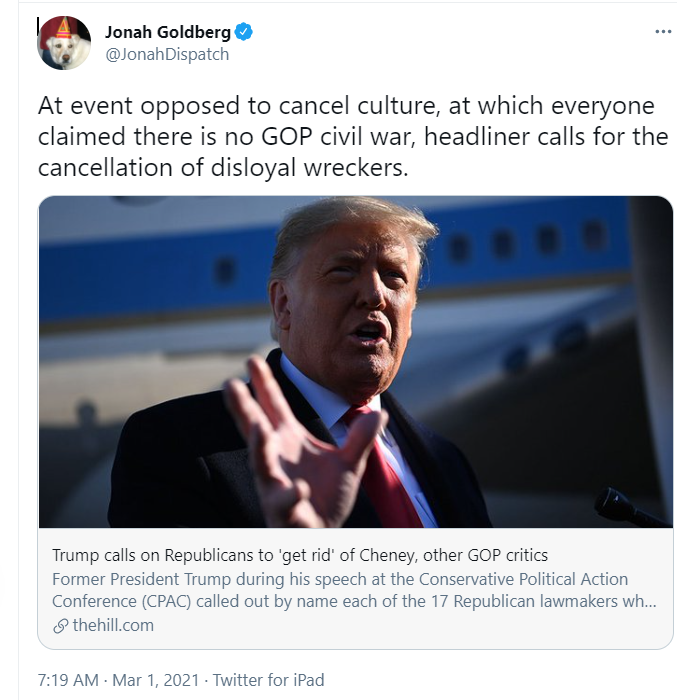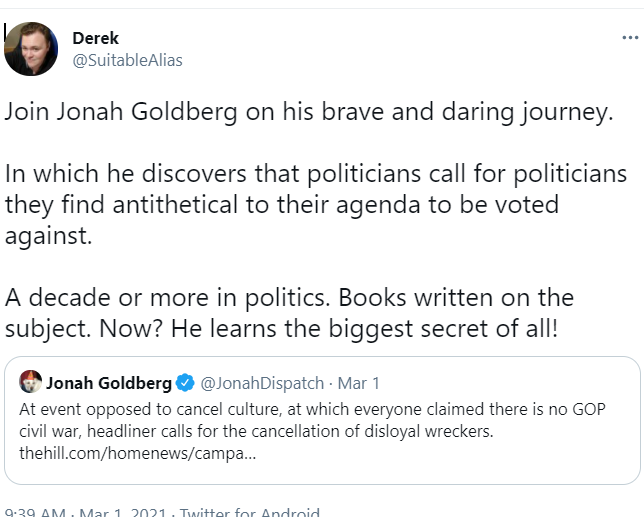 Of course, politics is nothing more than an organized, collectivized effort to either put someone into a job or "cancel" someone from a job, by electing a challenger.
That's what politics is. But that's not what cancel culture is.
Cancel culture is taking the foundations of political action -- organizing, pressuring people to adopt your position, collective effort, and firing someone from a job/hiring someone for a job -- and applying them where they absolutely must not be applied: to non-political life.
It is not "cancel culture" to drive Liz Cheney out of office. We're supposed to organize and collectively decide if she should keep her job.
Elective office is fundamentally about collective decision-making, corporate decision-making, in the sense of "of the body." We act as a single body in electing a politician.
That's not cancellation. That's what we're supposed to do. We're supposed to decide if Liz Cheney gets to keep her job.

On the other hand: We're not supposed to collectively decide if Gina Carano gets to keep her job.
We're supposed to collectively decide if Liz Cheney keeps her job. We're supposed to try to rally other people into joining our side of the issue.
But we're not supposed to organize a political effort to decide if a private citizen like Gina Carano gets to keep her private job at a private company like Disney.
Liz Cheney is kept in office, or booted out of office, by a collective decision, a corporate decision of all voters acting together, which results from an organized information campaign of either positive or negative information and some degree of pressuring people to choose the way you wish them to choose.
That's what happened to Gina Carano, too -- and that is cancel culture, because we're not supposed to have a "vote" to decide if private, non-public positions are filled by "candidates" we approve of or not.
Cancel culture is the vicious application of political tactics as applied to elective office to private endeavors and completely private employment.
It makes no sense to speak of ordinary, routine political jockeying as "cancel culture." The term only makes sense when applied to endeavors outside of politics.
But then, Jonah Goldberg has a triple incentive for calling routine political efforts "cancel culture:"
1, to defend one of his neocon allies.
2, to attack the right, which he clearly loathes on a visceral level.
And 3, to excuse himself for his frequent joining the left in actual cancel culture, by confusing what it is with what it is not. If Jonah can make "cancel culture" a meaningless term, that excuses his own frequent alliances with the left to cancel private citizens -- for real.
It makes sense to object to using political, collective, organized efforts outside of a political context.
But it makes no sense to object to such tactics used in actual politics.
Where else would you use political tactics, if not politics?
We're supposed to collectively decide if Liz Cheney -- or Kristi Noem -- will make decisions on our behalf in government.
We're not supposed to collectively decide if Gina Carano gets to play fucking Cara Doon on a fucking Space-Wizards tv show.
We are supposed to lobby and pressure Liz Cheney and Kristi Noem to adopt positions we prefer.
We are not supposed to lobby and pressure Gina Carano to post her pronouns on fucking Twitter.
Do you get it, Jonah? You superficial, mentally-slovenly, intellectually-obese useless drop of a nepot.
Do you get it Kristi? You corporate sell-out.
The fact that Kristi Noem is now following this disgusting dishonesty of Jonah Goldberg to call her critics adherents of "uninformed cancel culture" is just further evidence that she is not acting in good faith.
If she were acting in good faith -- if she had vaild explanations for her actions -- she could just present those, instead of claiming that someone opposing her political (that is, collective, made for the whole) actions are "cancel culture," or that it's some kind of "unconservative" move to give girls the right to sue schools that force them to compete with boys.
That fact that she must repeatedly offer plainly dishonest, bad-faith arguments is all the proof you need that she's acting from a dishonest, bad-faith place.
When you find yourself repeating Jonah Goldberg tweets as your defense: Stop immediately.

Jesse Kelly
@JesseKellyDC


There isn't a list of issues the Right will use when picking their next leader. There is ONE item on that list and one item only:

Fight the cultural marxist hordes who are turning this culture into a sewer.

That;s it. That;s list. Check that box, or be gone.
Amber Athey @amber_athey Gov. Kristi Noem's office says in an email that she is a victim of "conservative cancel culture," adds that she is not caving to the NCAA but that "the bill picked a fight with the NCAA – a fight that renowned conservative legal experts advise Governor Noem that she will lose."
She refuses to name those "experts." Jack Posobiec says that the Federalist Society lobbied her to veto this bill.
I don't know if that's true, but I do know for an absolute fact that the Professional/Managerial Class "right" is extremely liberal socially and believes it's "icky" to ever oppose the left in culture wars.
Indeed, they find the whole idea of fighting a culture war low-class and demeaning.
So they urge us to just let the left take one culture war prize after another.
@amber_athey
More: "If conservative media would take 5 seconds to read past the knee-jerk headlines and actually understand Governor Noem's position, they'd come to a very different realization."
F you, C.
Matt Walsh @MattWalshBlog

Kristi Noem says she doesn't want to ban males from women's sports at the college level because it might make the NCAA mad and they might "punish us." That is the most Republican line of reasoning I've ever heard. Sick of it. Nauseated by it.
Sean Davis
@seanmdav

Thought experiment for Noem staffers: what if your boss just signed the bill she promised to sign instead of allowing herself to be bullied by Amazon, NCAA, and the Chamber and then trying to con other people into adopting her cowardly stance to save face?

Sean Davis @seanmdav

As if Noem's betrayal in South Dakota weren't bad enough, there are now rumors that she is currently lobbying Gov. Asa Hutchinson of Arkansas to veto a similar bill protecting women in that state, just to give her cover for her own cowardice.
I wonder: Is Kristi Noem's pressuring of Asa Hutchinson to follow her in her corporate folly also "cancel culture" or nah?
Update, from the comments:
289 MNN BREAKING NEWS...Gov. Kristi Noem signed an alternative girl's sports bill into law today. It's called the "Get Used To Bronze, Bitches"- Act.

No word if NCAA would veto the bill as the South Dakota Constitution allows them.
Posted by: Manufactured News Network: "Occupied America's Most Trusted News Source!"
And Jonah:
Stick to ripping off the Claremont Institute for ideas. You're not good at coming up with them yourself.

posted by Ace at
06:54 PM
|
Access Comments