« Kristi Noem Spokesman: Criticizing the Governor For Selling Out Girls to Corporate Interests Is Just "Uninformed Cancel Culture"
|
Main
|
Wednesday Overnight Open Thread (3/24/21) Minimalist Early Edition »
March 24, 2021
Quarantine Cafe: Breakfast Club Class of 1984 Edition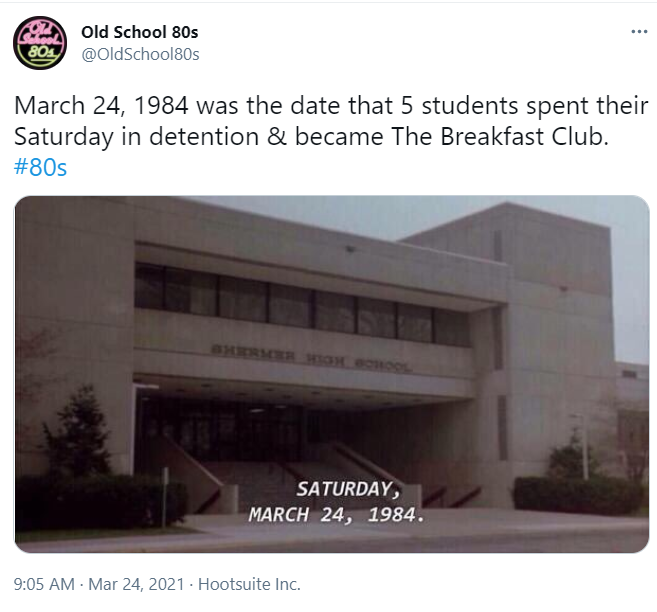 1984, the Year in Review: the break-up of AT&T, the Olympics in LA, and Van Halen.

Some of the movies of 1984 -- it's quite a list.
Ghosbusters, the inferior Toxic Masculinity version,
The Terminator, which I absolutely think is better than T2,
Indiana Jones and the Temple of Doom,
The Karate Kid, and I still call him "Daniel-San,"
Star Trek III: The Search for Spock, with Kirk explaining my feelings about NeverTrump and their leftwing allies and side-pieces,
Dune, which bombed, but is frequently on cable,

Supergirl, which bombed even harder, and is barely remembered now,
Conan the Destroyer, the family-friendly D&D version of Conan, which was terrible,
and of course The Breakfast Club, coming at you from Sherman, Illinois. (Is that right? Is it Sherman Oaks?)
Here's a category I forgot to include in previous posts: The best arcade games debuting in 1984. Including, Paperboy, Punch Out, and Kung Fu Master.
Flashback to the tech available in 1984.
From 1984: How to send an "E-mail." Whatever that was. (I legit didn't know about email until years later.)

Steve Jobs introduces the Macintosh. I think the Jobs biopic revealed that the video presentation that made the crowd go "oooh" was all faked -- it was being run off a different, more capable computer.

Radio Shack's Tandy 1000. Released in 1984.
Yes, indeed. Truly an age of miracles and wonders.
By the way, here's the 1984 Apple MacIntosh commercial. This commercial aired two days before Jobs unveiled the device.
That commercial played only once, during the Super Bowl.

The intros of 23 TV shows debuting in 1984.
A few of the Most 1984-ish of 1984's hits:
This playlist of the Billboard Top 100 of 1984 might be worth a browse.

And here's a K-Tel record from 1984, "Sound System." I imagine most of these songs were from 1983.

posted by Ace at
08:07 PM
|
Access Comments