« Jihadist Terror-Shooter, Who Totally Isn't a Terrorist Because He's Not White, Planned to Target Trump's Rally in Colorado Springs in February 2020
|
Main
|
Surprise! Ahmad Alawi Al Issa -- The "Washington Post Shooter" -- Was "Known to the FBI" »
March 23, 2021
Biden's Got More Kids in More Cages Than Trump Ever Did, But the Democrat Propaganda Organs Suddenly Don't Find It Worth Condeming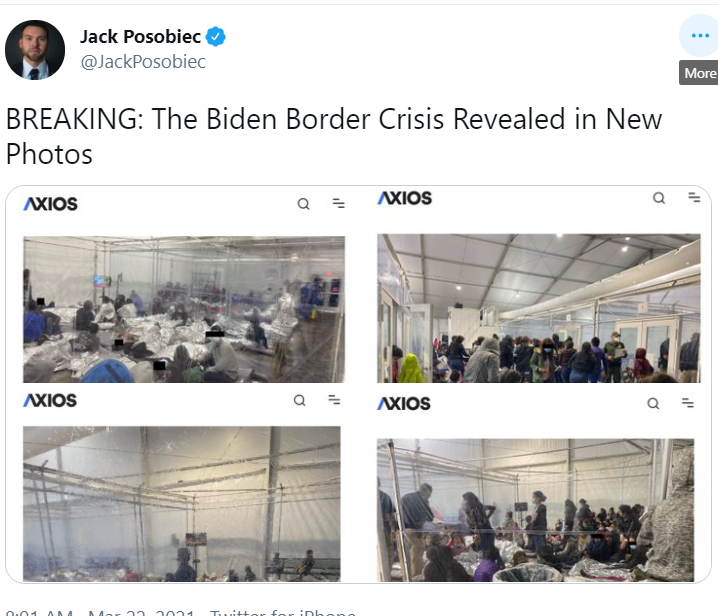 Biden's so confident that the American people would applaud the Useful Democrat Crisis he's created on the border that he's forbidden Border Patrol agents to provide information or access to the media.
And even Democrat Congressmen are now leaking out photos of this catastrophe.
James O'Keefe of Project Veritas released photographs Monday from inside a border facility in Texas where migrant children are being held -- and taunted the White House as he did so, for denying the media access to such facilities for weeks.

As Breitbart News has reported, President Joe Biden and his administration have denied the media access to border facilities even during tours by senior administration officials, even restricting officials from sharing information with reporters.

...


On Monday morning, Axios released the first photographs from the present wave, noting that the photographs came from Rep. Henry Cuellar (D-TX). That apparently prompted O'Keefe to release his own photographs and video footage, which he did on social media and at the Project Veritas website.

As he did so, O'Keefe called out White House Press Secretary Jennifer Psaki, who has repeatedly deflected questions from the media about when journalists would be allowed to visit the border facilities to see the conditions for themselves.

Last Thursday, Psaki continued to claim that "the White House and we all in the administration support finding a way to grant access to the media," but declined to do so, even as she continued to defend Biden's commitment to transparency.

...

As recently as Sunday, Department of Homeland Security Secretary Alejandro Mayorkas was claiming that the reason the media had not yet been allowed to tour the migrant facilities was because of concerns about the coronavirus pandemic.
Coronvirus is a reason that Border Patrol agents have been ordered not to answer routine questions about the border even over the phone or through email?!?!
Pictures and video at Project Veritas.
A source reached out to Project Veritas and explained the conditions that these migrants face on a regular basis while detained at this facility.

"These photos were taken within the last few days. There are eight pods with eight cells each in the facility. At any given moment there are an average of 3,000 people in custody here," the source said.

"They [illegal immigrants] are separated by age or physical size depending on room. Fifty were COVID positive in these cells over the last few days. There have been multiple sexual assaults, normal assaults and daily medical emergencies," they said.

Customs and Border Patrol [CBP] completed the construction of this 185,000 square foot facility in Donna, Texas just over a month ago -- it was designed to house hundreds if not thousands of migrants on a daily basis that come into the U.S. illegally.
So this is a Biden Migrant Children Cage Facility, eh?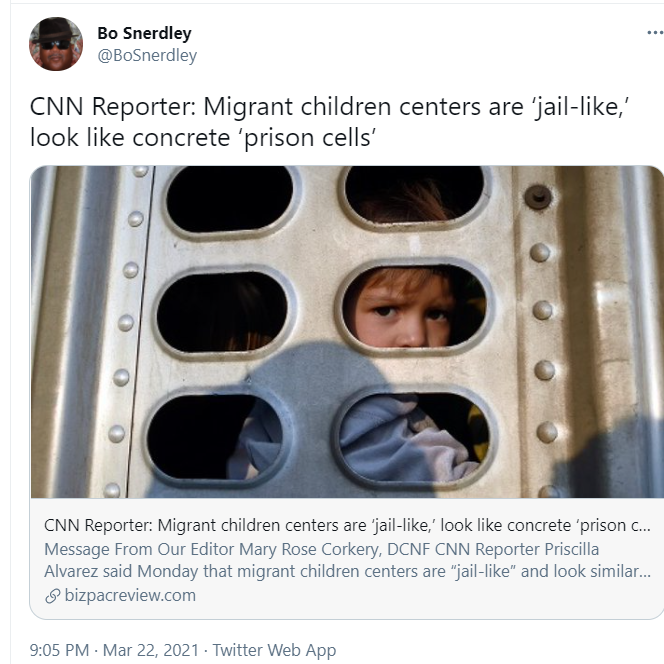 The illegal aliens are straight-up admitting they're only coming now because Biden is a soft-touch softbrain:

Note they didn't come under Trump because Trump told them what his policy was: Do not come illegally, or I will deport you.
The White Upper-Class Women (including the National Review pussyboys) who are ruining the country don't much want to pay for illegals' health care either, or to have to tell their children to stay out of the nearby park because it's MS-13 Territory.
But they think it's too mean to tell illegals directly: Do not come.
They prefer the womanly sort of indirect communication where you don't say what you want, but just scowl and hope that the other party "takes the hint."
So that's the Cuck/GOPe policy on the border: We're not going to tell illegals to go home. We're just going to say we're very disappointed in them if they do come. We're going to give the illegals the Silent Treatment if they illegally cross the border.
If the illegals ask us what's wrong, we'll curtly snap "Nothing." If they ask how we are, we'll seethe, "Fine."
And that's how we'll control the border: With Karen Glaring.
But of course, once they're across the border, it's welfare for life.
To do otherwise would be akin to "Mean Tweets."
Meanwhile, all the world wonders:
Where's AOC? Where's Donkey-Chompers? Why no staged photo opportunities in front of a parking lot now, Donkey-Chompers?
Why do these children in cages not make you cry fake tears?
Are these children not worth your fake tears, you subnormal IQ toad?
Rep. Ilhan Omar will travel to the southern border on Friday amid continued silence on the record surge of immigrants from fellow "squad" member Rep. Alexandria Ocasio-Cortez -- who accused the previous administration of housing migrants in "concentration camps."

Omar (D-Minn.) announced her plans on Twitter Monday evening, writing, "I'll be there" in response to a tweet from Rep. Joaquin Castro (D-Texas) in which he detailed trip plans.

The group of House Democrats will visit the Carrizo Springs, Texas, facility for unaccompanied minors for the purpose of "oversight to ensure humane treatment and orderly process to unite kids with families."

A spokesperson for Ocasio-Cortez (D-NY) did not immediately respond to The Post's request for comment on whether she plans to make the trip.
Oh, I forgot: $86 million to put illegal border-crossing criminals in hotels, on the taxpayer's dime, while the National Guardsman they've called to invade the Capitol are kept in unheated parking garages and fed half-frozen chicken.

posted by Ace at
03:07 PM
|
Access Comments