« Angela Merkel Puts Country Into Extreme Lockdown For Easter Week -- Not Even Grocery Stores Are Allowed to be Open April 1 to April 6
|
Main
|
Biden's Got More Kids in More Cages Than Trump Ever Did, But the Democrat Propaganda Organs Suddenly Don't Find It Worth Condeming »
March 23, 2021
Jihadist Terror-Shooter, Who Totally Isn't a Terrorist Because He's Not White, Planned to Target Trump's Rally in Colorado Springs in February 2020
The jihadist killer that some are calling "The Washington Post Shooter" planned a massive bloodbath at a Trump rally last year, Jack Posobiec reports.
Jack Posobiec
@JackPosobiec



Early information from a national security agency suggests Boulder shooter planned to target the Trump rally in Colorado Springs, Feb 2020, but decided to wait until the next one on March 13 in Denver but it was cancelled due to COVID, per WH official
Oh, and Biden announced a crackdown on terrorist-sympathizing immigrants from Syria.
Just kidding -- he pivoted immediately away from questions about the killer's motives to demanding we ban guns. Video below the fold or at YouTube.
He's not even pretending that he can link this to this crime. There has been no word at all on what kind of weapon the Washington Post Shooter used, but here is this Dying Brained Rapist demanding we ban all the guns he already wanted to ban.
David Harsanyi
@davidharsanyi



If the shooter is a white supremacist, the event is an indictment of all white people and America. If the shooter is an Islamist, it is a completely individual act that has nothing to do with ideology.

David Reaboi
@davereaboi

Over the last 4 years, the so-called terrorism analysis industry tried successfully to reorient both the public and the NatSec state towards a phantom, partisan view of the terror threat. Chickens coming home to roost, you could say.
Raheem Kassam @RaheemKassam Yesterday was the 5th anniversary of the Islamist attack in Brussels which left 35 dead and 340 injured.

It was the 4th anniversary of the Westminster (London) attack which killed 6 and injured 49.

Ahmad Al-Issa appears to have followed an ISIS-inspired pattern.


Just like cartels on the border, Islamic-inspired terrorists are emboldened by the weak Biden regime.

Carnage has returned to America.
The New York Times' nasty Islamist/Leftist propagandist says it's racist to describe an Islamist as an Islamist.
He wants us to focus on the non-relevant and presumably non-racist concern: "White supremacy."
Wajahat "The Butter Influencer" Ali
@WajahatAli

Islamic is trending. Don't even have to click on it. Let me guess: Right wing outrage & racism over the identity of the Boulder shooter. Meanwhile crickets on gun reform & white supremacist terrorism, the #1 domestic threat in America. Somehow Trump will be seen as "tough."


The shooters regardless of their ethnicity and religion are able to commit mass murder due to access to assault rifles. GOP should enact gun reform if they care about security. Go after all violent extremists, right? Don't befriend, elevate & promote the ones you like.
Motives only matter when they're the motives the leftwing police state are ginning up moral panics about.
We're not racist, we're just anti-white! They're not even people!
Meanwhile, Twitter -- which routinely bans conservatives for what its purple-haired transgender speech police claim is "misinformation" and "conspiracy theories" -- is not only allowing but actively promoting in its "Twitter Moments" timeline claims that Ahmad Alawi Al Issa is getting favorable treatment because he's... a white man.
They have been repeatedly questioned about this, but are continuing to promote another racist conspiracy theory.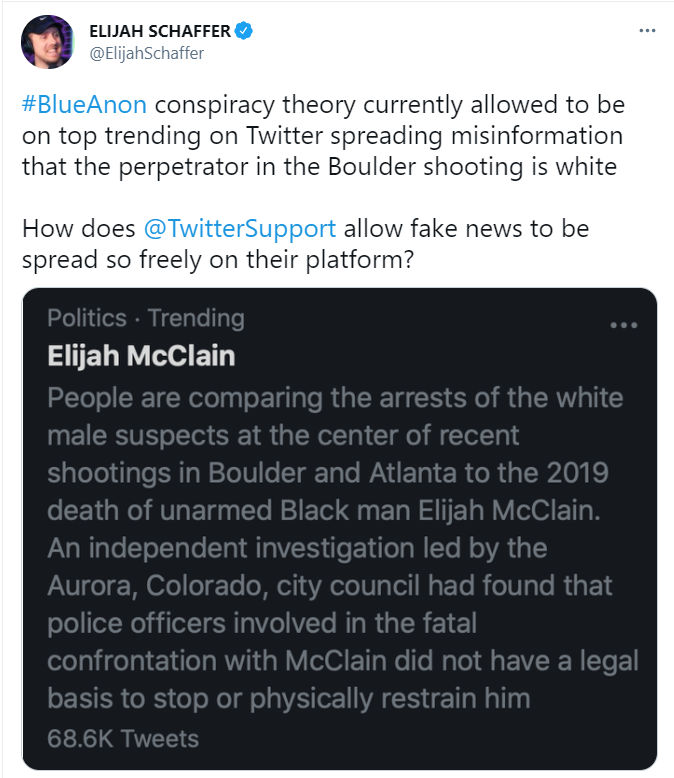 Kamala Harris' niece immediately went to the Democrat Media Complex's go-to move: Suggesting that White People needed to be eliminated.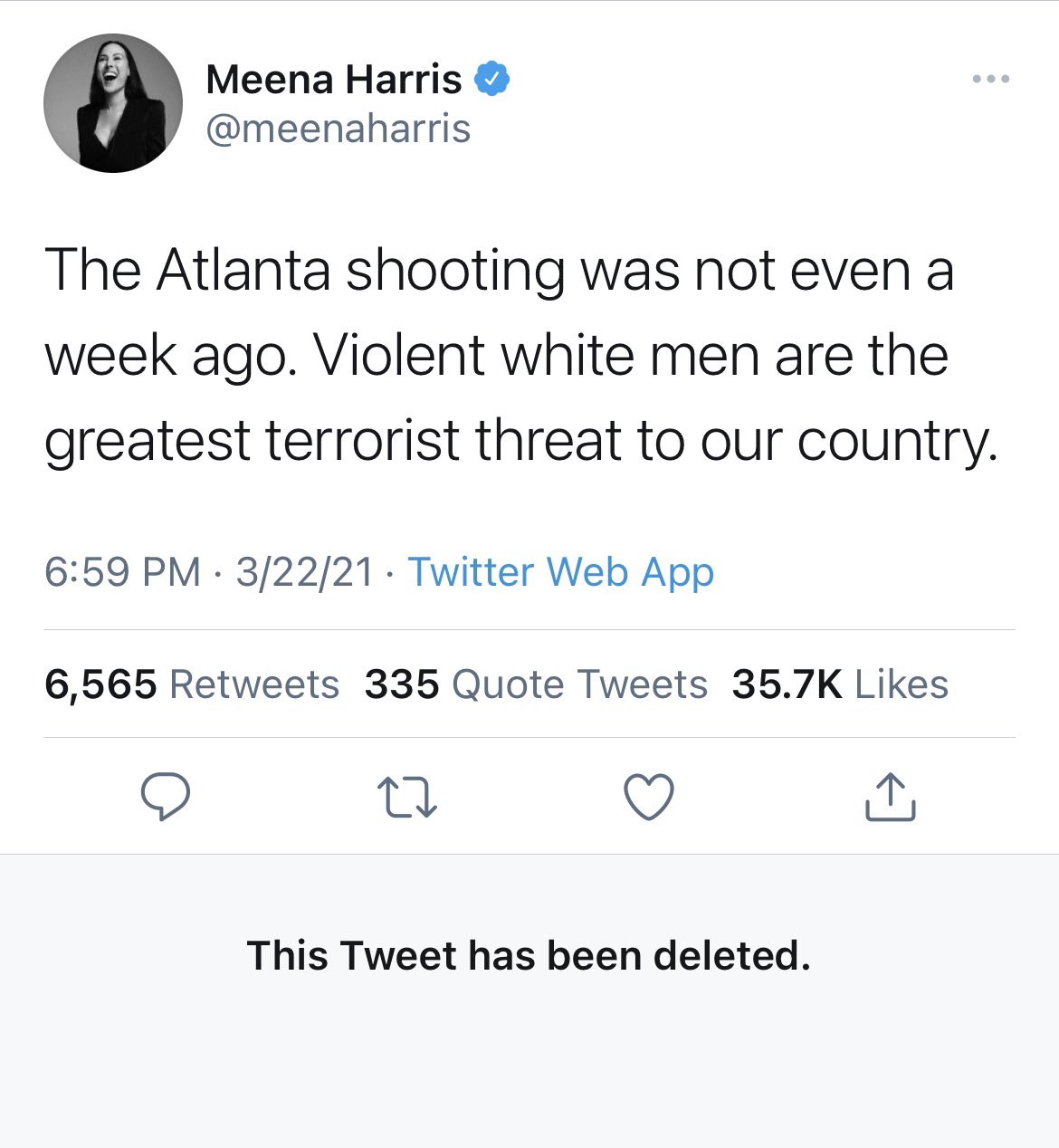 She deleted that tweet -- then pivoted to a slightly-different racist scapegoating.
Meena Harris @meenaharris

I deleted a previous tweet about the suspect in the Boulder shooting. I made an assumption based on his being taken into custody alive and the fact that the majority of mass shootings in the U.S. are carried out by white men.

What race commits the most murders, Meena? Which race commits the most cross-racial attacks?
Any guesses, Meena?
Hint: It's not whites.
Name a single other race you could so thoughtlessly and viciously scapegoat and ridicule over nothing at all and yet keep your job in the media or corporate America.
There is none. It's just open season on whites, by people claiming to be "anti-racist."
No, you're racists yourselves.
The Washington Post Shooter's family begins claiming that he's the victim, and that Racist America is The Real Killer:
134 Of course, of course...

@Breaking911 4m

BREAKING: Brother of Boulder shooter tells CNN he suffers from mental illness, was bullied in school for being Muslim & people "made fun of his name"
Posted by: Tami
Quick, let's let in more Syrian fake refugees. They've brought us nothing but prosperity and safety so far.
Last night, anti-American racist propaganda "dark money" network CNN made a major stink about Fox not carrying the police update about the Washington Post Shooter live. (Even though they had little news.)
We'll see how much CNN covers the Washington Post Shooter now that he's ID'd as a Radical Muslim Immigrant and a Washington Post fanboi.
Caleb Hull is retweeting deranged hyperpartisan leftist propagandists who were quick on the draw to brand this attack to be a "white crime" but suddenly don't care so much about the victim's race or motive.