« Former DNI John Ratcliffe: I'm Not Saying UFOs Are Aliens, But They're Aliens
|
Main
|
Active Shooter Situation in Boulder, CO »
March 22, 2021
Kristi Noem Rejects Bill to Save Girls' Sports for Biological Girls After Intense Lobbying By... You Guessed It, Corporate Interests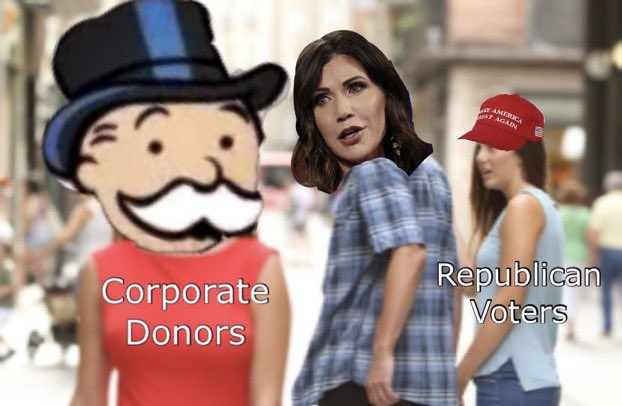 Good. She's out of the running for higher office. Done.
Next.
Her pretexts for not signing the bill are just that -- pretexts. She's not signing it because our corporate overlords -- especially our tech overlords -- have mandated that Trans Women are Women for all purposes, no exceptions, including eligibility in contact sports like judo.
The staunch conservative took issue with the wording of the legislation, alleging it left schools and team players vulnerable to lawsuits, and created "unworkable administrative burden[s] on schools" by forcing them to require yearly forms proving sex, age and lack of "performance-enhancing drugs."

But most notably, she rejected their calls for bans at the collegiate level, telling lawmakers it could mean South Dakota athletes lose out in national tournaments, as the NCAA has inclusion policies for transgender student athletes.

"While I certainly do not always agree with the actions these sanctioning bodies take, I understand that collegiate athletics requires such a system -- a fifty-state patchwork is not workable," she said.

...

The state's House passed the bill in February with strong support in a 50-17 vote. But the Senate proved more divided with a 20-15 vote, falling short of the needed two-thirds majority to bypass the governor.

Apparently she's running for president of the socially-leftwing Chamber of Commerce, which is an absolute cancer on the conservative movement that must be excised and then burned to charcoal in a kiln.
Inez Stepman @InezFeltscher

What's happening in SD right now is that Gov Noem is allowing private interests to dictate the cultural & legal policy of the state, over strong majorities of actual voters. We need to stand up to woke corporate pressure & do it now,or girls' sports will not be the last casualty.


If Gov Noem is not a standard bearer who will do this, I guess it's better that we know now. Because the battle with woke capital will be a critical part of the political future -- if we have one.

Trump was the first R since Reagan to push back against the cultural left. No one who doesn't understand that should be in consideration for national office.
Jesse Kelly @JesseKellyDC

What happened with Kristi Noem is a great example of why you NEVER fall in love with a potential presidential candidate too early. In politics, there are a million ways you can take your candidacy out back and shoot it in the back of the head. As she just did.


Jesse Kelly
@JesseKellyDC


Them: "If you ban men from women's sports, Amazon and the universities will leave your state."

A person who understands what's happening in America: "Ok. So what's the bad news?"
Explanation?
67 SD is like Delaware. A state with about 18 residents people that has a bunch of global corps HQed there for tax purposes. In the case of SD its banking. SD has more banking assets than any other state. Or at least it did recently.

What did you expect the governor would do when Corps said jump, other than ask how high?
Posted by: Joe XiDen
Break up the big banks.
I have a simple way to do it: The government can reduce its guaranteed protection of customers' money if a bank gets larger than $X total dollars controlled.
Right now a bank will cover $100,000 of your money if the bank loses it.
But if a bank gets bigger than x dollars under management, the government says, we're scaling back the protection. Only up to $50,000 per customer if the bank is at Y size, only $25,000 per customer if the bank is at Z size. Etc.
Customers will naturally want to move money out of these overly large banks.
It doesn't involve any additional government entanglement, just a modification of a current entanglement that is never going away so stuff the "In an ideal world, the government wouldn't guarantee anyone's accounts..." I'm so tired of that dodge. WE DO NOT LIVE IN THIS "IDEAL WORLD" THAT CRANKS ARE ALWAYS NUTTERING ON ABOUT. WHEN WE ALL COLLECTIVELY MIGRATE TO THIS "IDEAL WORLD" ALTERNATE DIMENSION, THEN WE CAN TALK MORE ABOUT YOUR "IDEAL WORLD" PLANS AND SCHEMES.
Salesforce claimed it would leave Indianpolis if Pence didn't reverse himself on RFRA. Posted by: Bertram Cabot, Jr.
106 >>>44 So she thinks that the bill is poorly written and wants it changed, and is exercising her primary option to try and force the legislature to do so, and this now makes her a traitor?

The bill as-drafted has four (section), all not very long ones. Her "correction" entirely cuts 2 of 4 sections and edits the other two to exclude higher education. These changes are not just correcting grammar or clearing ambiguities.
Posted by: The Ghost of Pandemic Present

posted by Ace at
04:55 PM
|
Access Comments