« Food Thread: A Large Brisket, Some Colored (Matzoh) Balls And Thou....
|
Main
|
Sunday Overnight Open Thread (3/21/21) »
March 21, 2021
Gun Thread: Sunday Evening Edition! [Weasel]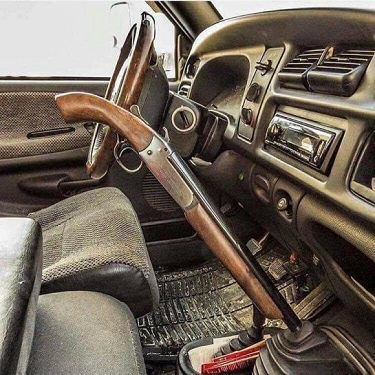 From PowerLine Blog [h/t] AZ deplorable isolated
Howdy y'all! It's Sunday again! And what do we do on Sunday, oh, say around 7pm Eastern? Hmmm? You guessed it! It's time for the thread before the ONT! So let's gather 'round a burning tire, fight over a can of cat food, and remember the good old days! Okay, maybe I'm rushing things a wee bit. We're not at burning tire/cat food stage quite yet. We'll probably get there eventually but for now we can talk about guns 'n shooting, let's just be careful of who might overhear us and our wrongthink.
Oh, I swear I'm going to get back to making videos at the farm. I had a long spell this winter where I wasn't able to get down there other than for very quick trips, and I want to get back to producing videos at least every few weeks. I'm making them for you all, so please let me know if you have any particular requests or ideas regarding content. Handguns or rifles? Large caliber or small? Ammo tests? Without your input I'm just making stuff up as I go along, so think about it and let me know in the comments or by email.
And with that, let's get to wrongthinking below, shall we?
I have been writing about the need for practice a lot lately. Unfortunately, current ammo prices and availability make live-fire practice at best an expensive proposition and at worst, impractical. Some time ago I grabbed this exchange between our pals Ladyl and Jim SND out of the comments.
...It would be too basic for all you experts!

Posted by: Ladyl, Insurrectionist

Ma'am, d'ya know how a bunch of us "experts" got to get called "experts"?

By practicing the BASICS. Thousands and thousands of times, over.

Jim
Sunk New Dawn
Galveston, TX

Posted by: Jim
The point our pal Jim is making is that shooting is a skill that requires a bigly lot of practice, as in thousands and thousands of rounds of practice, if it is something you want to be able to do consistently well. That's not an exaggeration. It took me years of study and practice both with and without an instructor to become proficient with a rifle. The same with handguns, too. I spent years going to the range for an hour or more at least once and sometimes twice per week, shooting countless rounds in the process. I cannot imagine how many total rounds. Take my word for it, though, a whole lot of practice and a whole lot of rounds downrange.
Conceptually, shooting is easy. Align the sights on the target and squeeze the trigger without moving the gun. That's all you need to do. Easy-peasey, right? Unfortunately, not so much. Being easy in concept and being easy in practice are two vastly different things. If you're just starting out, congratulations! You can make as much or as little of the sport as you like, and it doesn't require abilities such as speed or great strength to do successfully. I have had my ass absolutely handed to me on a rifle range by meek little grandmotherly types who smiled sweetly as they did it. What it does require is commitment, diligence and practice. Lots and lots of practice. Set goals for yourself and practice with a purpose towards those goals. Bad day at the range? Make whatever was giving you trouble the last time you were at the range the first thing you work on the next time. Keep notes and your targets and study them.
As I was learning to shoot, sometimes ammo was plentiful and relatively inexpensive, and sometimes it was expensive and hard to come by. Eventually it occurred to me to buy whenever I could and not worry too much at the ups and downs of the ammo market, which leads us to today. Obviously you cannot shoot what you don't have or cannot buy. I get it. But that doesn't mean throw up your hands and give up on shooting and practicing your gun handling skills.
First, make certain your basic self-defense needs are covered, and frankly that's probably something on the order of 10 to 20 rounds, total. Really, how often are you getting into gunfights? If you find yourself regularly going through 20+ rounds in this fashion, you may have other problems which need to be addressed. Next comes your supply of practice ammo, and I have never been one to subscribe to the "only shoot your carry ammunition" school of thought. It's sounds cool when discussed on internet shooting forums, but honestly I don't know of anyone who is paying for their own ammunition and actually only practices with their carry ammo. I have fancy hollow point stuff for self-defense and just buy regular ol' ball ammo for practice. As a matter of fact I sometimes carry regular ol' ball ammo. Anyhoo...
So what happens if you cannot source ammunition reliably? Shooting skills are perishable, and must be practiced to maintain proficiency. Live fire is best, and as we have discussed, some practice is better than no practice at all. So you may be forced to rely on little or no live fire, and instead practice with training tools such as the Strikeman System, or even other drills, such as the Penny Drill, described below.
When ammo is short, make it a habit to continue practicing so your muscle memory and grip mechanics do not fade altogether. If it helps, set aside a time each week and spend as little as 20 minutes on gun handling. If you haven't already done so, consider .22LR rifles or handguns for live fire. They are fun, relatively inexpensive to shoot, and require the same skill set as larger calibers. I am not making this up. That is frequently all that I shoot for funsies when I'm at the farm.
So what have you done to maintain proficiency? Have you had to adjust your practice routine due to a lack of ammo, and if so, what are you doing to supplement your range time?
******
First up, we have a great range report from our pal and delightful 'ette all doubt removed who is mostly a lurker, but who we're hoping will come out of the shadows of Canadian lurkerdom and continue to contribute!
My husband and I finally made it to the indoor 50 yard range. I have to get more familiar with my Tikka T1X .22lr and the scope, breathing, body position and everything else that affects accuracy and precision but I'm getting there. I'm at the "consistently inconsistent" stage but less inconsistent each time. Yay!

I posted in the Gun Thread recently that I hoped to get to the range and report back with 5 shots all in the same place. As you can see from the photo, I did it - or as close as I'll ever get. The grouping is 1/2" x 1/2" on a 1.5cm metric grid and came on my last 5 shots of the day so I guess practice, practice, practice really is key.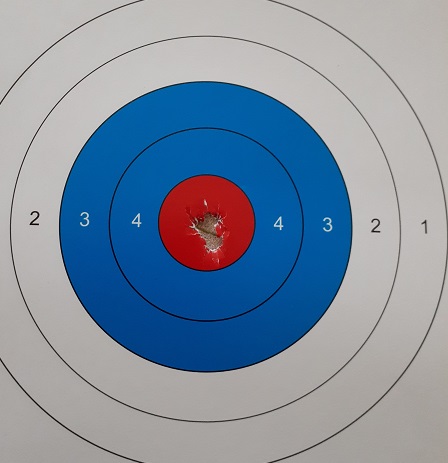 See? SEE? DO YOU SEE, PEOPLE?? Practice! With a .22! Will you just look at that group!! Our pal all doubt removed set a goal and practiced with a purpose! Very nicely done!
Annie Oakley continues...
A bit of background - We had talked about getting into target shooting for a while but never got that far. One local range only allowed people with Canada's Possession and Acquisition License (PAL) in and the other allowed non-licensed people in as guests of PAL holders. As neither of us had a PAL or knew anyone with one, shooting remained on the backburner.

Last May, Justin Trudeau announced the gun ban and that's when we decided it was now or never to get our PALs so we signed up for the course, which included licensing for non-restricted (think hunting rifles) and restricted (think handguns and scary black "military-style assault" weapons, at least the ones that didn't get banned). It took the RCMP almost 5 months to approve us, which I've heard is quite speedy and we're now the proud holders of both licenses.
Congratulations, and great shooting all doubt removed! Thanks for sending this for us all to appreciate!
******
Not to be outdone, our pal Gouverneur Morris reports on a recent range trip:
New gun owner (Glock 43), fifth time shooting using personal instruction, and I have progressed from very nervous picking up a gun to loving the time on the range. Today I shot 2 boxes of ammo, the most at one session so far. My rule is shoot 1 box, buy 2.

This was the first time using the 4 circle target. I am right handed, left eye dominant and had difficulty with focusing on the right side circles. The regular body outline target seemed easier after that. I practiced one-handed right; and for the first time, one-handed left. Both targets were at 21 feet.

I will practice dry fire before my next session in 2 weeks. Great day on the range.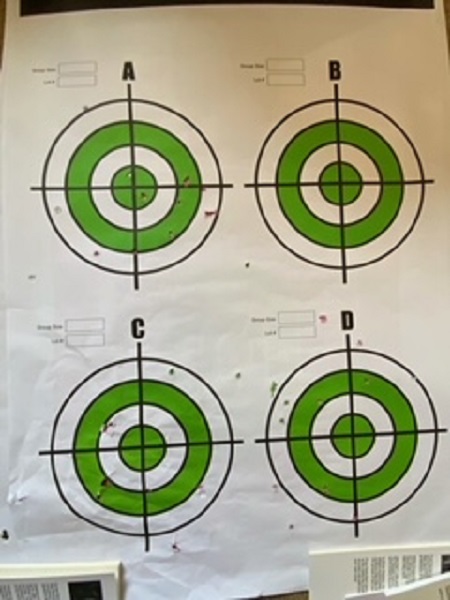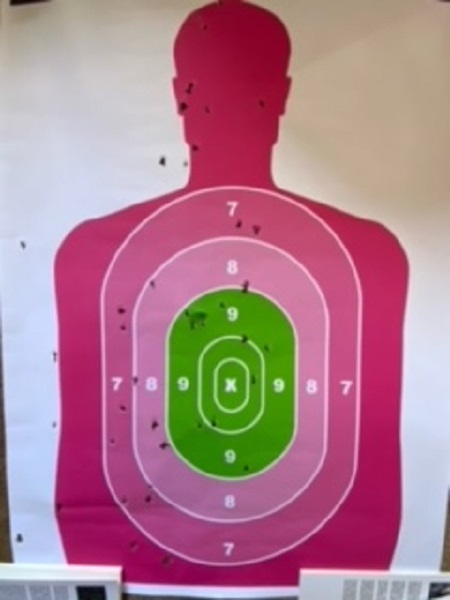 Nice shooting Gouverneur Morris, and I like the shoot 1, buy 2 strategy, as well. Have you considered making trips between sessions with an instructor to work on what you have learned? Very nicely done and thank you for sending this in!
******
Next, our pal
Picric
recently attended a concealed carry permit class in North Carolina, and was nice enough to send us a report.
On Saturday I went to my CCW class for a NC CCW permit. All went well, it was an 8 hour course total, the instructor is a teacher with my Wife. We began with a quick history lesson on Firearms the evolution from the Flintlock to primer caps to modern cartridge pistols, her husband is an avid collector of guns and had many original guns and a few reproductions. Almost all of them were in the strange or unusual variety.

I was pleasantly surprised at the others in the class. There were 11 of us in all. 4 couples of newlyweds or engaged in mid to late 20's, two were young men also in the mid 20's, and Me in my mid 20's (plus or Minus 20 years or so). One was from New York and had just had a death in his family and the CCW class was the easiest way to transfer the guns from New York to NC, but all of us had an interest in carrying for self defense.

After that we sat down and went over all the difference in Revolvers, and Semi-automatic pistols the strengths and weakness of each, the caliber differences, how to find what caliber your gun uses. Next gun safety and practical gun operation, then Lunch and some practice with a laser gun bullet target.

She also had targets that would register hits on a target with the laser so you could see how you did without having to go out and use the range. After that we sat back down and went over laws for NC, the Castle Doctrine, and what to do if and when you are pulled over by the police. You can lose your CCW permit if you do not produce your CCW Permit with your ID whether you have your gun on you or not. Next we took our written test which we all passed, but the wording on several of the questions really threw me off, and finally we out back to the target range to shoot.

The Distances were 5 yards, 10 Yards and 15 Yards, 10 shots at each one. I had my EC9, but I only had one 7 round magazine, so to keep myself from reloading at each distance, I borrowed one of the "Loaner Guns" offered by the instructor, since there were 3 magazines with 10 rounds in each loaded and ready and I am so glad I did. I used a Ruger Mark 2 (0.22) with an odd handle grip, hard to explain but it had a raised place for the right thumb to go, that made the grip on the gun quite nice. I will be looking for one or the new Mark 4's in the future. Hard to see on the picture below, but 29 shots are in the center, and one on the 9 area at 8 o'clock location. We all qualified shooting, and that was the end of the course.

I came home, got on-line and registered for my appointment for the Sheriff, for August 13. That is the earliest appointment I could get to fill out my paperwork and let the wait begin.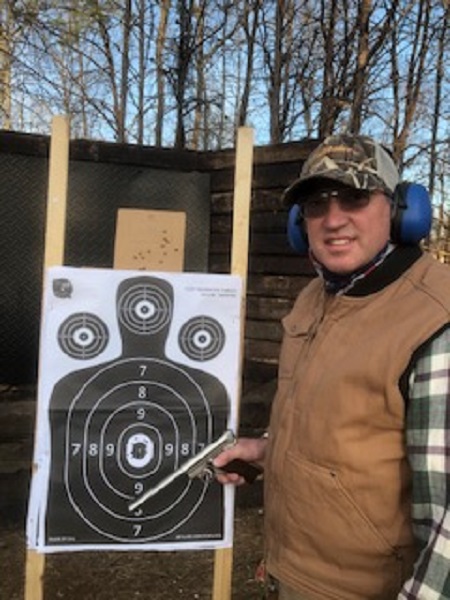 Nice shooting, Picric and congratulations on passing the class! Damn, first available slot was in August? Just shows how many new permit holders there are. Thanks for the great report!
******
Next up our pal Javems reminds us that it's not only ammo prices which have gone through the roof, but that reloading prices used to lower as well.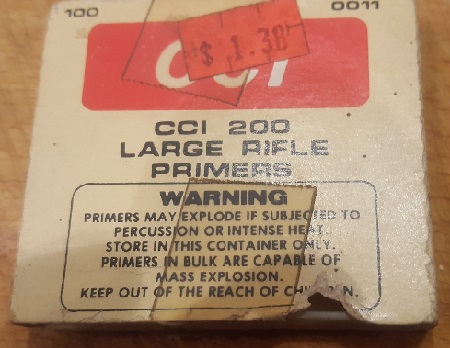 *SIGH* Now Weasel is sad.
******
Free Targets
If you have ammo to shoot, our pal redc1c4 found some free printable target examples at Pew Pew Tactical. Follow this LINK and print them at home.
Thanks redc1c4!
******
When Jerry Miculek speaks, Weasel listens.
'Jer' covers a couple of things in this that had never really occurred to me, and which all revolver owners should consider. I try to generally treat my guns kindly and just think it's just a commonsense practice. How about you all?
******
A question I'm asked at least once a week in Gun Thread email is whether or not I use hand grenades and propane tanks for cooking hamburgers at WeaselAcres. I'm going to have to admit that despite the method's popularity I do not, only because pine trees and fiery explosions do not mix. I also don't want to anger CBD by stepping on his Food Thread's toes. I was happy, however, to find someone else has tackled the issue.


******
Next we have a very cool website on handmade wooden guns sent in by our pal Floun der. Amazing work! I bet WeaselWoman would love a wooden model of one of my match guns for our anniversary!
******
$10 Glock?
Running this again from last week because it seems the limit of 100 total chances aren't yet sold out.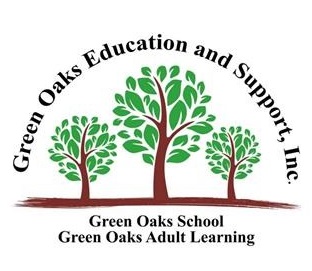 Finally, we have a very worthy cause sent to us by our pal and delightful 'ette Teresa in Fort Worth
Our youngest daughter's private school - for students with Down syndrome and other intellectual disabilities - is holding an online fundraiser this year. One of the raffle items is a Glock 45. The school got caught flat-footed by the COVID stuff, so they are scrambling to raise funds this year. This is Rebecca's 12th year at the school, and she will be able to continue here the rest of her life, as they have adult programs in place as well. It has been a life saver for our family!
Here's a link to the school website Green Oaks Education and Support, Inc., and a link to the raffle, so get out your credit cards, give bigly by supporting a great cause, and maybe win a Glock 45!
******
I'm adding another ammo and gun vendor to the list this week, Bud's Gun Shop. Bud's has been around for a while, and I have purchased a number of guns from them, all without issue. Each arrived in as-advertised condition, completing a smooth transaction, and I do not hesitate in recommending them. The prices were almost always the best to be found. I noticed this week they are advertising ammunition for sale, and while it ain't cheap, it's at least for sale. Have a look.
******
Link-O-Rama
I'm really very seriously not kidding around anymore. Buy Ammo
AmmoSeek - online ammo search tool
GunBot - online ammo search tool
SG Ammo
Palmetto State Armory
Georgia Arms
AmmoMan
Target Sports USA
Bud's Gun Shop
***Mail Bag***
This week we have a great entry from our pal WTM Obviously his copy of The Deplorable Gourmet was too highly prized to desecrate in this fashion!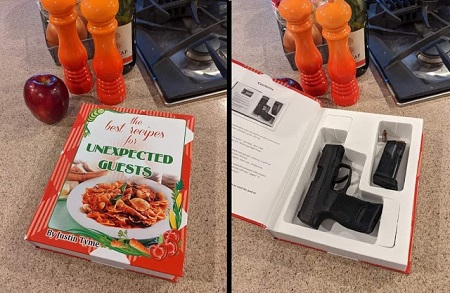 ******
Please note the new and improved protonmail account gunthread at protonmail dot com. An informal Gun Thread archive can be found HERE. Future expansion plans are in the works for the site Weasel Gun Thread. If you have a question you would like to ask Gun Thread Staff offline, just send us a note and we'll do our best to answer. If you care to share the story of your favorite firearm, send a picture with your nic and tell us what you sadly lost in the tragic canoe accident. If you would like to remain completely anonymous, just say so. Lurkers are always welcome!

That's it for this week - have you been to the range?


posted by Open Blogger at
07:00 PM
|
Access Comments