« First-World Problems...Part Ochocientos Doce
|
Main
|
Gun Thread: Sunday Evening Edition! [Weasel] »
March 21, 2021
Food Thread: A Large Brisket, Some Colored (Matzoh) Balls And Thou....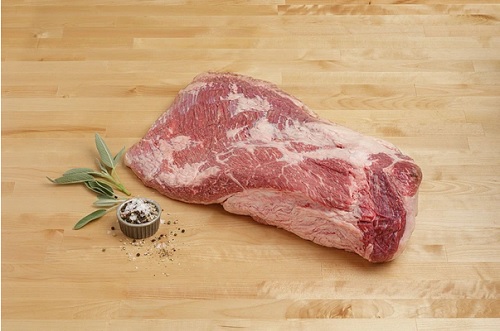 My next project is a brisket, but not the way most of you do it. I will be Sous Viding a packer brisket for 60 hours, then finishing it for about three hours in my smoker.
I got a great deal on a gorgeous prime brisket, which is happily resting in my freezer until I decide to light the candle. It's about 13 pounds, which means I will need more than a few guests.
But I won't be doing anything odd or off the trodden path; it will be a plain old salt and pepper rub, which I think is the best way to eat beef anyway.
Oh...the brisket came packed in dry ice, so I immediately channeled my inner nine-year old and plopped a couple of pieces into the sink and ran hot water over them.

About 30 seconds after I put the brisket into the freezer I realized that I needed another one for Passover Seder, so off to Costco I went and found a really nice eight + pounder. That will be my first brisket for Passover...I usually make something like leg of lamb or individual steaks with a nice sauce.
******
Food & Wine
is one of the many food-centric websites competing for my attention. So when I clicked on their link (which I do all of the time) I was chagrined to discover two of the four top articles were pandering race-centric bullshit.
1. NBA Players Are Making Wine More Inclusive
Ask me if I give a shit about whether wine is part of White Privilege. It's a drink that is made from grapes. If you don't want to drink it and would prefer a tall boy of malt liquor...have at it. I do not care.
2. The Dangers of Bartending While Asian
Of course it presupposes the racist intent of the Atlanta shooter and ignores the reality; the guy was a sex-obsessed, small-dicked loser. But I'll cut to the chase for the writer...if you make shitty cocktails or in other respects don't know how to do the job, then you suck and should learn to code. On the other hand, if you can make good drinks and do the other stuff that good bartenders do, then I don't give a rat's ass what color you are or whether you have epicanthic folds. I will go to your bar and tip you well.
Did anyone hear that? It was the sound of the delete menu choice, and it just clicked on the Food & Wine link in my folder.

******
While researching the all-important pork tenderloin temperature contoversy I came upon a pleasant recipe for
Pork Tenderloin with Mustard Sauce
. It's nothing special, and I have been doing a better version for years. That is not a shot at the recipe writer; not every one is going to be a winner. But I noticed that there are lots of recipes labelled "Low-Carb," (it's a "carb-conscious" site) that are normally low carb. Like chili. If you put beans in chili then it becomes a different dish, but there must be 10,000 recipes for chili on the intertubes that are perfect for anyone trying to cut carbs.
I guess it irked me that there are many options for low-carb diets that aren't fussy or difficult or even one step off the path. I have been eating a very-low-carb diet (interspersed with bread!) for almost two years, and I don't think I ever looked for a recipe that was specifically tailored to my new eating habits. There is just so much out there that it really isn't necessary.

******
There are far too many silly drinks in circulation, created by "mixologists" with more time than sense, for no other reason than to be different. And at first glance this list might seem that way, but the use of Irish whisky as an alternative to bourbon makes some sense. Certainly more sense than using Scotch, particularly the smokier single malts.
I and my favorite bartender went through a phase: he kept trying to make a great cocktail out of Laphroaig, and I kept spitting them out onto the bar. There are a few deeply deluded souls around the these parts who would disagree, but in general, Scotch Whisky does not belong in cocktails...but Irish Whisky might.
20 Best Irish Whiskey Cocktails
[Hat Tip: redc1c4]

******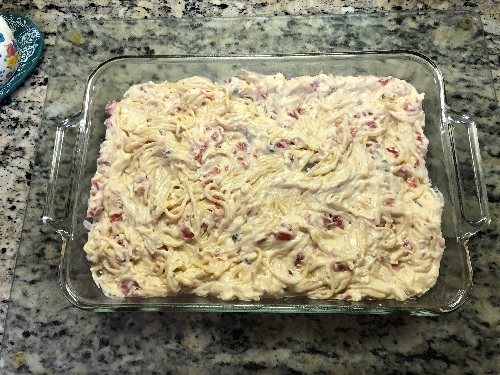 Why yes, that is correspondent "Amy's" world famous lunch! She suggests a salad to go with it.
Seriously, this is the kind of stuff that works very well for lots of people but not much time. And $50 says that the leftovers are even better!
Chicken Spaghetti Casserole
• 8 oz angel hair pasta
• 2 c. cooked chicken chopped
• 1 can cream of mushroom soup
• 1 can cream of chicken soup
• 1 10 oz can of Rotel diced tomatoes and green chiles, undrained
• 1 c. sour cream
• 1 c. Shredded Mexican Cheese
INSTRUCTIONS

1. Preheat oven to 350 degrees
2. Boil pasta according to package directions and drain.
3. Mix all other ingredients, except cheese, add to cooked pasta. Put in a 9×13 baking dish. Cover with foil and bake for 30 minutes or until hot and bubbly. Sprinkle with cheese and return to oven until melted.
******
Yes; it can be done. But the real question is: should it be done?
Colorful Matzo Balls 4 Ways
And the answer is: of course not!
******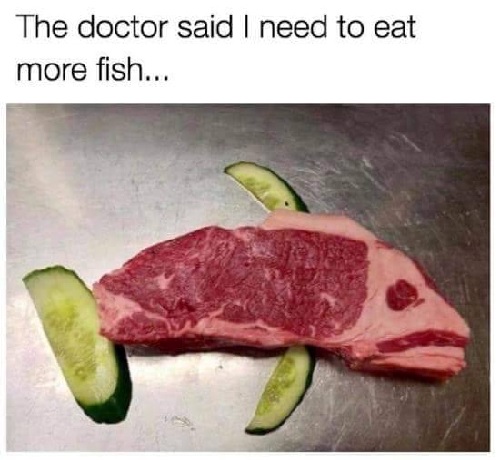 [Hat Tip: JT]

******
Food and cooking tips, Large-breasted Muscovy ducks, young wild pigs, bartenders who use vermouth in Martinis (but not too much), pork belly that doesn't have 5-spice, an herb garden that actually grows herbs, beef short ribs that have meat on them (not the stupid little sliver of bone they sneak into the packages) and good tomatoes that aren't square, pale pink and covered with Mestizo E.coli: send to
cbd dot aoshq at gmail dot com
. Any advocacy of French Toast with syrup will result in disciplinary action up to and including being
nuked from orbit.
And yes, shaking a Manhattan is blasphemy...it's in the Bible!

posted by CBD at
04:00 PM
|
Access Comments