« Biden Falls Three Times While Attempting to Climb the Steps of Air Force One
Flashback: When Biden Claimed He Was Much Better At Navigating Steps Than Trump
|
Main
|
Biden Demands That White House Staffers Resign Over Past Pot Use »
March 19, 2021
Finally "Following the Science," For Once, the CDC Reduces the Recommended Social Distancing for Schoolchildren from Six Feet to Three Feet
And now children will have enough room to attend school, thereby stripping the teachers of their last pretext to not teach while continuing to take unearned paychecks.
But you know they still won't work, right?
The Centers for Disease Control and Prevention on Friday relaxed physical distancing requirements for children in school, from 6 feet to 3 feet -- a change aimed at allowing more students to be inside classrooms.

The recommendations come with a few caveats. Masks remain mandatory, and teachers and other adult school staff must still adhere to the 6 feet guidelines.

The change comes amid a massive push to get kids back in the classroom, from lawmakers to parents.

Multiple studies have shown increases in depression and anxiety among children during the pandemic. And a survey from NBC News and Challenge Success, a nonprofit affiliated with the Stanford Graduate School of Education, found lower stress levels among students who have been able to spend time in the classroom, compared with peers who are virtual learning exclusively.
The fact that this "six foot" rule was just a made-up bit of bullshit has been in the news for a week, as well as a study showing that three feet of distance is enough to mitigate the spread of infection.
Even NRP discussed the possibility of finally forcing teachers to go back to work, now that only three feet of distance was needed.
American Federation of Teachers president Randi Weingartner immediately announced that no, teachers weren't going back to work, no matter what the science says.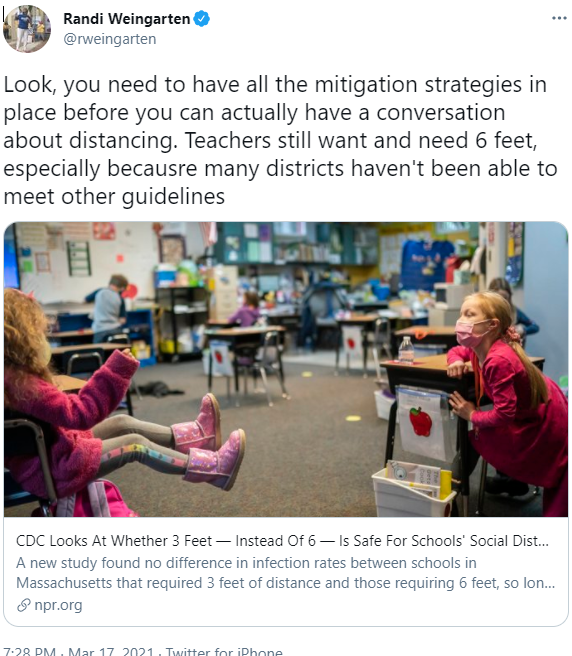 President Dementia, Commander-in-Chief Dyspraxia will of course continue supporting the teachers unions in their national strike, which has now begun its second year.
This is all about status and money. Money, obviously, they're extorting us.
But status is in play too, because teachers always consider themselves to be professionals like lawyers. They see lawyers and business executives working from home, so they reason, "Well we're just like lawyers and executives, so we should work from home too. To be forced to come in to work would reduce us to the level of mere truck-drivers and grocery clerks."
And so your kids lose years of intellectual and social development, just so these near-illiterates can continue pretending they're part of the Elite.
Remember, they made this "six foot" rule up out of thin air. But Anthony Fauci insisted this is what "The Science (TM)" demanded.

Meanwhile, CNN spins to cover up for Democrat Operative and Bathhouse Lurker Anthony Fauci.
Big bonus:
He adds:
Everyone knows he will be censored and banned, right?
And Conservative, Inc. will continue defending the War on Speech conducted by their tech monopolist paymasters.
Two more:
@catturd2

How long before Democrats and the media blame Joe falling down on white supremacy?

posted by Ace at
01:04 PM
|
Access Comments