« Finally "Following the Science," For Once, the CDC Reduces the Recommended Social Distancing for Schoolchildren from Six Feet to Three Feet
|
Main
|
Candace Owens to CardiB: Deleting a Defamatory Tweet Won't Spare You From Being Hit With a Big Defamation Judgment, "Degenerate" »
March 19, 2021
Biden Demands That White House Staffers Resign Over Past Pot Use
Thereby betraying one of the Democrat Party's most fanatical constituencies, and that's not a joke. That's real.

They told staffers to answer the drug questions honestly, and promised that "Yes" answers to the question about prior marijuana use would be "overlooked."
But then: They told them to resign.
A number of White House staffers were asked to resign or demoted for past marijuana use -- regardless of whether those employees had been in one of the 14 states where the drug is legal, according to a report.

The Biden administration had required workers to disclose past marijuana use on a background check form, but told some new hires that it would "overlook" those who answered yes, the Daily Beast reported.

Despite this, White House director of management and administration Anne Filipic reportedly led a series of one-on-one calls with staffers this month, asking those who admitted to past marijuana use to resign or be placed in a remote work program.
Good luck staffing a Democrat government if you toss out the pot-heads.
Are purple-haired Gender Studies Majors the next to be purged? Getting rid of the pot-heads and then the purple-hairs would reduce the Democrat party to half-strength.
But they would never do that.
Or...
Would they?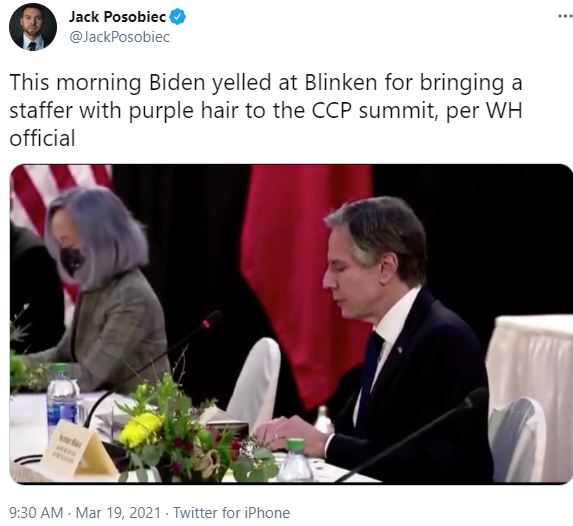 Bonus:

Good question:
@JordanSchachtel

Is collapsing while walking up the stairs a side effect of having a stutter?
In case you don't get that: the media and the DNC (but I repeat myself) claim that all of Biden's gaffes, losses of memory, and general mental fatigue are side-effects of a "stutter" he claims to have but which we've never heard.
So I guess the Phantom Stutter has spread to his feet.

posted by Ace at
02:02 PM
|
Access Comments