« Candace Owens to CardiB: Deleting a Defamatory Tweet Won't Spare You From Being Hit With a Big Defamation Judgment, "Degenerate"
|
Main
|
Historic Failure George W. Bush, Who Ushered In Obama's Revolutionary Socialism Through His Fecklessness and Incompetence, Predicts That the GOP Will Return To Being a Corporate Shill Party »
March 19, 2021
GAINZZZ...
and BOOKZZZ...
...and PLANZZZ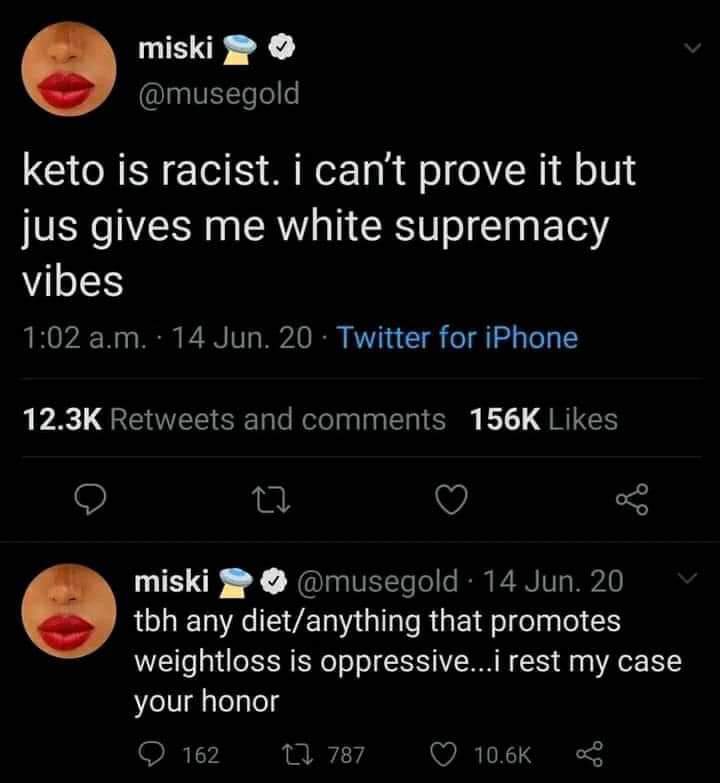 Exactly. That's why I do it.
I have small GAINZZZ. For a long time I was doing dirty keto -- keto, but not very strict about it.
That slid into becoming very dirty keto, which is practically not keto.
That then became Fat Filthy CardiB Skank Keto, which is just... eating like a foul whore who drugs johns and gets sued over Twitter defamation.
So this week I went on full, real, 100% Atkins-induction keto again. I lost a couple of pounds, which isn't great, but it's something.
This is the first time I've ever done real keto, by which I mean, specifically: High fat keto. (Which is just "keto," actually, but I've never really embraced the "try to eat fat" principle until now.)
I do have energy, and do sometimes go a full day on just one meal due to the satiating property of fat, but I've also had what I'll just call "Keto Butt." I cut stuff like MCT oil and extra butter to stop that.
It's been so long since I went on was on Atkins-induction-phase 20 or fewer carbs per day regime that this is essentially the first time.
Anyone else recently gone Keto?
And don't forget to tell us about any good books you can recommend, or any cool stuff you're planning to do.
The Snake Fast Guy calmly and rationally explained to me why I wasn't seeing any GAINZZZ on my two-days-per-week-fasting plan:
Professor Broscience is back with a funny but NSFW video.
The joke containing the word "fibrous" made me LOL.

posted by Ace at
04:33 PM
|
Access Comments