« Food Thread: You Can't Judge A Whiskey By Its Cover
|
Main
|
Sunday Overnight Open Thread (3/7/21) »
March 07, 2021
Gun Thread: Day After Saturday Edition! [Weasel]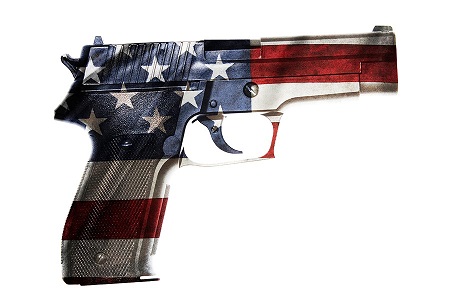 Howdy y'all! It's the day after Saturday and we know what that means! It means it's time for the Thread after the Food Thread! That's right - now that you've made yourselves all hungry by reading about food, discussing food and looking at food pictures, we can talk about our our fav-o-rite hobby other than cooking 'n eating, which would be guns 'n shooting!
So sit back, relax, and let's get 'er done, shall we?
A while back I posted a video made by the Presidente of Federal, Speer, CCI and Remington Ammunition, Jason Vanderbrink, on the current product shortages. Here 'tis again in case you missed it the first time.
The reason I posted it originally was a) for the information it contained, and 2) to comment on what I thought was a disastrous PR presentation by the head of the company. Maybe "disastrous" is a little severe, but at the time I thought the guy came off as just a wee-tad pricklish, and still do. Maybe ol' Jason (can I call you Jason?) was just having a bad day, but it's not the sort of message I'd want to send if I were the leader of the company, unless it was called I Want to Piss You Off, Inc.
Compare and contrast Jason's presentation with another video from the President/COO of Nosler on the same subject. He seems affable, measured and generally what I'd expect from the guy in charge. Same overall message, but an entirely different vibe.
John Nosler seems like a guy I wouldn't mind supporting with my business, while Jason Vanderbrink in the first video seems like the sort of guy I'd be inclined to tell to go pound sand, based on his performance. Why am I stuck on this? Who knows!
There is a basic message here though. I believe the ammunition companies are probably doing everything they can to produce as much of their product as possible right now, they simply cannot keep up with the demand. As soon as it hits the shelves, there is a line of people waiting to scoop it up. There are a whole bunch of new gun owners in the country, and when you add them to the existing market in an uncertain social climate, then the shortages aren't really that surprising. So lacking any other inputs, such as a gun control push which is almost certain in some form, things should stabilize and eventually return to the relative normal.
We aren't out of the woods yet though, and this is why I have been beating the "Buy Ammo" drum for so long. You want to be a buyer when ammunition is plentiful and relatively inexpensive, if that hasn't already occurred to you by now. Make sure you have whatever you need now for your self-defense needs, and then save your money and wait for more favorable purchasing opportunities to return. I have no idea what's on the horizon, and it could get worse before it gets better, but the key here is planning ahead.
OK - I'll get off my soapbox, but what do you all think? Am I full of poo? Will things eventually loosen-up supply-wise, or is this the way it's going to be?
******
Speaking of ammo, anyone remember what prices used to look like? Our pal Eromero does.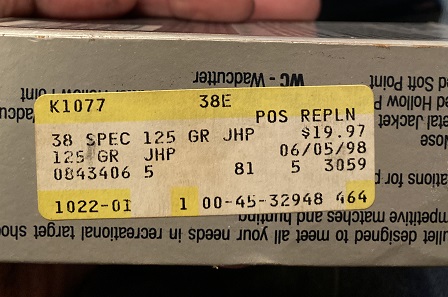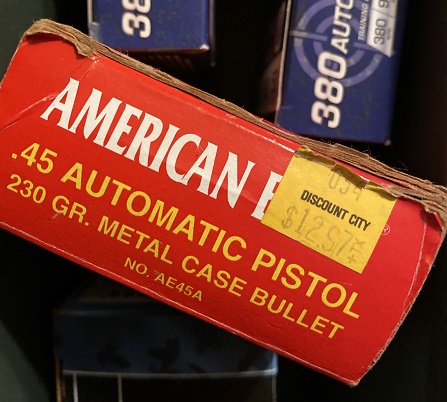 Eromero makes Weasel sad.
******
Here's something we've never discussed as far as I can recall. What's the muzzle crown on your rifle look like? If it's dinged-up, it could be affecting performance. Here's a video from Larry Potterfield of MidwayUSA on the topic.
Here's an article on the topic from NRA's Shooting Sports USA magazine.
******
Speaking of accuracy, first up we have a note from out pal Rickb223 on bullet uniforming, or meplat trimming. The "meplat" is simply the open end of a bullet's tip, and in short, this is the practice of shaping the tip of a bullet precisely from one example to another. Many competitors take the time to do this to eliminate any residual imperfections from the manufacturing process, and it's accomplished with a variety of small cutting tools. It doesn't make sense to bother when you're shooting at close range, but the further out you go, inconsistency absolutely begins to effect accuracy through differences in ballistic coefficient. Anyway, I'm not sure why it never occurred to me to trim .22 caliber rounds, but apparently some smart person thought of it, and here are the tools rickb223 owns.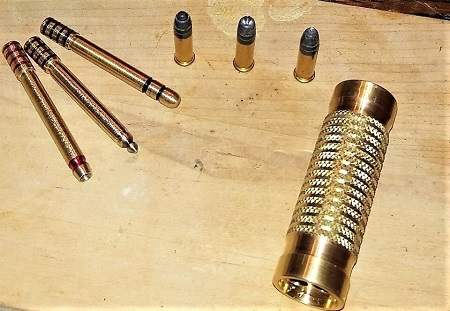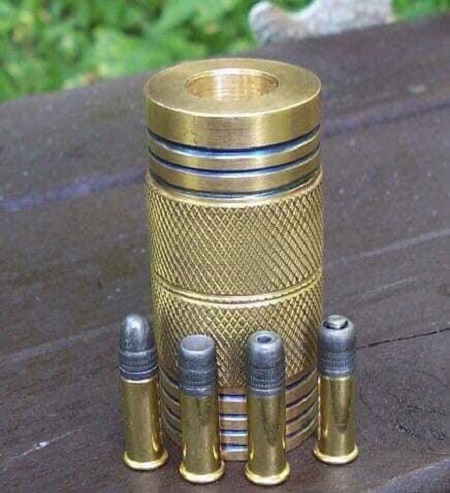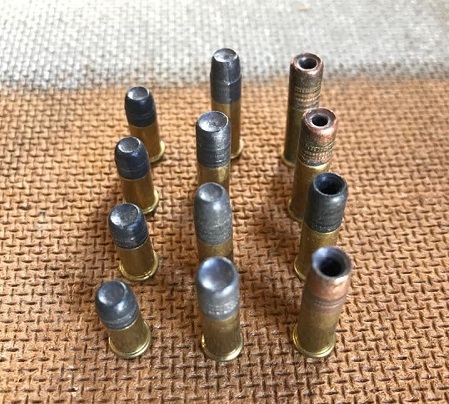 Since uniforming improves consistency and therefore accuracy, it's a worthwhile effort if absolute accuracy is really important to you. Here are some links for this particular tool; Accurate Shooter and Lever Guns with ordering information at the bottom of the page. I tried another of what appears to be the same guy's websites but it seems to be out of commission, so you might want to investigate before you start sending money. If that's the case, just look around for other meplat trimmers.
******
Next up we have a very cool story of a very cool rifle and a very cool grandfather from our pal Brave Sir Robin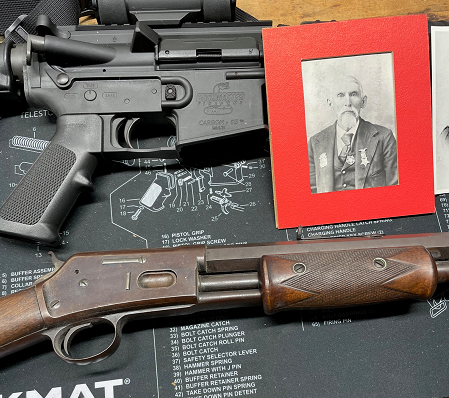 The rifle belonged to the guy pictured: Wm Greenberry Wright, my great grandfather. Through a freak of birth sequence, I'm only 3 generations removed from a man who fought in the Civil War. My grandfather was the youngest of 16, and my dad was the youngest of 6. Greenberry was wounded twice during the Civil War. The second time, he removed the ball himself, with his pocket knife, because the conditions in field hospitals were so atrocious. Maybe some Civil War buffs know what his medals are. The Colt was Greenberry's deer rifle. He owned a huge farm in Van Wert OH, and over his door hung a sign that said: "Here lives the hunter of deer, here lives the keeper of bees."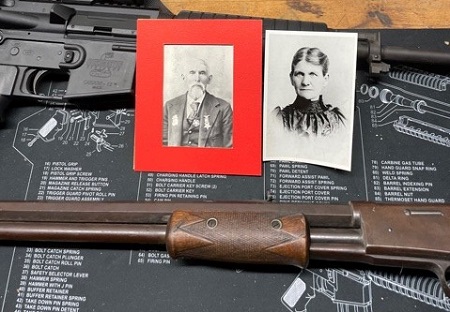 The mean looking old lady in the pic is his second wife, Rebecca Judkins. She was a prohibitionist (the first one) zealot. The story goes that she took an axe and chopped up a barrel of beer Greenberry and his crew won in a threshing contest. He was so incensed, he moved into town and they never spoke again. You can maybe make out the dancing colt on the breech. It's slide action with a hexagonal barrel. Just holding it feels good.
Ho-Lee Shit! How freaking COOL is that? Thanks you for sharing this with us Brave Sir Robin!!
******
Next we have a news tidbit from our pal redc1c4. CZ acquires Colt
Is his a good thing, a bad thing, or just a thing?
Thanks redc1c4!
******
Speaking of cool, finally we have one heck of a nice gun and a question from our our pal DocinPA.
This is my latest acquisition and I'm wondering: How did the .38 WCF aka the 38-40, which is actually loaded with a .40 caliber bullet, ever wind up being designated the caliber that it is? Nobody seems to know.
Welp, Weasel don't know either. The naming convention often has something to do with the caliber and year of introduction, e.g. 30-'06 for a .30 cal introduced in 1906, but my 3 minutes of in-depth research failed to turn up much on the .38-40, although I did find a discussion in this article at Guns Magazine.
Anybody? Let's help out DocinPA!
******
Homework
It's our buddy GunBlue490 again! This week he's discussing the perennial issue of breaking in rifle barrels. I happen to mostly agree with his position. My break-in routine for a new barrel typically involves about 10 rounds with a few passes with a brush in the middle and a cleaning at the end, and my rifles are verrrry accurate.
How about you? Are you a breaker-inner?
******
Link-O-Rama
I'm really very seriously not kidding around anymore. Buy Ammo
AmmoSeek - online ammo search tool
GunBot - online ammo search tool
SG Ammo
Palmetto State Armory
Georgia Arms
AmmoMan
Target Sports USA
***Mail Bag***
This week's most excellent entry is from our pal AZ deplorable isolated.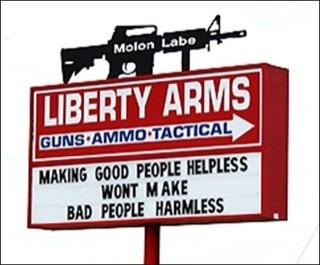 ******
Please note the new and improved protonmail account gunthread at protonmail dot com. An informal Gun Thread archive can be found HERE. Future expansion plans are in the works for the site Weasel Gun Thread. If you have a question you would like to ask Gun Thread Staff offline, just send us a note and we'll do our best to answer. If you care to share the story of your favorite firearm, send a picture with your nic and tell us what you sadly lost in the tragic canoe accident. If you would like to remain completely anonymous, just say so. Lurkers are always welcome!
That's it for this week - have you been to the range?


posted by Open Blogger at
07:00 PM
|
Access Comments